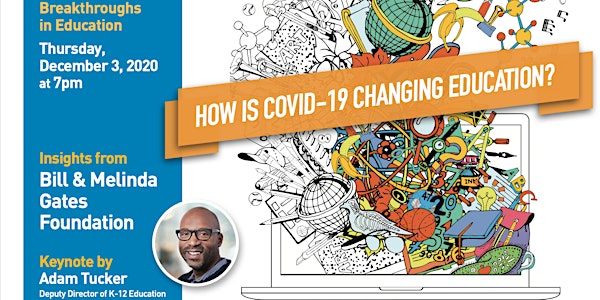 13th Annual Breakthroughs in Education
Join us for the 13th Annual Breakthroughs in Education
About this event
How is COVID-19 Changing Education? Insights from the Bill & Melinda Gates Foundation
Join us for the 13th Annual Breakthroughs in Education, a lecture series featuring experts working to improve education, with the goal of promoting community awareness of timely issues affecting educational equity. This year's event will feature Adam Tucker, Deputy Director of K-12 Education for the Bill & Melinda Gates Foundation, who will share insights on how COVID-19 is changing education.
Keynote by Adam Tucker, Deputy Director of K-12 Education, Bill & Melinda Gates Foundation
What is your motivation to work in education?
"In the U.S., the opportunity and achievement gaps are very real and of serious consequence for Black and Latinx young people and students experiencing poverty. But, I am not daunted. I continue to stand in awe of the power and potential of great teaching and teachers to transform the improbable and impossible into a new reality for students who have been historically and perpetually underserved by our public systems."
What is your connection to Breakthrough's model?
"I've had all kinds of fancy titles, but quiet as it's kept -- my professional pinnacle came early on. My experiences as a history teacher and Citybridge Director (a Breakthrough site) are the most meaningful and profound as they taught me lessons and gave me experiences of what's possible that I carry with me today."
What is the focus of your work today?
"Today, at the Bill & Melinda Gates Foundation, I support the place-based delivery strategy which seeks to test, codify, and scale school improvement models that significantly increase the number of Black, Latinx, and low-income students who earn a high school diploma, enroll in a post-secondary institution, and are on track in their first year to obtain a credential with labor market value."