A Seat At The Table: Women of Faith Taking Action In Business and Life
Event Information
Refund Policy
Contact the organizer to request a refund.
Eventbrite's fee is nonrefundable.
For faith based women ready to uplevel their faith, finances and relationships and step into their calling as business owners or writers!
About this Event
Do you have a burning passion to write and tell your story?
Do you have parts of your business in place but feel stuck?
Do you feel like you don't belong at the table of success?
Are you ready to take action on your idea?
If so you are meant to be here sister.
In this 1-Day summit, we will help you to create the mindset needed for success by confronting lies, breaking off generational curses on your life, and empowering you to boldly grab a seat at the table you were called to sit at.
During our time together we will also help you:
Break Generational Curses
Embrace a Worthy Mindset
Overcome Money Blocks
Develop Wealthy Habits
and More
As you share your time with us, we will share vital tools for Kingdom Success in faith, finances, and relationships.
Additionally, we will have a VIP experience the evening before the conference where you can network and meet other aspirational women like you and form your sisterhood of brave women stepping into what feels like their impossible. The time together will include sessions for new, aspiring, or established business owners and writers. We will Connect, we will Conversate and we will Commission.
VIP NIGHT INSTRUCTIONS:
1. Add the VIP ticket to your general admission ticket.
2. Fill out the survey you get in your email with your VIP add on so we can pair you up at the networking night!
We hope you will take your Seat at the Table.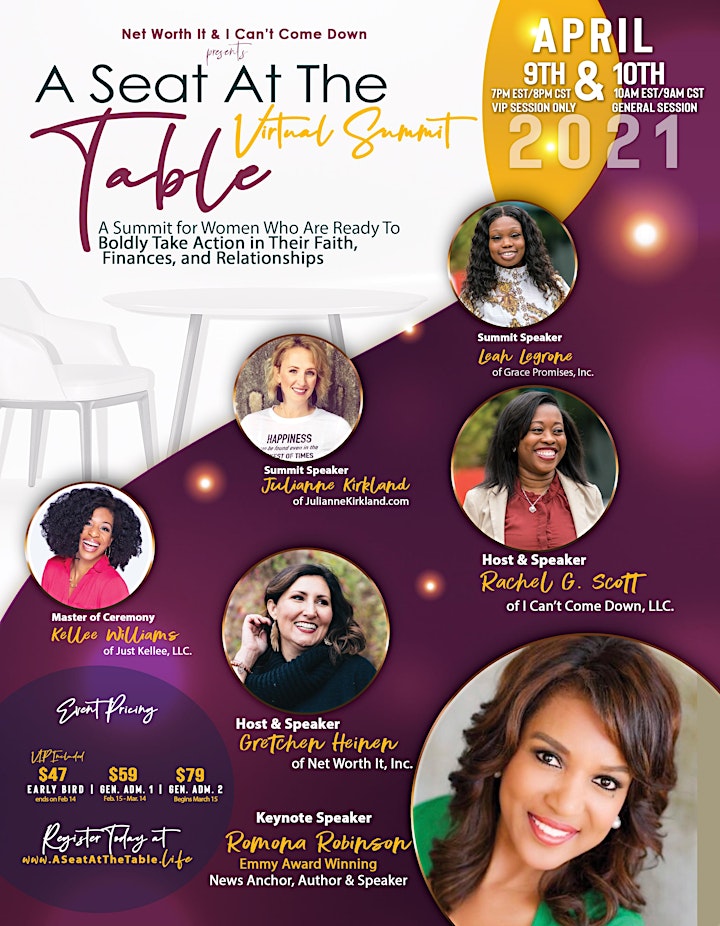 SCHEDULE:
Saturday Main Event: 9am-4pm CST/10am-5pm CST
**lunch breaks and smaller breaks throughout the day will be provided
Friday VIP Night (OPTIONAL) - 7P CST/8P EST
During this social hour you will be paired up with a small group of women to get to know each other and have prepared conversation prompts to help you discuss your dreams, business and help each other. We will pair you up into complementary business skills so that you can ensure you will be placed with other women who can help you to achiever your God given calling.
**TO REGISTER FOR VIP- ADD THIS ON YOUR GENERAL ADMISSION TICKET
FEATURING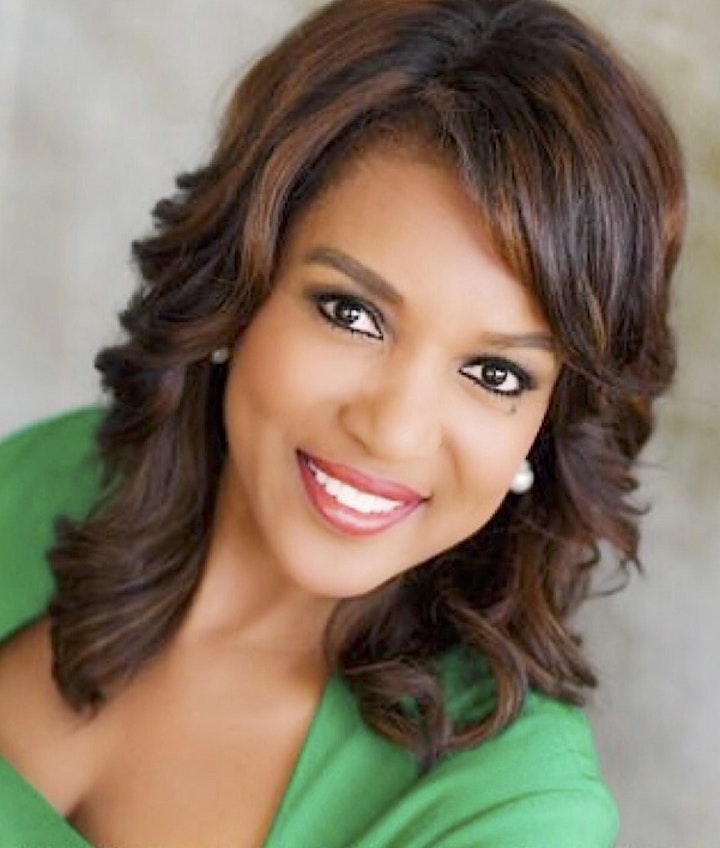 KEYNOTE SPEAKER: ROMONA ROBINSON
Romona Robinson is an eight-time Emmy Award-winning journalist, philanthropist and entrepreneur with 30 years of public speaking experience. She is a national award-winning author of A Dirt Road to Somewhere and now Your Voice is Your Power. She is founder of Romona's Kids, an Emmy nominated television program-turned-institution in Cleveland she started in 1990 to empower and encourage youth to find their path.
Romona is a television trailblazer becoming the first black female to anchor an evening broadcast in Cleveland. She was also the first woman to solo anchor an evening newscast in the city. She is one of the most well-respected and admired journalists in Northeast Ohio, having earned the trust of viewers for her integrity and unbiased reporting. As a journalist,
Romona has traveled the country, covering presidents and world leaders, including Nelson Mandela and the late Ronald Reagan. In 2011, she garnered a rare, exclusive interview with President Barack Obama. Along with her colleagues at station WOIO-TV 19, where she served as primary anchor, Romona won the coveted Edward R. Murrow Award in 2014. She was inducted into the Press Club of Cleveland's Journalism Hall of Fame in 2016 and had the honor of receiving the Alpha Woman Award in 2017, which is given to women who exemplify strength in their field and use it to empower other women.
For 21 years, Romona served as the honorary chair of the Komen Race for the Cure, helping to bring awareness and hope to countless breast cancer survivors. Romona's tireless work with children and her dedication to diversity issues have earned her such prestigious awards as the YWCA's Women of Achievement Award and The Diversity in Media Award. Romona is also recognized for her powerful, dynamic messages as a motivational speaker. Romona earned a Bachelor of Science degree in broadcast journalism from Lincoln University in Jefferson City, Missouri. Now, Romona is frequently called upon to speak to women and children who need empowering messages of faith, hope, determination, and perseverance.
She has blanketed the state of Ohio and other parts of the nation, attending events from corporate affairs to meetings of various women's organizations. She firmly believes we all have something to offer to the world— we just have to allow God to lead us.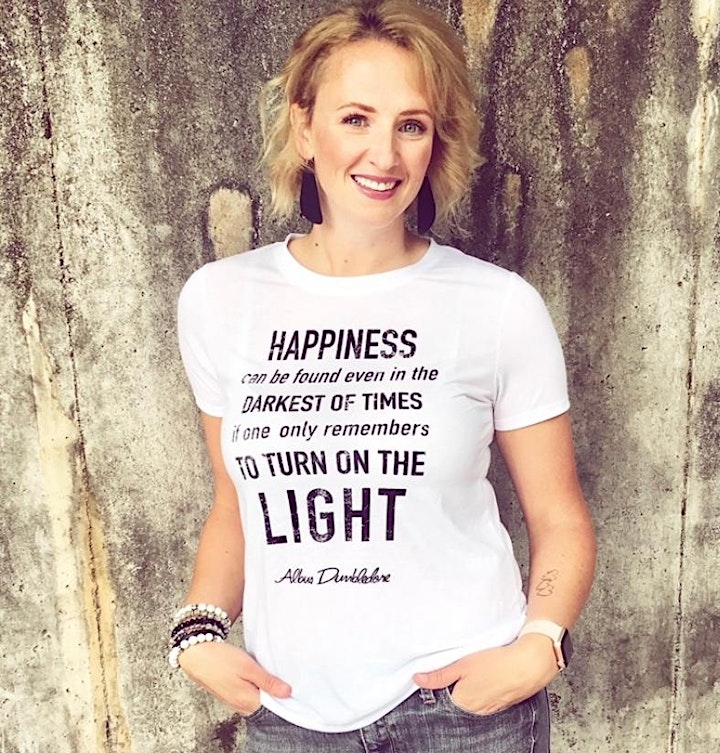 JULIANNE KIRKLAND
Julianne Kirkland is a wife of one and mom of six... including a set of quadruplets. As an international Best Selling Author, Mastery Trainer for Tony Robbins and Dean Graziosi, speaker and life coach, Julianne uses her expertise as an Overcomer Strategist to help turn life's stumbling blocks into stepping stones. Through her signature ARISE Formula framework, Julianne has helped many around the world discover that creating a joyful life they love aligned with God's calling, doesn't have to be so hard!
Julianne loves going on outside adventures with her kids and indulging in culinary journeys with her husband.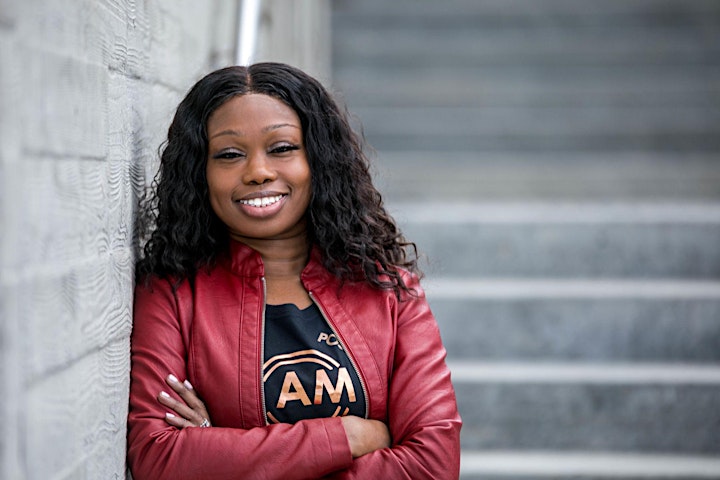 LEAH LEGRONE
Leah Legrone is the Founder of Grace Promises, propelling women to walk in God's power, passion, and purpose. She is very passionate about building up, encouraging, and comforting the Body of Christ.
Leah is a loving and devoted mother to four amazing children. She is an aspiring author as well as a speaker, mentor, prayer strategist, and Ordained Pastor.
Leah has been a nurse for 13 wonderful years. She delights in working with her geriatric patients and creating an atmosphere where they feel safe, loved, and healed.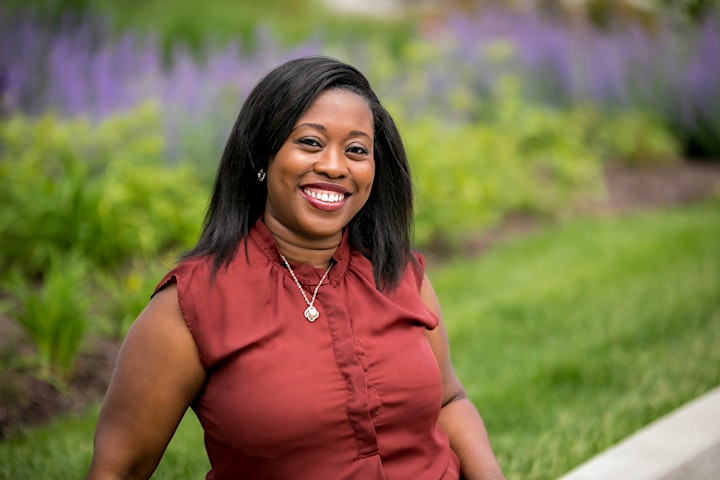 RACHEL G. SCOTT
Rachel G. Scott is an writer, speaker, and business/branding consultant. She received her B.S. in Sociology at Kansas State University and Masters in Business Administration from The University of Mary in North Dakota. She has been a public high school teacher as well as a training instructor for one of the top non-profits in the nation. Rachel has built several companies, both for profit and non-profit. Her passion is to help aspiring and current business owners build, brand (or re-brand) and launch their business while providing them with tools to overcome hurdles along the way.
Rachel Scott has featured media resources on national and international platforms such as Huffington Post, Youversion, and Family Life. She has been featured in many media outlets including Moody Radio, CTVN, WKYC, and TCT Television Network.
Rachel has a unique ability to help individuals define what they do, who they do it for, and how they can present it to the world. Her knowledge and love for business and brand identity is evident whether she is consulting, mentoring, or speaking to a room full of people.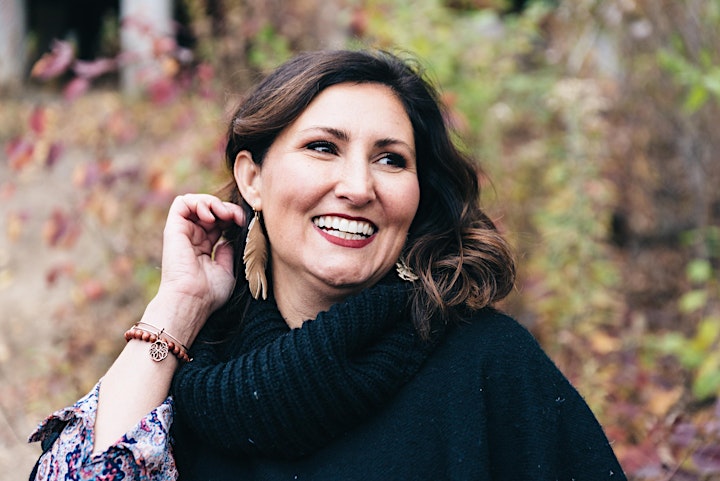 GRETCHEN HEINEN
Gretchen Heinen is committed to teaching young, culturally diverse Christians how to create multiple streams of income while still being present for life and have high well-being.
She is a leader in the International health community, Find Your Fit where thousands of people come to rebalance their physical health naturally so they can show up their most productive selves.
She has a 5 Star rated podcast, Net Worth It, which is listened to in 60 countries and brings the people, tools and resources you need to discover and build your own legacy.
Gretchen is the founder of the Net Worth It School, the leading place to turn ideas into legacy businesses and overcome financial limiting beliefs. She is also She is a foster, bio and step mom and believes that love, not DNA, defines family.
She allows God to lead her businesses and believes our true potential unleashes when we take our spiritual callings and execute on them.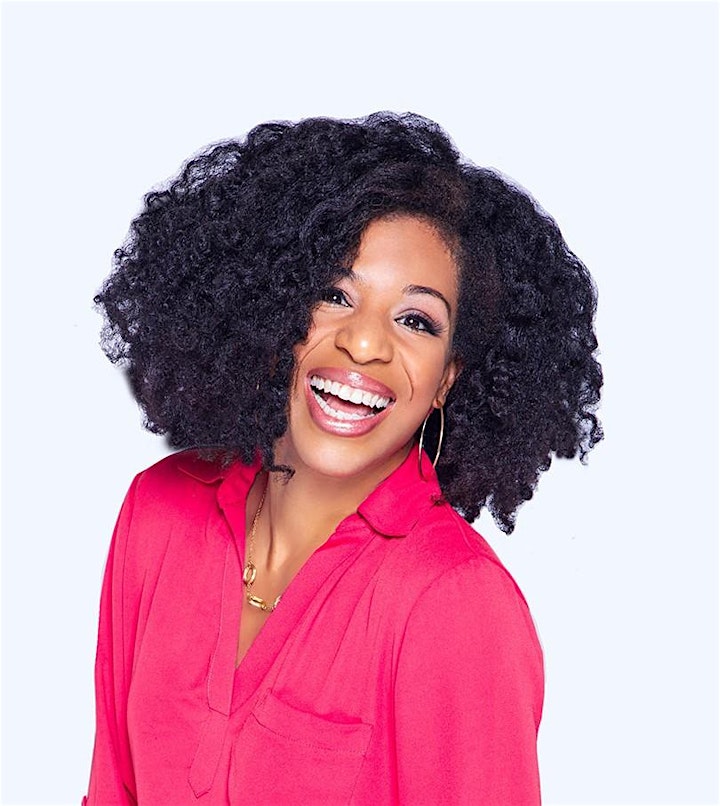 KELLEE WILLIAMS
With a background in Organizational Leadership, Organizational Development, Psychology, and Diversity Management, Kellee Williams has developed a reputation for bringing out the best in women as they navigate the balance between work, entrepreneurship, and home life.​
She is just like many of you. She is a married mom of 10 (okay, maybe not that part). She had children from 1994 to 2018. She was a teen mom. She is in a blended family. She has had cancer strike those that She loves. She has been divorced. She has battled her employers in ways we should have overcome by now. She is just like you. And just like you will, she has found her voice and began to tell the world that we were created for more.
Passionate about encouraging others, she empowers women though coaching and mentoring. She created realistic solutions for their lives and businesses. She believes we're not put on this planet to merely to exist, but to make an impact. There is no reason we shouldn't be able to optimize opportunities without compromising our "self".
It is her pleasure to teach and inspire women to create the systems and solutions that will help them manage the energy in order to live the life they desire and deserve.
Date and Time
Location
Refund Policy
Contact the organizer to request a refund.
Eventbrite's fee is nonrefundable.