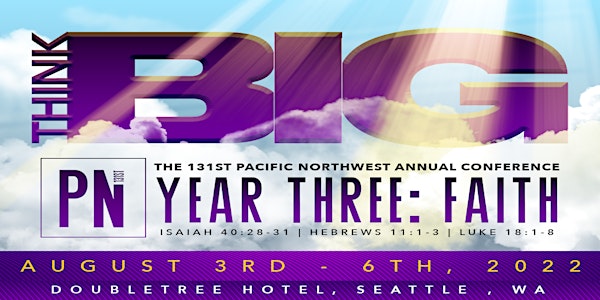 131st Pacific Northwest Annual Conference
131st Session of the Pacific Northwest Annual Conference
About this event
Welcome to the 131st Pacific Northwest Annual Conference,
On behalf of Bishop Clement Fugh, Supervisor Alexia Fugh, Presiding Elder Spencer Barrett, Lady Mary Barrett, and the host pastors Rev. Dr. Anna Clark Jones, Rev. Theodore Payne IV, and Rev. Phillip Ross, you are cordially invited to participate in person at the Doubletree Hotel Settle, WA or virtually on zoom August 4th-6th, 2022. The PNW Women's Missionary Society will meet on August 3rd 2022 . Please contact them for registration and attendance policy.
Registration is mandated for all participants.
You may book your hotel Here