Location
Marriott Fair Lakes Residence Inn Fairfax
12815 Fair Lakes Pkwy
Fairfax, VA 22033
Description
When everything went wrong, six men had the courage to do what was right.
Sponsored by
GrassTopsUSA & Uniformed Services League
"13 Hours the Conference"
Learn More. Take a Stand. Attend the Conference.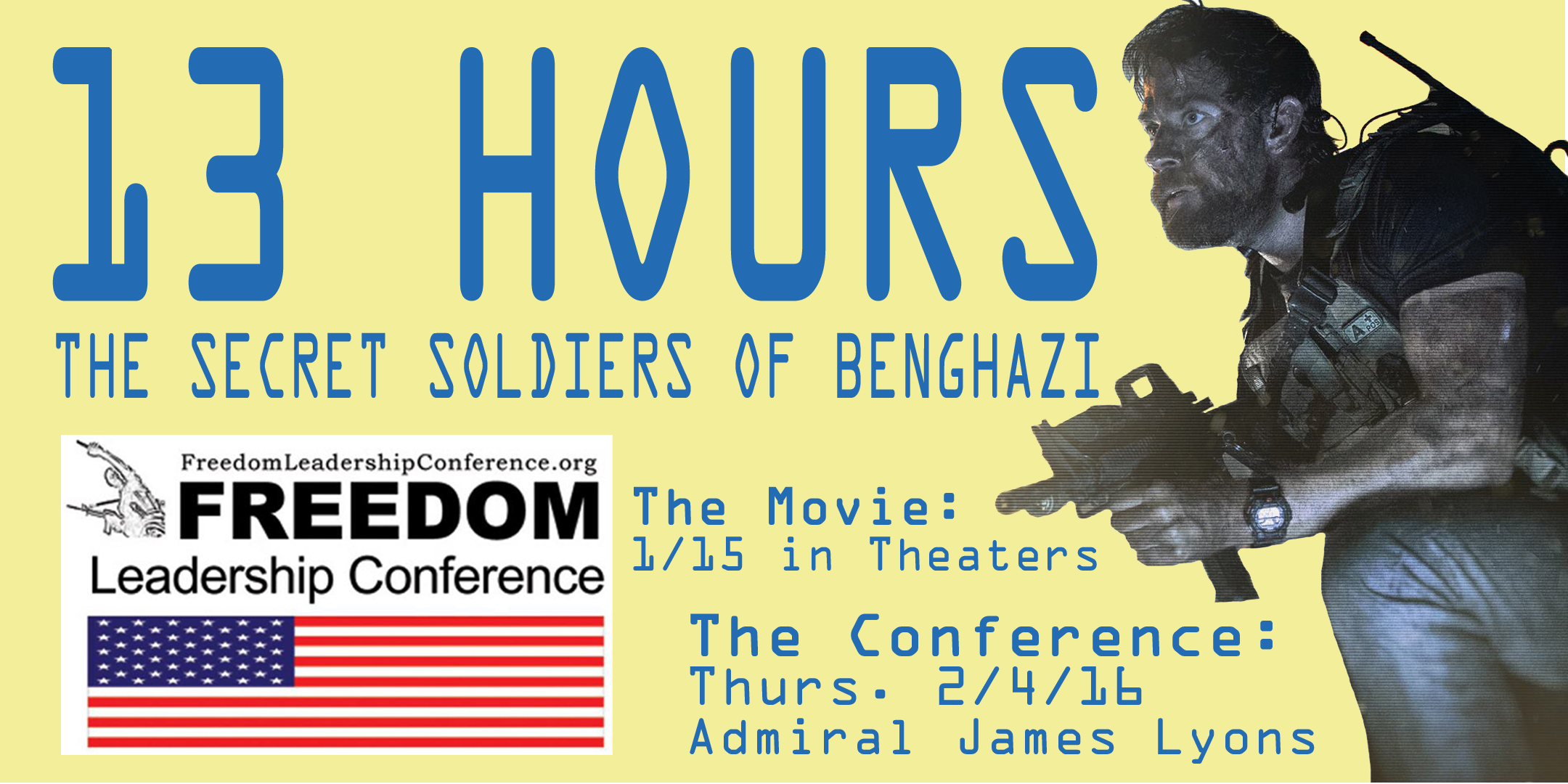 come join us
Postponed to Thurs. 2/4 at 7 PM
Marriott Fair Lakes Residence Inn Fairfax
Just off I-66 near Fair Oaks Mall
12815 Fair Lakes Pkwy, Fairfax, VA 22033*
Freedom Leadership Conference
Speakers include:
Presented by Uniformed Services League
Admiral James A. Lyons, U.S. Navy (Ret.)

(USN, Ret.) Former Pacific Fleet Commander in Chief
President/CEO of Lion Associates, providing strategic
consulting on foreign policy & security affairs
Senior U.S. Military Representative to United Nations
Presented by GrassTops USA
Michael Pregent, Fmr. U.S. Army
Former Intelligence Advisor to Gen. Petraeus
Director of Veterans Against the Iran Deal
and a Panel of Retired Military Officers
and
Christopher Carmouche
President, GrassTopsUSA
5:30 to 6:30 PM Dinner (doors open 5 PM) with a panel of Retired Military Officers & Conference Leadership
7 to 9 PM Conference Speakers (doors open 6:30 PM), admission free.
Advance RSVP Required.
*Please do not rely on a GPS, please look at a map because the hotel does not face directly on Fair Lakes Parkway but must be accessed via the service road.
Due to Limited Seating, advance registration required for admission. First Come first Served.

Additional Speakers at every conference on these topics:
The Thurmont Statement of Conservative Principles,
Saul Alinsky Smear of the Month Award for one leftist
Conference Purposes and Membership Benefits
Brief reports by leaders of other conservative cause organizations welcome
How to be a Conservative Volunteer (Lightning Round)
(*to volunteer to speak on any of these topics please write to EventCoordinator@FreedomLeadershipConference)
***
Military Veterans admitted free to conference (ID required).
Veteran Officers invited to participate as panelists, write to EventCoordinator@FreedomLeadershipConference.org
The Freedom Leadership Conference is a private event. Attendees are only admitted on the understanding that they will abide by the conference rules, which includes no recording or photography and advance registration is required. Those who attend the conference dinner held in advance of each monthly conference to honor the keynote speaker and associate with the conference leadership are listed as Conference members.
This conference is held monthly with a different sponsor and program, starting as an annual event in southern California called Western Conservative Conference in 1999, with over 60 sponsor organizations over the years. The Freedom Leadership Conference moved east after three years, and since late 2012 has been a monthly, weeknight event held in Northern Virginia.
For video & text of past keynote speakers and to apply for either SUBSCRIBER status (to receive the free email newsletter Freedom Digest) or to JOIN as a Conference Member (no dues, includes newsletter): http://FreedomLeadershipConference.org
Conference Statement of Purpose & Rules at the website at http://freedomleadershipconference.org/info/.
Conference includes presentations on the Thurmont Statement of Conservative Principles, the popular "Lightning Round" (1 minute each) of up to 10 individuals from audience (first come first served) to describe "How I have been a Volunteer Conservative," other conservative speakers & the very popular

Saul Alinsky Smear of the Month Award
Remarks & presentation on How the Left Smears Conservatives
Alinsky Award nominations may be made to LeftSmear@FreedomLeadershipConference.org
Conference Menu TBD
Dinner is with keynote speaker & Conference Leaders
Arrive early for special and restricted diet with advance email notice required (to EventCoordinator@FreedomLeadershipConference)

http://FreedomLeadershipConference.org
Conference organized with assistance of Freedom Center Foundation
If you are unable to attend this function, we are willing to keep you apprised of future functions as a SUBSCRIBER (including links to articles about the conferences, video and text of some of the speakers and more. Or you may apply for Membership which entitles you to invitations to future monthly conferences and the dinner as well as the free subscription. There are no subscriber or membership dues or attendance requirements.

We appreciate your referring this conference to your friends. ALL attendees - dinner and conference - must advance RSVP for admission. If you do RSVP and then do not attend we will request you pay in advance to attend in the future. We strongly encourage our members and subscribers to share the link to the website (via facebook, email, twitter, etc.), especially when there are NEWS items posted there.
"Like" our Facebook page HERE.
For the FLYER (8 1/2 x 11, PDF) of this conference HERE.