Location
Harvard Club of Boston
374 Commonwealth Avenue
Boston, MA 02215
Refund policy
Contact the organizer to request a refund.
Eventbrite's fee is nonrefundable.
Sponsored by the Transatlantic Gene Therapy Consortium
About this event
12TH STEM CELL CLONALITY & GENOME STABILITY RETREAT
May 19-20, 2022
The day following the American Society of Gene & Cell Therapy Meeting
Keynote Speaker: David Liu
Investigator, Howard Hughes Medical Institute Thomas Dudley Cabot Professor of the Natural Sciences and Professor of Chemistry & Chemical Biology, Harvard University
Confirmed Speakers Include: Luca Biasco · Alessandra Biffi · Christian Brendel · Paula Cannon · Hans Peter Kiem · Ross Levine · Michael Rothe · Vijay Sankaran · Laura Sepp-Lorenzino · Emmanuelle Six · Giando Turchiano
We continue to see expansion of indications and technology in genetic engineering applied to human diseases. Gene editing and base editing methods have evolved quickly and moved into large scale manufacturing and clinical trials. We also see new disease-specific and regulatory challenges. Insertion site analysis of integrating vectors in human trials is leading to new understanding of hematopoiesis and cancer immunology. As in the past, this meeting brings together international experts discussing state-of-the-art gene transfer and gene therapy clinical applications, new vector approaches and insertional genome biology. The meeting is limited in size to 100 participants.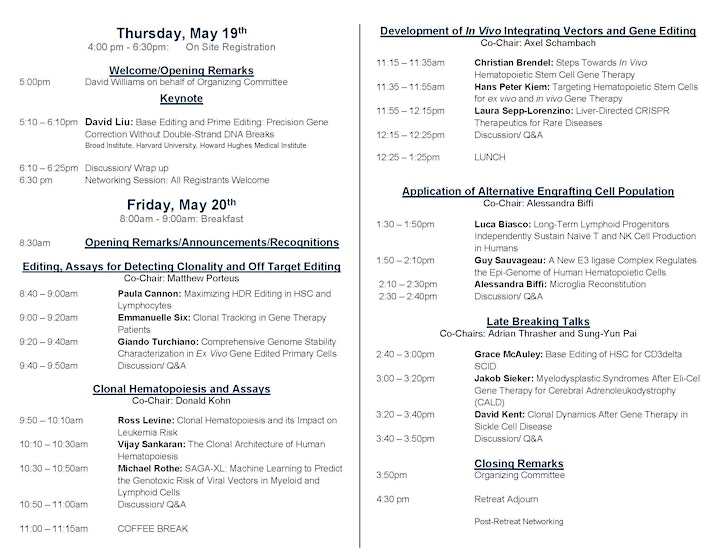 In Memory of Dr. Manfred Schmidt
We would like to dedicate this year's retreat to the memory of Dr. Manfred Schmidt. Manfred, age 54, passed away on January 13th, 2022. On behalf of the entire TransAtlantic Gene Therapy Consortium, we extend our heartfelt condolences to his wife and to his family, friends and colleagues. With deep affection and much respect.
Please contact Teresa A. Ortiz at teresa.ortiz@childrens.harvard.edu with any inquiries.