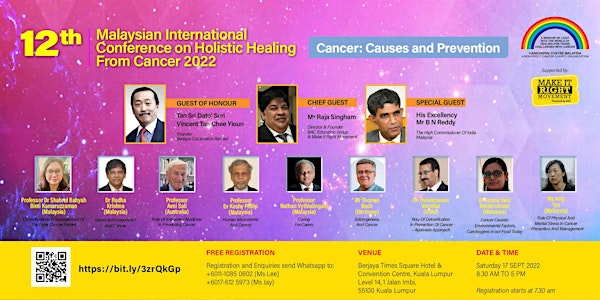 12th Malaysian International Conference on Holistic Healing from Cancer
The theme of the conference is cancer causes and prevention.
When and where
Location
Berjaya Times Square Hotel, Kuala Lumpur Level 14, 1 Jalan Imbi Kuala Lumpur, Selangor 55100 Malaysia
About this event
CanSurvive Centre Malaysia is excited to bring you the 12th Malaysian International Conference on Holistic Healing From Cancer 2022. Theme: Cancer-Causes and Prevention
The conference will be held on Saturday 17th September 2022 (8.30am to 5pm) on time at Manhattan Ballroom Hall II, Level 14 Berjaya Times Square Hotel, Kuala Lumpur, 1 Jalan Imbi, 55100 Kuala Lumpur, Malaysia
The registration starts from 7.30 am -8.30 am
In this conference, you will learn to understand the science behind, and importance of holistic healing to stay healthy is key, prevent cancer and understanding the causes of cancer.
There will be 9 renowned researchers, medical doctors and experts from Malaysia, India, Australia and Germany in their respective fields presenting to you their expertise in cancer
Kindly find the details of the event and speakers in the attached flyer. It's a free event.
For registration:
If you are planning to book more than 1 ticket apart from yourself.
You need to do and click register button and do the registration for few times . And ,to key in for different names ,emails and HP numbers. So they have own tickets under their name and received the email of confirmation .
Buying multiple tickets under 1 person name with no detail is not encouraged.
Please note that registered tickets without identified names and phone numbers will be rendered invalid. We hope you understand that will need to pass those tickets on to others in the queue
Any inquiry:
WhatsApp message to 6011-1085 0602 (Miss Lee)
Visit us:
https://www.facebook.com/cansurvivemalaysia/
https://www.youtube.com/channel/UCItM2KCa-Eex29IDayTMOcQ
https://www.instagram.com/cansurvivemalaysia/?hl
Attendance Etiquette
To ensure a safe and comfortable event for all, participants are kindly requested to observe the following rules:
1. Participants are encouraged to do a self-test for Covid-19 just before attending the event. It is mandatory to wear a well-fitted face mask before entering the Confrence venue.
2. Please note that only a limited number of places are available for this Confrence. Therefore, those keen on attending are encouraged to register early or accept our invitation in order to secure their reservation.
3. Confirmed participants who cannot attend or wish to withdraw from the Confrence are urged to inform the Organiser to enable registrants on the waiting list to take up the available slots.
4. Likewise, registered participants who are UNWELL are advised NOT to attend the Confrence and should inform the Organiser via WhatsApp so as not to deprive those waitlisted (especially cancer patients or caregivers) a much-desired chance to participate.
🚗 parking direction and at flat rate RM13.00
@ parking levels look for west wing and take lift to Level 14, Manhattan Ballroom.
🚶🏻♂️monorail / red line LRT / dark green MRT:
monorail stops @ station Jalan Imbi (in light green color)
LRT @ station Jalan Hang Tuah and walk 500 metres (red color)
MRT @ station Merdeka and walk for 700 metres (dark green color).