12th International Conference on Environmental Toxicology and Ecological Ri...
Description
About Conference
ConferenceSeries Ltd Conferences invites all the participants from all over the world to attend '12th International Conference on Environmental Toxicology and Ecological Risk Assessment' during October 19-20, 2017 Atlanta, Georgia, USA which includes prompt keynote presentations, Oral talks, Video presentation, Poster presentations and Exhibitions.
Environmental Toxicology is highly interdisciplinary fields encompassing several fields like Environmental Biochemistry, physiology, ecology, microbiology, molecular genetics, genomics etc., Main analyses are made by conducting several lab works and field environment i.e., exposure and risk assessment. ConferenceSeries Ltd organizes a conference series of 1000+ Global Events inclusive of 300+ Conferences, 500+ Upcoming and Previous Symposiums and Workshops in USA, Europe & Asia with support from 1000 more scientific societies and publishes 700+ Open access journals which contains over 30000 eminent personalities, reputed scientists as editorial board members.
Why to attend???
Environmental Toxicology Conference 2017 Summit offers a unique window and opportunities to present and evidence the latest updates with a holistic approach to different areas of interest. We have done our utmost to get rid of the traditional "silo" approach in the elaboration of the program and most importantly, during the active sessions, in order to foster innovation and scientific curiosity. Thus, our intention is, to create platforms which will gather eminent scientists who will undoubtedly enrich our meeting during the Q&A sections.
We have tried to compile a scientific program that we hope will be appealing to experienced, aspiring and young scientists. The organizers truly hope that your participation at the summit will encourage a creative networking atmosphere between Academia and Industry. If we are able to achieve this, even in a modest fashion, our expectations will be fulfilled.
Target Audience:
Environmental Toxicology Students, Scientists
Environmental Toxicology Researchers
Environmental Toxicology Faculty
Environmental Toxicology Associations and Societies
Noble laureates in Health Care and Medicine
Toxicology Professionals
Business Entrepreneurs
Training Institutes
Software developing companies
Data Management Companies
Market Analysis
Summary: Environmental Toxicology 2017 welcomes attendees, presenters, and exhibitors from all over the world to Atlanta, Georgia, USA. We are delighted to invite you all to attend and register for the "12th International Conference on Environmental Toxicology and Ecological Risk Assessment (Environmental Toxicology 2017)" which is going to be held during October 19-20, 2017 at Atlanta, Georgia, USA. The organizing committee is gearing up for an exciting and informative conference program including plenary lectures, symposia, workshops on a variety of topics, poster presentations and various programs for participants from all over the world. We invite you to join us at the Environmental Toxicology-2017, where you will be sure to have a meaningful experience with scholars from around the world. All the members of Environmental Toxicology 2017 organizing committee look forward to meet you at Toronto, Canada.
Importance and Scope:
Environmental toxicology is a field of study in the environmental sciences that is concerned with the assessment of toxic substances in the environment. Although it is based on toxicology, environmental toxicology draws heavily on principles and techniques from other fields, including biochemistry, cell biology, developmental biology, and genetics. Among its primary interests are the assessment of toxic substances in the environment, the monitoring of environments for the presence of toxic substances, the effects of toxins on biotic and abiotic components of ecosystems, and the metabolism and biological and environmental fate of toxins.
The scientific program of Environmental Toxicology encompasses a plenary session, symposia and workshops, panel discussions, informational sessions, regional sessions and poster sessions. Environmental Toxicology enhances opportunities for educational development and to exchange the knowledge in ecotoxicology and its applications.
Why Atlanta, USA
Atlanta is the capital of and the most populous city in the U.S. state of Georgia. And with a 2013 estimated population of 447,841. Atlanta is ninth largest metropolitan area in the United States. Atlanta is considered as a world city and with a gross domestic product of $270 billion. More than 30 colleges and universities located in the city, Atlanta is considered a center for higher education. Atlanta is also home to nationally renowned private colleges and universities. Atlanta's economy ranks 15th among world cities and sixth in the nation.
The Atlanta metro has the fifth largest population in the U.S. with 5.7 million residents. It is considered to be a top business city and a primary transportation hub of the Southeastern U.S. The city contains the world headquarters of corporations such as Coca-Cola, Home Depot, UPS, Delta Air Lines and Turner Broadcasting. Although traditional Southern culture is part of Atlanta's cultural fabric, it's mostly the backdrop to one of the nation's leading international cities. This unique cultural combination reveals itself at the High Museum of Art, the bohemian shops of Little Five Points, and the multi-cultural dining choices found along Buford Highway. Atlanta also hosts a variety of history museums and attractions, including the Atlanta History Center and the Martin Luther King, Jr. National Historic Site. The city is also home to a number of post-secondary educational institutions including Clark Atlanta University, Georgia Institute of Technology, Georgia State University and others.
There a large number of institutes and associations in USA dealing with the researches Environmental Toxicology, Analytical Toxicology, Environmental Biology and Public Health. Moreover, there have been many public knowledge transfer programs organized in USA, to improve self-efficacy in the prevention of environmental toxicity.
These developments and their corresponding consequences have accompanied Atlanta in becoming a recognized world leader. Thus, Atlanta has been chosen to conduct the conference Environmental Toxicology-2017.
Conference Highlights:
Environmental Toxicology
Ecotoxicology
Occupational Toxicology
Food Toxicology
Medical Toxicology
Global Warming
Environmental Science
Environmental Chemistry
Aquatic Toxicology
Economic Toxicology
Risk Assessment
Waste Management
Environmental Health and Safety
Major Associations around the Globe:
World Health Organization (WHO)
Society of Environmental Toxicology and Chemistry
EUROTOX
Toxicology Group, Royal Society of Chemistry
Society of Toxicology
American College of Toxicology
Belgian Society of Toxicology and Ecotoxicology
British Toxicology Society
United States Environmental Protection Agency
World Federation of Public Health Association
Major Associations in USA:
American College of Toxicology
Society of Environmental Toxicology and Chemistry (SETAC)
Society of Forensic Toxicologists
American Board of Toxicology (ABT)
Society of Toxicology (SOT)
American College of Medical Toxicology
Top Universities in USA:
Stanford University
Williams College
Princeton University
Harvard University
Massachusetts Institute of Technology
Yale University
Pomona College
Brown University
Wesleyan University
Swarthmore College
Target Audience:
Environmental Toxicology Students, Scientists
Environmental Toxicology Researchers
Environmental Toxicology Faculty
Environmental Toxicology Associations and Societies
Noble laureates in Health Care and Medicine
Toxicology Professionals
Business Entrepreneurs
Training Institutes
Software developing companies
Data Management Companies
OCM for Environmental Toxicology Series Conferences
Organizing Committee








Organizing Committee - Environmental Toxicology






Agenda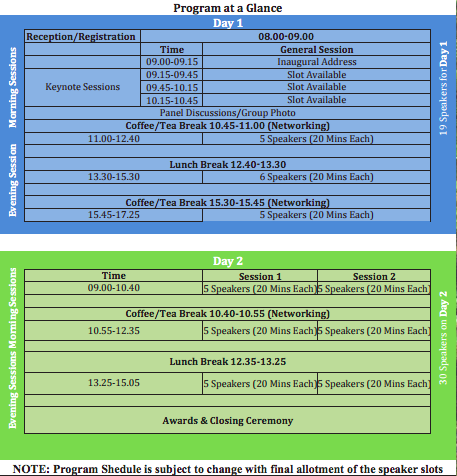 Date and Time
Location
Refund Policy