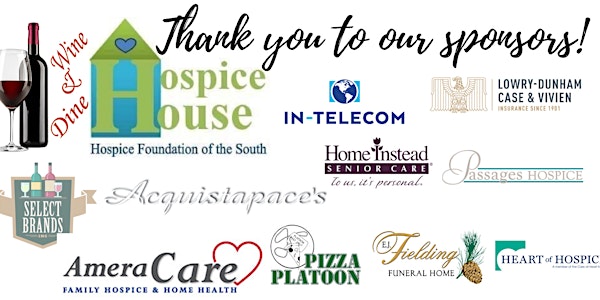 12th Annual Wine and Dine with Hospice
Virtual wine tasting with 3 winemakers featuring 6 different wines.
Refund Policy
Contact the organizer to request a refund.
About this event
Grab your friends and have a get together in the privacy of your own home. Winemakers will give the details of each blend as you taste wines from different areas. Featured wines include: Mettler Lodi Estate Petite Sirah, Mettler Lodi Estate Cabernet Sauvignon, Moniker Single Vineyard Chardonnay, Paul Dolan Cabernet Sauvignon, Juggernaut Hillside Cabernet, Phantom Chardonnay. Join in the fun with one live auction item and visit our event fb page to bid on silent auction items.
Here's how it will work: Order whichever package suits your party attendance. When ordering the Basic Package ($250) make sure to click on the package with the Acquistapace's location you wish to pick up your sample bottles; Slidell Wine Warehouse 191 Gause Blvd W, Acquistapace's Wine and Cheese 631 N Causeway Blvd Mandeville, or Acquistapace's Covington Supermarket 125 E 21st Ave Covington. With sponsorship levels, we will contact you to verify which location you wish to pick up your order.
You are responsible to pick up your orders before the event. Pick up dates and times will be announced.
Must be 21 or older to purchase and participate in this event.
We go live on November 7th at 6:00pm.