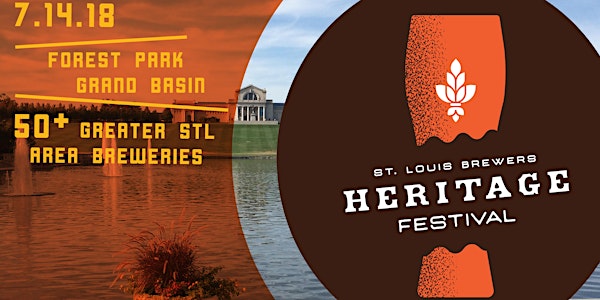 12th Annual St. Louis Brewers Heritage Festival
When and where
Location
Foot of the Grand Basin Lagoon Drive St. Louis, MO
Description
The 12th Annual St. Louis Brewers Heritage Festival is the premiere showcase of the St. Louis beer scene. This festival features hundreds of styles of beer from over 60 greater STL area breweries and homebrew clubs, the Saint Louis Hop Shop Rare Tapping Experience, music, and great food all in an idyllic setting at the foot of the Grand Basin in Forest Park.
Participating breweries and home-brew clubs pouring this year include: 2nd Shift, 4204 Main Street Brewing Co., 4 Hands Brewing Co., Anheuser-Busch Homebrewers Group, Anheuser-Busch Research Pilot Brewery, Augusta Brewing Co., Big Muddy Brewing Co., Bluewood Brewing Co., Brewminati Homebrew Club, Cathedral Square, Center Ice Brewing Co., Charleville Brewing Co., Civil Life Brewing Co., Crown Valley Brewery & Distillery, Deep Sleep Brewing Co., Earthbound Beer, East Side Brewers HBC, Excel Brewing Company, Exit Six Pub & Brewery, Ferguson Brewing Co., Garage Brewers Society, Greer Brewing Company, Griesedieck Bros., Good News Brewing Co., Heavy Riff Brewing, Hopskeller Brewing Company, Jackson Street BrewCo., Kirkwood Station Brewing Co., Main & Mill Brewing Co., Mark Twain Brewing Co., Melvin Brewing Co., Missouri Beer Company, Morgan Street Brewery, Narrow Gauge Brewing Company, O'Fallon Brewing Company, Peel Brewing Co., Perennial Artisan Ales, Point Labaddie Brewing Co., Public House Brewing Co., Recess Brewing, Rockwell Beer Co., Schlafly Beer, Six Mile Bridge Beer, Square One Brewery & Distillery, St. Louis Brews Homebrew Club, Steampunk Brew Works, Stubborn German Brewing Co., The Ferm Homebrew Club, The OG: Women's Craft Beer Collective, The Old Bakery Beer Company, Third Wheel Brewing, Time in a Barrel Brewing, Tin Mill Brewing Co., Trailhead Brewing Company, Twisted Roots, Two Plumbers Brewery + Arcade, Urban Chestnut Brewing Company, WellBeing Brewing Co. (NA), and Wellspent Brewing Company. More breweries may be added as the event gets closer.
Ticket price includes a commemorative tasting glass and access to sample all beers being poured. Food available for purchase from: Frankly Sausages, Zia's on the Hill, Cha Cha Chow, Essentially Fries, and Vero Pizza and Pasta. Attendees are welcome to bring their own snacks, food, and picnic supplies (no outside alcohol).
This event is for those 21 years of age and up. Attendees must have a valid photo ID to enter festival grounds. Children younger than 21 months are allowed.
This outdoor event runs Rain or Shine. In the event of severe weather (sustained lightning, tornado, high winds), the event will shut down.


No pets are allowed at the event except for service animals.
Designated Driver/NA tickets will be sold the day of the event for $5 at the gate for those accompanying GA ticket holders. DD/NA tickets will NOT recieve a tasting glass but will receive a complimentary WellBeing Brewing Company NA Beer.
Tickets are non-refundable.
FAQ
WHAT ARE THE OPTIONS FOR GETTING TO AND FROM THE FESTIVAL IF WE DONT WANT TO DRIVE OURSELVES?
Avoid parking hassles and make certain you have a safe ride home by not bringing a car at all! The Metrolink stop at the Forest Park - DeBaliviere Station is just a 12 minute walk from the Grand Basin where our festival is. This is a fantastic affordable and safe way to get to and from our event and the Forest Park stop is accessible from both the Red and Blue Line. Cabs and Ride Sharing services like UBER and LYFT are also ideal. Just tell them to drop you off at the Saint Louis Art Museum at "1 Fine Arts Drive" to avoid confusion and stroll down Art Hill to our event.
DO YOU ACCEPT CREDIT CARDS OR CHECKS THE DAY OF THE EVENT?
We will accept cash, credit and debit cards at the gate. No checks. Most vendors should accept credit cards, but we do not guarantee it.
DO I HAVE TO BRING MY PRINTED TICKET TO THE EVENT?
No. You can present your phone with your barcode provided by your ticketing confirmation receipt to be scanned for single entry into the festival. If you have a print out of your ticket, it may, however speed things up. If you have neither, we can still look up your purchase by name and email provided at purchase.
WHAT IS INCLUDED WITH THE TICKET PRICE?
General Admission tickets gain access to one 4-hour festival session and include a commemorative tasting glass, and unlimited samples from participating breweries and Homebrew clubs as well as access to entertainment, music, and vendors. Food is not included with the price of tickets. Food vendors will be onsite for attendees to purchase whatever they want. Designated Driver tickets grant access to the festival grounds and a complimentary NA Wellbeing Beer but do not receive a tasting glass or access to included sampling.
CAN I BIKE TO THE EVENT AND IS THERE A PLACE TO LOCK IT UP?
You can bike to the event and there will be bike racks to lock up your bike near the main entrance along Lagoon Drive.
WHAT ARE THE AGE RESTRICTIONS FOR THE FESTIVAL?
Whether doing the sampling or attending as Designated Drivers/NA, attendees must be 21 years of age or older and possess and present a valid form identification to gain entry. The festival does make an exception to allow for children 21 months and younger. Children under 21 months do not require a ticket.
WHAT IS THE SMOKING POLICY?
There is NO smoking under the tents and we would ask that you don't smoke while waiting in beer lines and congested areas. Please be courteous of your fellow patrons and step away from large groups if lighting up. Please throw away your cigarette butts.
THE FESTIVAL RUNS "RAIN OR SHINE". WHAT DOES THAT MEAN?
St. Louis Brewers Guild beer festivals take place rain or shine. To check the National Weather Service forecast for the St. Louis area, visit www.weather.gov. Bring your ponchos and/or smaller umbrellas if there's a high probability of rain. "Rain or Shine" does not apply to severe weather. Heritage Festival is an "open-air" event and we cannot guarantee refuge to patrons in the event of severe weather. If there is either a watch or warning (tornado or lightning storm) for our area or sustained wind over 35 mph, the festival session will be cancelled. If the festival session is underway and a emergency lightening storm or tornado/extreme wind situation arises during the event, the festival will need to end and there will be no refunds. A festival session that has begun and is shortened due to severe weather conditions, is not cause for a full or partial refund. If weather potentially threatens life, we shut down. The decision to continue the festival after adverse weather passes will be determined on a case-by-case basis, based on consultation with appropriate weather experts. Heritage Festival is rain or shine unless there is severe weather as previously stated.
I'M NOT DRINKING BEER, DO I NEED A TICKET?
There will be a $5 charge at the door for designated drivers (DD's) and non-drinkers (NA) who would still like to attend. No advance NA/DD ticketing is required or available. Come in, enjoy the party, drive your friends home responsibly! All NA/DD ticket purchases will include a complimentary Wellbeing NA Beer compliments of the Wellbeing Brewing Company.
ARE THERE PROHIBITED ITEMS?
Outside Alcoholic Beverages, Pets (service animals are welcomed), Fire Arms, Fireworks, and Illegal Substances are not welcome on festival grounds. Water bottles are ok (stay hydrated), picnic baskets (subject to search), snacks, blankets, folding chairs are all welcome!
ARE YOU SURE I CAN'T BRING MY PETS?
Yes! You will be turned away at the gate if you have pets that aren't service animals.
IS THERE A PHOTOGRAPHY POLICY?
Photography and Video are welcome on festival grounds.
 We will also be documenting the event for the promotional use of the St. Louis Brewers Guild. By purchasing a ticket to a St. Louis Brewers Guild event, you are granting permission to the St. Louis Brewers Guild to use your likeness in any photography or video shot on site in future promotional materials.
CAN I COME AND GO AS I PLEASE?
Yes! You can come and go from the festival footprint as long as you do not remove your entry wristbands. Valid ID must be presented EVERY TIME you re-enter. Beer may not be removed from the festival grounds (drink it or toss it).
ARE THERE ACCOMMODATIONS FOR GUESTS WITH DISABILITIES?
Yes. ADA Bathrooms will be a part of each of our bathroom clusters on the festival grounds and all tents, beer stations and entertainment spots will be accessible by wheelchair. Most of the festival footprint is on grass - so terrain could be difficult to navigate if it has been raining and things are muddy. If you require an ADA accessible drop off and pick up point for the festival grounds, please arrive West of the Grand Basin along Lagoon Drive as there is a shuttle stop for brief parking.