12th Annual San Francisco International Ocean Film Festival & Opening Night...
Event Information
Location
Opening Night Gala, Feb 26: SF Maritime Museum, 900 Beach St, 94109 and h
Film Festival; Cowell Theater, Fort Mason Center: 2 Marina Blvd, 94109
San Francisco, CA 94109
Description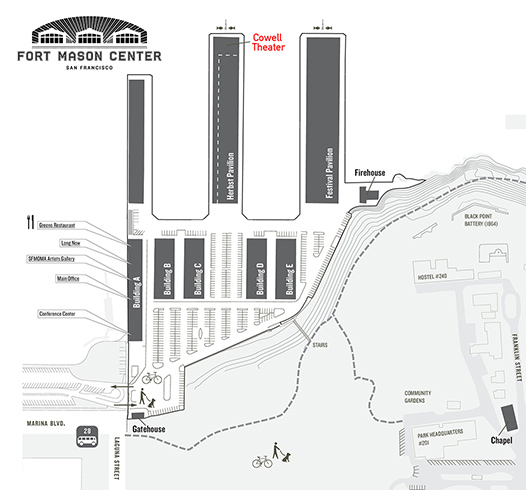 LOCATION
Cowell Theater is located in the Herbst Pavilion of Fort Mason Center, located on Marina Boulevard at Buchanan Street, along the northern waterfront between Aquatic Park and Marina Green.
PARKING
All funds generated from parking revenue are allocated for the preservation and restoration of this National Historic Landmark. The Fort Mason Center parking lot will be available for guests attending the film festival. Vehicles can enter the lot at any time, however overnight parking is not permitted and the parking meters are enforced 24 hours a day.
Weekday Rates
$2.00 an hour

$10.00 - More than 4 hours
Weekend Rates
$2.00 for FIRST hour

Additional $1.00 on top of weekend hourly rate (i.e. - 3 hours is $7.00)
Zip Cars
Zip Cars and Zip Car parking for four cars are available on the Fort Mason Campus.
Bike Racks
Bike racks are located throughout the campus with the generous support of REI. At this time there are no indoor racks.
Public Transportation
Cowell Theater is served by the MUNI bus line 28.
Box Office
Tickets will be available at the door, one hour prior to the beginning of each program.
_____________________________________________________________________________________
12th Annual San Francisco International Ocean Film Festival Schedule
Friday, February 27
PROGRAM 1
4:00 PM
Invasion of the Giant Tortoises (USA), Theo Lipfert, 27 min - West Coast Premiere
For centuries, seafarers passing the island of Mauritius captured its giant tortoises for food, eventually depleting them to extinction. Biologists in the Indian Ocean have a radical plan: to replace them with a close relative, the giant tortoise of Aldabra, a deserted atoll several hundred miles north. –DB
Lost Gear (USA), Ken Fisher, 8 min
"Lost Gear" documents Sea Doc's Fishing Gear Recovery Program, where abandoned crab pots, a hazard to wildlife, are retrieved and sold back to the fishermen. Ken Fisher's film captures a community making sustainable fishing and marine protection a way of life. –PW
Our Deepest Waters: Exploring Marine National Monuments in the Remote Reaches of the Pacific (USA), Stephani Gordon, 20 min
In 2009 the U.S. Government established three National Marine Monuments in the Pacific, protecting 192,000 square miles of ocean habitat. These remote monuments serve as baselines for healthy, intact ecosystems, and hold many secrets. Studying them may help us better understand the problems we have created in our oceans. –VJ
Acid Ocean (Australia), Sally Ingleton, 52 min - ENVIRONMENT AWARD
Scientists are studying life forms of a coral reef off Papua, New Guinea, where there are naturally acidic discharges; in the Southern Ocean; and at an oyster hatchery in the Pacific Northwest to find out how the sudden rise in ocean acidity is affecting creatures whose hard structures cannot develop in highly acidic water. –SJPH
PROGRAM 2 (Surfing Program)
7:00 PM
Into the Mind of Greg Long (USA), Patrick Trefz*, 5 min - GOLDEN GATE AWARD
Watching surfers on huge waves, you have no idea what they did to get themselves to that point. Professional big wave surfer Greg Long reveals his thoughtful physical and mental preparation for riding those waves. Big wave surfing is not a reckless act, but a calculated endeavor. –SM
Duct Tape Surfing (Australia), Mark Tipple, 5 min
When a momentary lapse in attention makes you a paraplegic, but you still have dreams of surfing, what would you do? What could you do? Who would help you? –SM
Learning to Float (USA), Brendan Calder, 20 min
A 280-pound 12-year-old African-American boy from gang-plagues South Central Los Angeles and a 60-year old white surfer dude discover through their love of surfing a mutual need - one for a mentor and father, the other for a son he never had. –SJPH
June Gloom (USA), Adam Warmington, 4 min
The common Southern California meteorological term "June Gloom" refers to foggy, cool and overcast weather between the end of March and the end of June. Layering excerpts from Jack Kerouac's 1960 poem "Sea: Sounds of the Pacific Ocean at Big Sur" with a surfer's perspective, this video poem captures the character of the "gloomy" California coast. –ST
Tierra de Patagones(Land of Patagones) (Argentina), Julian Azulay and Joaquin Azulay, 76 min
Two brothers decide to surf the most isolated and unexplored parts of Southern Argentina and islands off its coast, such as Isla de los Estados (Staten Island) and Penguin Island. Over six months, they discover new waves and make friends with the fishermen and the gauchos who thrive in this rugged land. –SM
Saturday, February 28
PROGRAM 3
10:00 AM
The Big Pick (UK), Byrony Stokes, 6 min
A big beach cleanup in a small cove on the coast of Cornwall in England yields more marine debris than one could imagine. In a matter of three hours, a group attempts every month to remove all the plastic on this beach, and determine what to do with it. –AB
Coralax (USA), Taylor Redman, Kawelu Higashino, Kaya Goosby, Troy Lau, 7 min - World Premiere
What happens when coastline construction and development continues unfettered? It's bad for reefs and all its inhabitants, as shown in this clever, student-made, claymation film, inspired by Dr. Seuss's, "The Lorax". –DB
Gyre: Creating Art from a Plastic Ocean (USA), JJ Kelley, 23 min - West Coast Premiere
A team of scientists and artists troll Alaska's coast collecting marine debris that has washed ashore. By creating art from the trash and building a traveling expedition, they hope to bring awareness of this pervasive pollution to a wider audience. –KH
La Nuit des Geants (Night of the Giants) (France), Rene Heuzey, Daniel Jouannet, 6 min - US Premiere
Superb cinematography and lighting, complemented by a soaring soprano voice create a cathedral-like world for the whale sharks that move through this enchanting film. –SJPH
Dive With You (Taiwan), Chin-Yuan Ke, 58 min - CONSERVATION AWARD
Whale sharks are seen as the gentle polka-dotted giants of the ocean. Watch a community's evolution from hunting them for food, to studying their life cycle, advocating for shark conservation, and working to release captive whale sharks back to the ocean. –SM
PROGRAM 4 (Shark Program)
1:00 PM
After the Storm: A Shark's Tail (Germany), Marco Biemann, 11 min
Malapascua, a tiny island located in the center of the Philippines island chain, is known to be the only place in the world where Thresher sharks can be predictably seen almost every day. Their presence supports tourism and provides livelihood to locals. In November 2013, typhoon Haiyan ravaged Southeast Asia. Its damaging effects on Malapascua seen through the eyes of dive guide Ronel Pepito, raise the question: Will human and marine life recover? –ST
Great White Lies (USA), Skylar Thomas, 46 min
Misdirected bureaucrats' efforts to "control" white sharks backfire, allowing politicians to trade in fear and loathing to garner votes. Sharks and other marine life pay the price for the ineptitude and posturing. It's all done with smoke and mirrors, and the blackest of lies. (Just who is the predator here?!). –MJS
Shark Girl (Australia), Gisela Kaufmann, Carson Orit, 58 min - WILDLIFE AWARD
Madison Stewart, a young Australian, grew up diving with sharks on the Great Barrier Reef. When she realized how rapidly the numbers of sharks were dwindling, she dropped out of school at the age of 14 to become a strong and persistent advocate for shark and reef preservation. –KH
PROGRAM 5
4:00 PM
Net Positiva (USA), Peter Cambor*, Ian McGee 11 min - INNOVATION AWARD
A trio of friends from Southern California head to the wild coastline of Chile on an aspiring quest to turn the negative - and inevitable - impact of discarded plastic fishing nets into something positive for the environment and the locals. –VJ
A Rare Sea Snail That Could Help Fight Cancer (USA), Lindsey Hoshaw, 4 min
Scientific sleuths discover that a marine mollusk's rare blood protein may be a "key" to the treatment of cancers and autoimmune diseases. Giant keyhole limpets manufacture hemocyanin, whose potential as a cancer vaccine and in treating diseases like Alzheimer's may, ironically, drive it toward extinction. –MJS
Mussel Man (USA), Elvis Metcalf, 17 min
Though California has lost its largest shellfish farm, there remains one open-water, offshore mussel farm in the Santa Barbara Channel. Its owner is working hard to overcome uninformed government regulation and provide a cleaner and sustainable source of popular animal protein. –JO
Mexico Pelagico (Mexico), Jeronimo Prieto, 69 min, North America Premiere - DIRECTOR'S AWARD
While chasing a sardine bait ball near Baja California, a film crew encounters a group of shark fishermen. The filmmakers change their focus to make a movie about the wealth of Mexico's marine life and the need to ensure sustainable livelihoods for the shark fishermen while preserving the delicate ecosystem. –KH
PROGRAM 6
7:00 PM
Sweet Sea Breeze (Germany), Thomas Hessmann, 20 min
Between verbal clashes and blackmailing brinksmanship, a crusty old landlocked sea captain and his soccer-rowdy caregiver share their passions, lives and dreams. The command, "Bring me the sea!" must now become the youth's anthem. –MJS
Sea Legend (German), Andreas Roth, 5 min, West Coast Premiere
This great film is beautifully shot and is a strong reminder that we can save the world's oceans. - AS
The Clean Cross (Hong Kong), Damian Antochewicz, Oliver Deppert, Sam Lewis 19 min
Simon Holliday rises to the challenge of a 35-kilometer swim from Hong Kong to Macau, crossing shipping lanes, dodging ship traffic and negotiating the trash at the mouth of the Pearl River. Pushing his own limits while increasing awareness of ocean pollution, he finishes the swim in record time. –JO
Secret Seychelles: D'Arros (UK), Caroline Brett, 52 min
D'Arros Island, a thousand miles east of Africa, is the site of intense scientific research and careful restoration in order to be qualified as a Designated Marine Area along with Saint Joseph Atoll and Aldabar Island, a World Heritage Site. From giant tortoises to frigate birds to native vegetation, this small speck of land is the scene of a great conservation triumph. –JO
Sunday, March 1
PROGRAM 7 - Student Film Competition - Sponsored by Cordell Bank National Marine Sanctuary
10:00 AM
This program is free to attend however all guests must register to attend. Please register through the ticket purchsae button.
High School Submissions
A Blank Canvas - Mountain View High School, Los Altos, CA, USA
For Our Future - Ankara İncek Doga Collage, Ankara, Cankaya, Turkey
Full Circle - Irvington High School, Fremont, CA, USA
Making a Killing - Saint Anthony High School, Long Beach, CA, USA
Message in a Bottle - Keystone School, San Antonio, TX, USA
Miles from Home - Stockbridge High School, Stockbridge, MI, USA
Parker's Sea Turtle Adventure - Saint Anthony High School, Long Beach, CA, USA
The Sea Lions of Pier 39 - The Branson School, San Francisco, CA, USA
Use Your Water Carefully - Kartal Doga School, Istanbul, Eurasia, Turkey
Wake Up Call - Tamalpais High School, Mill Valley, CA, USA
Junior High School Submissions
Ocean: The Cradle of Life - Prospect Sierra School, Berkeley, CA, USA
The Devil's Teeth - Prospect Sierra School, Berkeley, CA, USA
Trashzilla - West Marin School, Point Reyes Station, CA, USA
PROGRAM 8
1:00 PM
Deep Look - Pygmy Seahorses: Masters of Camouflage (USA), Josh Cassidy, 2 min
Tiny and delicate,pygmy seahorses survive by attaching themselves to vibrant corals, where they become nearly invisible to predators (and researchers). But are they able to change appearance if they move to different corals? California Academy of Sciences biologists find the answer to this long-time mystery. –DB
The Beauty of Mangrove Forests (Canada), Dennis Zaidi, 2 min - West Coast Premiere
Three-quarters of the world's tropical fish are borh there, including some sharks. They are better protected from floods and rising seas than anything humans have dreamed up. Yet half the world's mangrove forests are gone. It's time more people knew about it. This short, beautiful fim is a start. –SJPH
The Odd Couple (UK), Omar Badr, 5 min - North America Premiere
The sociable goby fish and the blind pistol shrimp are inseparable. They live together in a hole in the gravel where the strong shrimp does the constant lifting while the fish keeps guard—if it isn't distracted. –KH
ThuleTuvalu (Switzerland), Matthias von Gunten, 96 min - COASTAL CULTURE AWARD
With breathtaking imagery from the high arctic and the tropical pacific, ThuleTuvalu addresses the threat of climate change in an elegant and thoughtful film. Focusing on communities in Northern Greenland and the South Pacific, Mattias Van Gunten explores how each culture will have to adapt, as sea levels rise and the ice retreats. The scenery is majestic and the cultural insights fascinating. –PW
PROGRAM 9

4:00 PM
The Watershed (USA), Elise Hugus and Daniel Cojanu, 16 min, West Coast Premiere
Mom, it smells!" No wonder, when septic tank outflow causes algae blooms in your swimming pond and a nearby river. Led by local Native Americans, a program that uses the filtering power of clams aims to clean up the foul mess––if heedless development doesn't stymie their efforts.
–– SJPH
The Reef (USA), Jessica Hamel, 10 min - SHORT AWARD
On the remote atoll of Ulithi in Micronesia, the reefs are changing. Faced with a declining fish population and increasing levels of invasive cabbage coral, community members collaborate, rediscovering traditional fishing management that they hope will revitalize their reef and ward off having to relocate. –AB
Tales of the Sand (Spain), Elodie Turpin, 20 min, US Premiere
A sandy ocean floor hides surprisingly beautiful and remarkable creatures: some lie low to ambush a meal, others hide to avoid becoming one. In this finely observed film, we meet a fascinating collection of these bottom-dwellers. Charming narration is complemented by a felicitous musical score. –SJPH
Tailwind from Europe (Germany), Monika Kovacsics, Heike Nelsen-Minkenberg, 51 min
An increasing number of enourmous, fossil-fuel burning container ships criss-cross the world's oceans, leaving air pollution in the wakes. Some European ship captains think there is a better way to move goods: high-tech wind power. The prospects are promising, especially in congested seas like the Baltic. –SJPH
Monday, March 2
PROGRAM 10 (Canadian Program)
4:00 PM
The Mystery of Atlit Yam (Canada), Jean Bergeron, 52 min, West Coast Premiere
A few yards off the coast of Israel under about 30 feet of water, marine archeologists recently discovered a submerged village that dates back nearly 10,000 years. Thanks to the sandy seabed, it is extremely well preserved. A mysterious stone circle is its center; around it are houses, wells, human remains and evidence of the first domesticated plants and animals. –KH
Realm of the Oceans (Canada), Marc Jampolsky, 52 min
Ocean currents are the major creator, driver and regulator of climate. This film stars the ocean itself, represented by an elaborate model of both surface and deep currents. Newly discovered patterns of these currents reveal a vulnerability of the world's climate to their radical disruptions.
–JO
PROGRAM 11
7:00 PM
Deep Look - The Amazing Life of Sand (USA), Josh Cassidy, 2 min
If you scooped up a handful of sand from every beach, you'd have a history of the world sifting through your fingers. From mountain boulders to the shells of tiny ocean creatures, follow the journey that sand takes through thousands of years across entire continents to wind up stuck between your toes. –ST
Of Whale and Men (USA), Skylar Thomas, 7 min
This close encounter with humpback whales may have you asking yourself if we can learn something from these magnificent mammals. ­–VJ
Six Months at Sea in the Merchant Marine (USA), Martin Machado, 22 min
A candid first-hand view of the work and life of a merchant mariner aboard a container ship. The ship calls on ports around the world, from New York to San Francisco Bay, with an unexpected pause for dry dock work in Singapore. Narrated by the thoughtful mariner/filmmaker himself. –ST
Steve Shirley, Shark Tagger, San Francisco Bay (USA), Kristin Sherman Olnes, 11 min
The carefully planned strategy, the skillfully executed hunt, the victory! A shark is captured and radio-tagged for scientists to track and better understand the ways of its species. Once a shark trophy hunter, this man now uses his skills to conserve, not kill, the sharks of San Francisco Bay and beyond. –MJS
The Last Ocean (New Zealand), Peter Young, 50 min
In less than twenty years the once pristine waters of Antarctica's Ross Sea have become another example of a vulnerable fishery seriously damaged by over fishing. The long-lived, slowly reproducing, deep dwelling, Patagonian tooth fish (sold as the fancifully named Chilean Sea Bass) will not survive with Man as it arch predator. –JO
Location
Opening Night Gala, Feb 26: SF Maritime Museum, 900 Beach St, 94109 and h
Film Festival; Cowell Theater, Fort Mason Center: 2 Marina Blvd, 94109
San Francisco, CA 94109