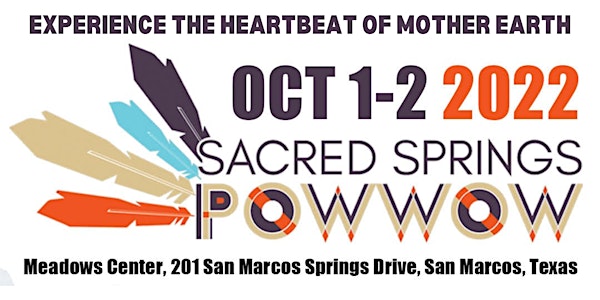 12th Annual Sacred Springs Powwow | San Marcos, TX | Native Culture
Join over 6K attendees for a beautiful Native American festival, culturally-rich in music, art, dancing, and food!
When and where
Location
The Meadows Center for Water and the Environment 211 San Marcos Springs Drive San Marcos, TX 78666
Refund Policy
Contact the organizer to request a refund.
Eventbrite's fee is nonrefundable.
About this event
Join over 6K attendees for a beautiful Native American festival, culturally-rich in music, art, dancing, and food! See you at the Powwow!
General Admissions:
$6 for Saturday, $5 for Sunday, and $8 for a two day pass!
FREE Admission for Children under 12 years!
If you are a veteran, please reach out to us before purchasing your ticket for a discounted admissions price. (Email: jose@indigenouscultures.org)
Raffle Ticket Bundles Available at check-out and also in-person. Need not be present to win!
Parking & Shuttle Information:
Free parking is available at Bobcat Stadium (810 Aquarena Springs Dr, San Marcos, TX 78666) with 5-minute Shuttle Service to Powwow Grounds (Meadows Center)
Host Hotels:
Stay the night and join us for this 2-day event!
Our host hotel options can be found on our website. While you are in town enjoy local food, shopping, and outdoor recreation!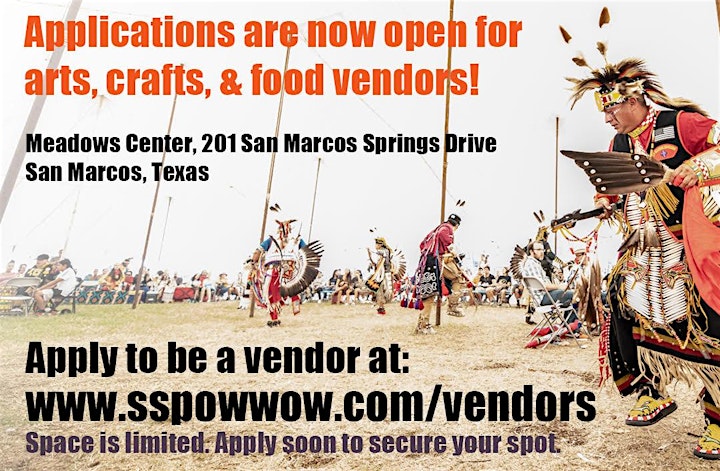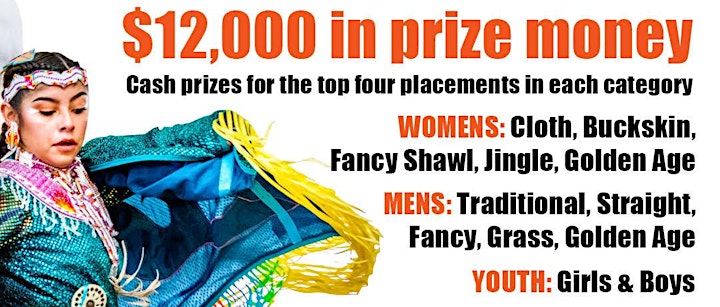 POWWOW DANCERS:
Free Admission for all Powwow Dancers and their families
$12,000 in cash prizes for the top four placements in each category
Womens: Cloth, Buckskin, Fancy Shawl, Jingle, Golden Age
Mens: Traditional, Straight, Fancy, Grass, Golden Age
Youth: Girls, Boys, and Tiny Tots
Dancers: Be sure to check in with the head judge prior to competition.
HEAD STAFF:
Emcee: Tim Tallchief (Osage)
Arena Director: Bill Takes Horse (Crow)
Head Judge: Gwen Takes Horse (Choctaw)
Head Male Dancer: Cecil Gray (Cheyenne/ Kiowa)
Head Lady Dancer: Nicole Pavatea ( Hopi/Navaho)
Head Gourd Dancer: Cricket Rice (Buapaw/Shawnee)
Color Guard: Disabled American Veterans Seguin, Texas
Host Southern Drum: Otter Trail
Host Northern Drum: Young Buffalo Horse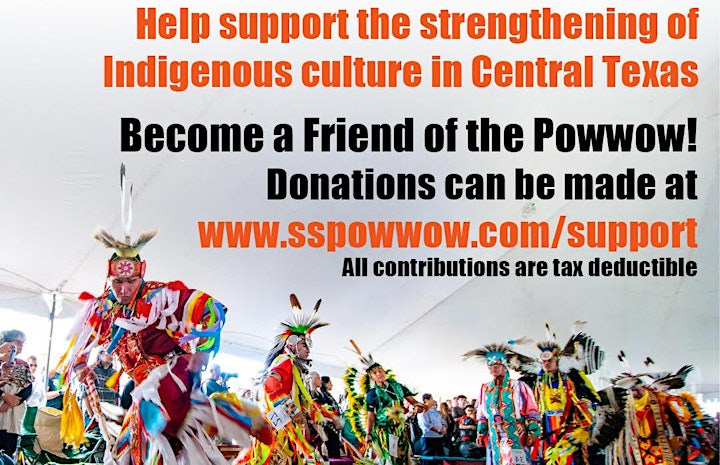 BECOME A FRIEND OF THE POWWOW!
The Sacred Springs Powwow is organized by the Indigenous Cultures Institute, a nonprofit working to preserve the cultures of the Native Americans indigenous to Texas and northern Mexico while maintaining our covenant with sacred sites.
It is only with the help of donations & sponsors that we are able to put on this event and continue to teach people of all backgrounds about Native cultures.
Every donation counts! If you're able to help, we'd love your support in allowing us continue our projects and create the biggest powwow event of 2022!
What are people saying about the Sacred Springs Powwow?
"Oh it was WONDER FILLED! I am so privileged to be a part of it."
"Congratulations on putting together a first rate powwow!"
"That's how powwow is supposed to be! Amazing outdoors with your feet feeling mother earth as you hear the heartbeat through the drum!"
"A pow wow like this in San Marcos was long overdue and we look forward to attending the pow wow annually."
"The Sacred Springs Powwow had something... and that is a proper spirit."