Description


Accelerating Public and Nonprofit Performance:
Exceptional Cases of Enhanced Efficiencies, Imaginative Innovations and Important Impacts


This year's National Center for Public Performance (NCPP) Public Performance Conference marks the 12th year the nation's top government and nonprofit performance professionals and academics will convene to emphasize the use of data to improve efficiency and efficacy of public services. Every year, the event draws attendees from all over the world for two days of discussion and networking.​ The goal of the conference is to examine and discuss performance management research and models for the adoption and implementation of compelling practices in the public sector. Attendees include employees from all levels of government and nonprofit, consultants, government contractors, university faculty, researchers, and students.
FULL SCHEDULE: Review the full schedule here!
REGISTRATION: Register today! $150 for two-day conference. Includes complimentary registration for optional workshops.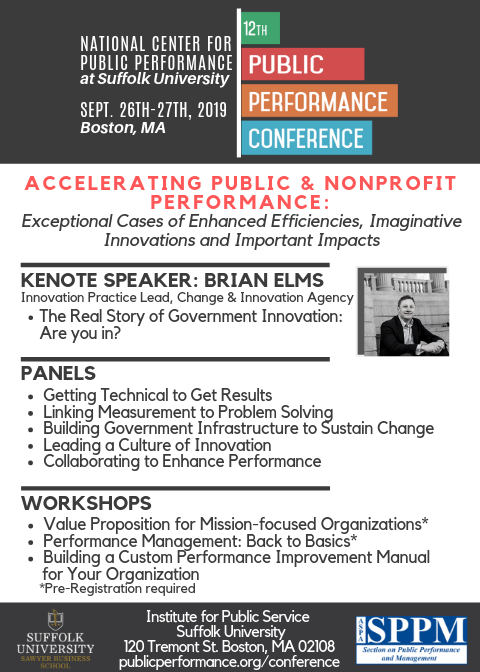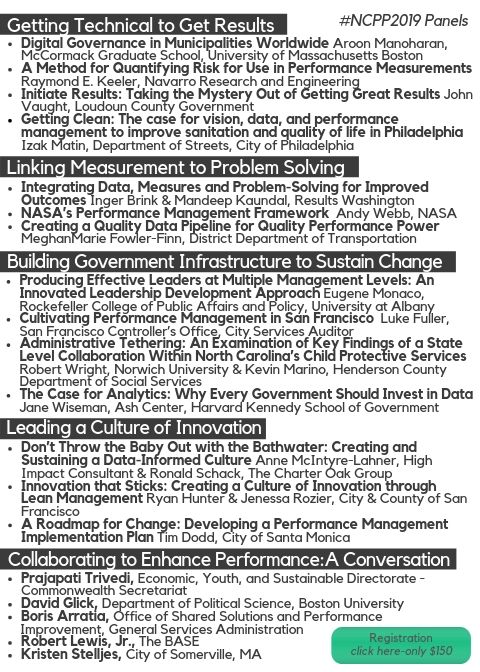 WORKSHOPS: We're excited to announce two supplemental workshops taking place at this year's Annual Public Performance Conference! Included with your registration fee, these workshops will provide valuable professional development. Attendees are invited to participate in one or both workshops. Upon conference registration, you will receive a separate registration link. For those who have already registered for the conference, please check your email for registration instructions.
Thursday Lunch Workshop: Value Proposition for Mission-focused Organizations
People tend to use the term value proposition quite loosely but there are specific models that can help people in any organization, even a mission-based organization, update how you think about the products or services that you deliver. Borrow from the Lean Start Up world to learn how to put your customer or beneficiary front and center in different way that helps you prioritize the work that you do and deliver more of what your customers and beneficiaries need most. This workshop will introduce you to the concepts of customer segmentation and the Mission Model Canvas but allow you to play with the value proposition, a connecting activity, which can help you streamline your product and service portfolio.
Friday Breakfast Workshop: Performance Management: Back to Basics
This workshop will present Performance Management: Back to Basics. It will describe the essentials of performance management focusing on (strategic and program planning, budgeting (integrating measurement and cost data), management, evaluation, measures, and reporting. This session will integrate other conference topics into this framework and tie current topics to performance management basics
Friday Lunch Workshop: Building a Custom Performance Improvement Manual For Your Organization
Using the paradigms of performance management manuals and models, participants will work collaboratively to identify steps and strategies necessary to build a performance management system suited to the unique context of their own agencies, organizations, or programs. This closing session will emphasize the importance of selecting appropriate indicators, determining who should be involved in performance management, and crafting a sustainable model.
ARCHIVES: Now in its 12th year, the conference has a history of bringing together innovative minds in government and nonprofit performance. Browse our conference archives here.
VISITING BOSTON: Travel guide [pdf]
Conference Chair
Professor Marc Holzer, Ph.D.
Institute for Public Service, Suffolk University
Executive Director, National Center for Public Performance
ABOUT THE NATIONAL CENTER FOR PUBLIC PERFORMANCE:
​The National Center for Public Performance (NCPP) is a research and public service organization devoted to improving productivity in the public sector. Founded in 1975, NCPP serves as a vehicle for the study, dissemination and recognition of performance measurement initiatives in government. NCPP is operated out of Suffolk University's Institute for Public Service.

In addition, NCPP specializes in research and teaching in the engagement of citizens and, through the generous support of The Sloan Foundation, has been able to undertake research and teaching in citizen-driven government performance, develop curricular resources and deliver online training for public managers.
Visit NCPP online at: www.publicperformance.org
Follow NCPP on Social Media: