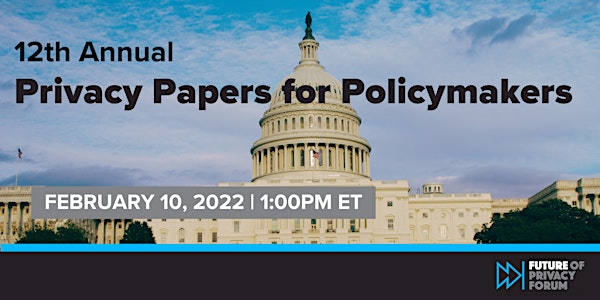 12th Annual Privacy Papers for Policymakers
12th Annual Privacy Papers for Policymakers
About this event
The Future of Privacy Forum is proud to present the 12th Annual Privacy Papers for Policymakers. This annual event recognizes leading privacy research and analytical work that is relevant to policymakers in the United States Congress, at United States federal agencies, and for data protection authorities internationally.
Virtual Program: 1:00 P.M. ET
Keynote Speaker: Colorado Attorney General Phil Weiser
Please visit our event page to view this year's winning papers and additional information.
This event is free, open to the general public, and widely attended. Please register as soon as possible, as space is limited.
The Future of Privacy Forum is dedicated to making our meetings and events safe places for all. We do not tolerate harassment of any kind. We insist that all participants at our events demonstrate respect and courtesy to all. This includes refraining from inappropriate language, comments, and behavior, in person or by electronic communications.
Please click HERE for our full code of conduct/anti-harassment policy.
Thank you to our honorary co-hosts Congresswoman Diana DeGette and Senator Ed Markey!