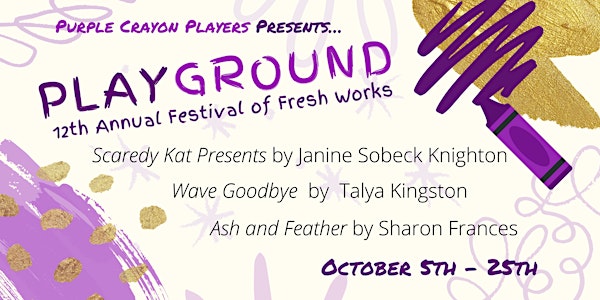 12th Annual PLAYground Festival of Fresh Works!
A series of three exciting new plays for young audiences, featuring the opportunity to talk with and give feedback to the playwrights!
About this event
Join us at the 12th Annual PLAYground Festival of Fresh Works! On October 5th - 25th we will be presenting virtual, staged readings of three exciting new plays for young audiences, and we would love to see you - yes, YOU - there! Registration is free! Come for part or all of the festival to immerse yourself in these amazing stories and provide your feedback; who knows, your thoughts might just make it into the final draft!
Additionally, in the days leading up to these readings we will be releasing exclusive content - including interviews with surprise guests, along with themed crafts and activities - which can be found on our Facebook, Instagram, and website, so stay tuned! A link to the festival live-stream will also be distributed during these days. Please see below for the festival lineup as well as sneak-peeks into the plays.
October 10th -
Scaredy Kat Presents, by Janine Sobeck Knighton
Directed by Melissa Lewyn
Eleven-year-old Kathryn is paralyzed by social anxiety. Estranged from her classmates, she spends all her time in her basement with her two passions: Alfred Hitchcock and stop motion animation.
When her enthusiastic attempts to win a trip to Hitchcock's old film sets fall apart faster than her clay figures, Kathryn is sent a possible gift with the arrival of the new neighbor girl, Nadia. Forced to spend her afternoons at Kathryn's house while her mom is working, Nadia's keen interest in art could be the secret to Kathryn's success. With her anxiety trying to block her at every turn, Kathryn must learn how to share her dream – and potentially make a friend along the way.
October 18th -
Wave Goodbye, by Talya Kingston
Directed by Susie McCollum
Byrony and Celeste have grown up on the shores of an atoll nation in the South Pacific. While they appreciate the island's beauty, they are growing frustrated by its limitations. As a storm approaches, the girls are pulled between their understanding of the science of climate change and local custom. However, the wave they meet is like them: afraid and angry. Meeting the wave forces Celeste to confront her private grief at the loss of her mother, and inspires Byrony to speak up publicly, carrying her all the way to the 2015 signing of the United Nations Climate Accord in Paris.
October 24th -
Ash and Feather, by Sharon Frances
Directed by Hailey Brunson
An American family - including teen daughter, Phoenix, and her two dads - takes a journey through brain cancer. Poetry, songs, fables, and love help Phoenix develop her rich sense of self. She rises from the ashes of hardship, where cancer becomes only a minor character in her story.