***OUR EVENT TICKETS ARE FREE. PLEASE CONSIDER DONATING $5 PER PERSON AT THE DOOR, SO WE CAN CONTINUE TO HOST OUR COMMUNITY EVENT EACH YEAR.
About this event
FOR MORE INFORMATION www.ocautismfoundation.org
***NOTE: BOOTH REGISTRATION IS NOW AVAILABLE ONLINE www.ocautismfoundation.org. Please visit our website for more information on the upcoming OC TOY DRIVE on 12/11, SPONSORSHIP OPPORTUNITIES and ONLINE DONATION. If you have any questions, please call us at (714)799-3030 or send an email to office@ocautismfoundation.org.
______________________________________________________________________________________
ABOUT GENERAL TICKETS:
IT'S A PAJAMA PARTY!
General Tickets will be available on December 1, 2021. Each adult and child of all ages (including infants and toddlers) will need a ticket for entrance. We will need this information to plan for the food, activities and toys for this special event.
RSVP: Tickets are FREE for our special needs families. Please donate $5 per person at the door to help us continue to host many community events throughout the year for chidren with Autism and other disabilities.
ABOUT THE EVENT:
We are hosting our 12th ANNUAL OC AUTISM BREAKFAST WITH SANTA on Saturday, December 18, 2021 from 10am-2pm for special needs families at an outdoor venue. We will follow CDC Guidelines and require masks for entry and as tolerated for children and/or adults with disabilities. For you safety, please wear your masks if not actively eating, stay 3-6 feet apart and wash/sanitize hands often. We will also have a 2-hour time limit.
Please register for ONLY one of the available timeslots:
1) Group A is from 10am-12pm
2) Group B is from 12pm-2pm
***SPACES ARE LIMITED. No tickets will be available at the door.
__________________________________________________________________________________________
WAIVER AND RELEASE:
I, the Participant, release and forever discharge and hold harmless OC AUTISM FOUNDATION from any claim or liability that I, the Participant, may have against Kids Can Cosplay with respect to any bodily injury, personal injury, illness, death or property damage that may result from my participation in a disaster relief operation. I also understand that OC AUTISM FOUNDATION does not assume any responsibility or obligation to provide financial or other assistance, including, but not limited to medical, health, or disability insurance, in the event of injury, illness, death or property damage.
I grant and convey unto OC AUTISM FOUNDATION all right, title and interest in any and all photographic images and video or audio recordings made by OC AUTISM FOUNDATION during my work for OC AUTISM FOUNDATION, including, but not limited to, any royalties, proceeds or other benefits derived from such photographs or recordings.
__________________________________________________________________________________________
ABOUT VOLUNTEER TICKETS: SOLD OUT!!!
***SAVE THE DATE: Mandatory Volunteer Orientation on Zoom is scheduled for Monday, 12/6/21 at 4-5pm for all club presidents or club representatives.
Come in your favorite Pajamas to give back to the community. With your help, children with Autism and other disabilities will get to enjoy FREE:
* BRAND NEW TOYS
* FOODS & DRINKS
* ARTS & CRAFT
* GAMES & ACTIVITIES
* LIVE ENTERTAINMENT
* MUCH MORE
We need your help to give children with all abilities and their families an opportunity to celebrate the holiday seasons in a safe and nurturing environment. Each child will have a chance to meet Santa Claus and receive a brand new upwrapped toy. They will also be able to take family photo with Mr. and Mrs. Claus too.
RSVP: Spaces are limted. Early volunteer registration is highly encouraged by 11/30/21 before tickets are SOLD OUT.
We will ONLY accept group registration from club presidents. Limited to 20 participants per club, unless you have prior approval. We do NOT accept individual volunteers at this time. Please call (714) 799-3030 if you have any questions or send an email to office@ocautismfoundation.org.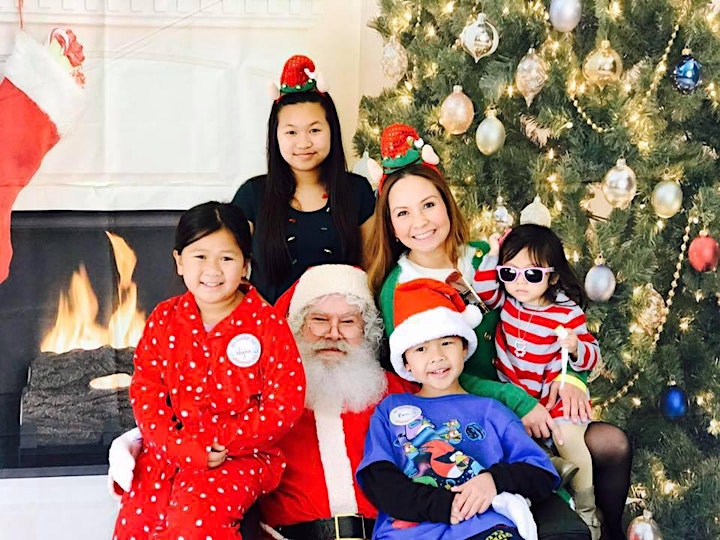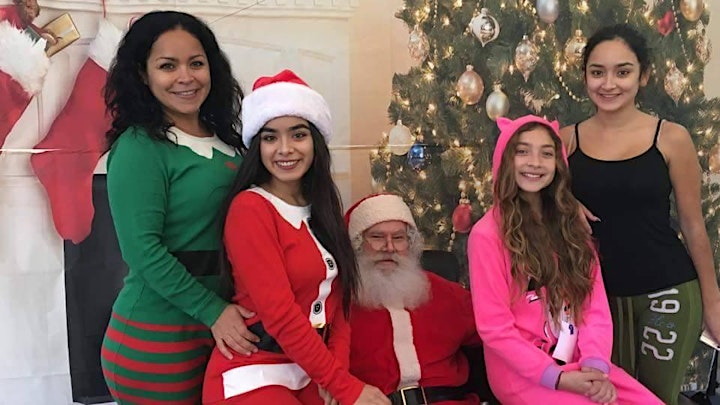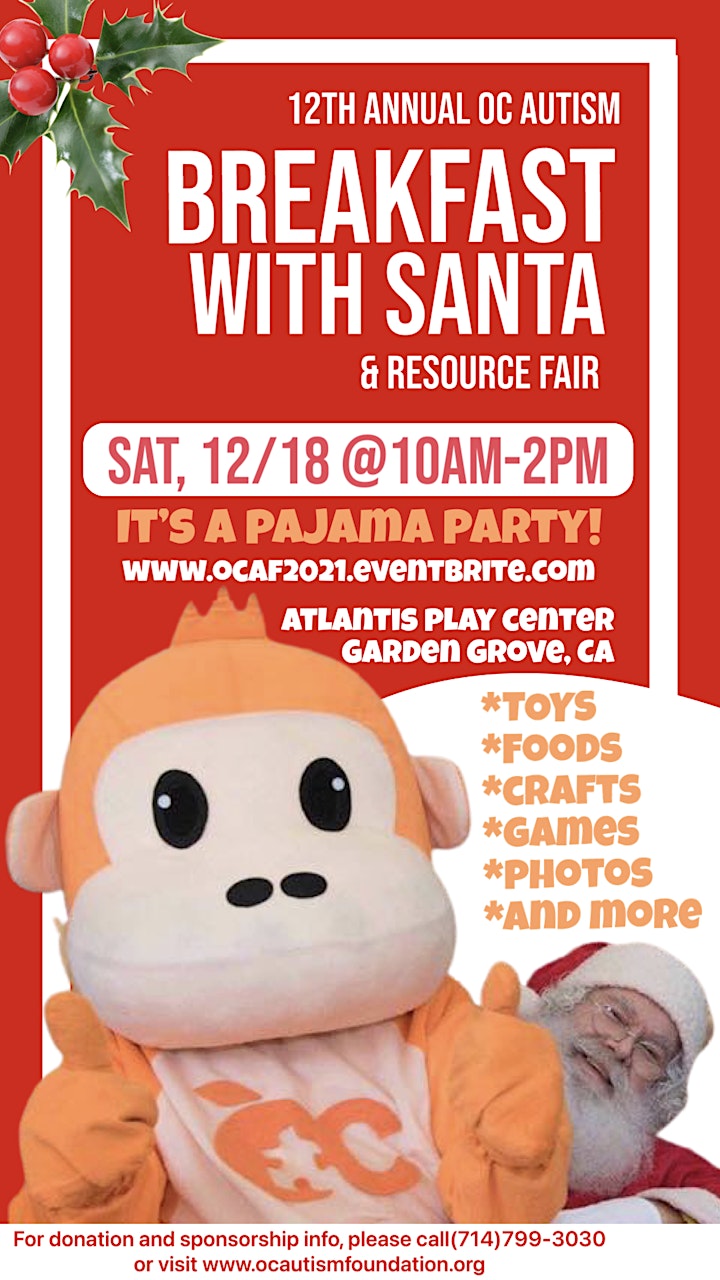 Organizer of 12th ANNUAL OC AUTISM BREAKFAST WITH SANTA & RESOURCE FAIR