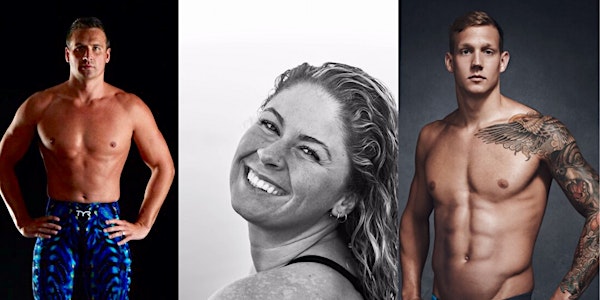 12th Annual Mac Crutchfield Swim Clinic & Dinner with Olympians
Learn Starts, Turns and Stroke Technique from the best of the best and then later join Olympians for Dinner, Dancing, Auction and Karaoke.
When and where
Location
Swim Clinic Maclay School and Dinner Meet and Greet Phipps Farm 3737 N Meridian Rd 4300 N. Meridian Rd Tallahassee, FL 32309
About this event
Don't miss the opportunity to participate in a Stroke and Turn Clinic with U.S. Olympians Ryan Lochte, Caeleb Dressel, Elizabeth Beisel, Jordanian Olympian Khader Baqlah, All-American SEC swimmers Sherridon Dressel, University of Florida and Nils Wich-Glasen, University of South Carolina. The swim clinic will be Saturday August 14th th from 6:30am-12:00pm Location Maclay School 3737 N Meridian Rd.. Check-in starts at 6:30 am for all participants and clinic starts at 7:30-11:30. Participants will have time prior to the start of the clinic to get pictures take with the Olympians. The Clinic will consist of starts, turns and stroke technique and dry land instructional to learn proper technique and the importance of it. There will a parent portion with Olympians for those who have swimmers 13 and up (this will be during the dry land portion). Participants will leave the clinic with drawstring swim bags, t-shirt, silicone Mac swim cap, 5x7 autographed frame and other surprises. Participants must be registered with USA swimming and able to complete all 4 strokes.
After spending a morning learning from the best, come relax with the best! Come join Ryan Lochte, Caeleb Dressel, Elizabeth Beisel, Khader Baqlah, Anna Pold Dehner, Sherridon Dressel and Nils Wich-Glasen for an exciting evening to celebrate the life of Mac. The Foundation will be hosting a dinner at Phipps Farm 4300 North Meridian Rd. 32312 from 5:00pm - 11:00pm (check in starts at 4:00pm)with opportunity to take pictures, get autographs, a silent and live auctions, dancing and karaoke. All proceeds go directly to drowning prevention programs and events, as well as the individuals with Special Needs who want to swim. Please see below details for Sponsorships Fan, Bronze, Silver and Gold.
There are limited spots for this event so sign up now and bring your cameras! Please note no more than 2 items to be autographed.
In order to move check in along quickly for the swim clinic and dinner, we will have early event pick up on Wednesday 8/10/21 4:00pm at Trousdale Aquatic Facility on John Knox and Thursday 8/11/21 at 3:00 PM at Maclay school (this pick up is only for participants who attend Maclay school or swim for United).
Fan $500 Business logo on the Mac Foundation Website, Mac banner to be displayed at Aquatics Clinics & Dinner/Auction, name in paper & 2 Tickets to Olympic Meet and Greet
Bronze $1000 Business logo on the Mac Foundation Website, Mac banner to be displayed at Aquatics Clinics & Dinner/Auction, name in paper, business name printed on Instagram frame, reserved table + 4 Tickets to Olympic Meet and Greet
Silver $1500 Business logo on the Mac Foundation Website, Mac banner to be displayed at Aquatics Clinics & Dinner/Auction, name in paper, business name printed on Instagram frame, reserved table + 6 Tickets to Olympic Meet and Greet
Gold $2000 Business logo on the Mac Foundation Website, Mac banner to be displayed at Aquatics Clinics & Dinner/Auction, name in paper, business name printed on Instagram frame, reserved table + 10 Tickets to Olympic Meet and Greet