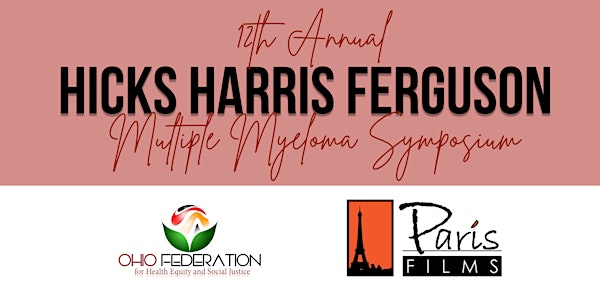 12th Annual Hicks Harris Ferguson Multiple Myeloma Virtual Symposium
Join us for the virtual premiere of STRONG. LIVING WITH MULTIPLE MYELOMA documentary following Paris on his diagnosis and treatment journey.
By Ohio Federation for Health Equity and Social Justice
Date and time
Saturday, March 25 · 8 - 10am PDT
About this event
The 12th Annual Hicks Harris Ferguson Multiple Myeloma Virtual Symposium and Paris Films, LLC will premiere a nationwide virtual screening of the documentary STRONG. LIVING WITH MULTIPLE MYELOMA.
Like many adult men, Paris thought he was invincible and had a major wakeup call in October 2019 when he was diagnosed with multiple myeloma. When he was diagnosed, Paris was a healthy 40-year-old who exercised, ate well, and maintained a healthy lifestyle.
From moments after his diagnosis to learning how to walk again, cameras documented Paris' journey through the trials and tribulations – detailing the excruciating process through it all.
Cancer absolutely uproots families and turns their lives upside down. Luckily for Paris, he couldn't have had a better support system behind him. His wife, three kids, and two best friends were massively supportive and alongside Paris every step of the way. Unfortunately, as cancer never is, Paris' journey was not smooth sailing. He needed to start chemo immediately, but his health insurance didn't cover the treatment, so he had to fight with the hospital, along with his health insurer to get the treatment he needed. Eventually, he was forced to transfer hospitals and get new health insurance to ultimately save his life.
STRONG. LIVING WITH MULTIPLE MYELOMA documentary serves to provide everybody with a powerful and inspirational story from a unique, up-close and personal perspective.
More Information:
In addition to the above presenters, we will be conducting virtual "chat raffles" throughout the program giving away various store gift cards to participants.
We also will be selecting one person who completes the evaluation at the end of the event to receive our handmade "Multiple Myeloma Quilt". This handmade quilt is beautifully crafted and inscribed with inspirational words like: love, hope, perseverance, family, etc.
So don't miss out on this opportunity to watch this amazing documentary and listen to others share their multiple myeloma journey as well as a chance to win a chat raffle or even the quilt!
Register today!
Looking forward to seeing you March 25th at 11:00am!
You can view the documentary trailer below.