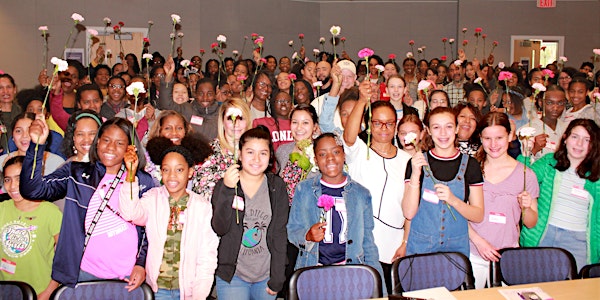 12th Annual Every Girl Can Conference - Girls Rising Through Leadership
A VIRTUAL leadership conference for girls & women featuring: a special guest presentation, workshops, leadership learning lab, Zumba & more.
About this event
12th Annual Every Girl Can Education Conference
GIRLS RISING THROUGH LEADERSHIP – Becoming, Confident, Bold and Strong
Sat. October 3, 2020. 8:40 AM to 12:30 PM
A VIRTUAL program for girls (6th to 9th grade) and women. Dads welcome. Admission: FREE
Thank you for your interest in attending the 12th Annual Every Girl Can Conference for girls and women. We are pleased to host the conference in collaboration with Montgomery College, Takoma Park/Silver Spring Park Campus. Below is the conference program. ALL ACTIVITIES VIRTUAL
PRE-CONFERENCE Activities
Zumba - Fitness class for women & girls with Bertha Cross of Fitness Heights International - (8:40 to 9:15)
Check-in and Video Screening - Every Girl Can Program Highlights
CONFERENCE Opening - Plenary Session (ALL Attendees)
Dynamic keynote presentation by C. Marie Taylor, CEO and President of Leadership Montgomery, motivational messages from other phenomenal women/student leaders.
BREAKOUT Sessions
Leadership Workshop & Leadership Learning Lab for girls and a Panel Discussion for Women/Dads/Educators
1-LEADERSHIP WORKSHOP: Discover the Leader in Me - GIRLS in 6th/7th grade
Girls will explore what it takes to be a leader. Gain knowledge and tools to help them find their voice and ways to become confident, bold and strong. Q & A and with workshop facilitators and create a personal leadership journal.
2-LEADERSHIP LEARNING LAB - Building Blocks of Leadership/Finding My Voice/ GIRLS in 8th/ 9th grade
Girls will identify and discuss key leadership components, role models, recognize challenges and steps to overcome them. Q & A with facilitators and create a personal leadership journal.
3-PANEL DISCUSSION - Women/Dads/Educators - See flyer for panelists
Join a panel of distinguished women leaders who spoke briefly during the morning plenary session, for an in-depth discussion on the challenges and opportunities for raising girls to become strong, confident and bold leaders in school, career and community. Gain from shared learning, insights, knowledge and takeaway a list of leadership enrichment resources.
CONFERENCE Closing - Plenary Session (ALL Attendees)
Leaders' Speak-Up. Hear form student and young adult leaders sharing their experience. Conference participants will share their reflections on leadership lessons .
Student recognition.
Our future plans and programs.
Thank yous.
Presenter details and detailed conference schedule available after registration. Materials needed for participants: one note book/journal and a pencil or pen. Virtual link provided after registration.
Thank you for your continuing support. Our organization is in re-formation. We will continue to provide you with high-quality enrichment programs in STEM, Leadership and Life Skills. More info at www.everygirlcanlearn.org