Join us for 3rd Thursday at CityArts. Come check out all our new exhibitions!
About this event
12th Annual Día de los Muertos & Monster Event
Artist Opening Reception and Outdoor Dining Experience
Thursday, October 21, 2021
CityArts (39 S Magnolia Avenue)
5:00 p.m. – 11:00 p.m.
Exhibits open at 5:00 p.m.
Street Party & Outdoor Dining Experience begins at 6:00 p.m.
Dia de los Muertos and Monster Party is a themed exhibition at CityArts Orlando and an outdoor experience with live performances, vendors, and more! Now in its 12th year, the Día de los Muertos & Monster Art Exhibitions will showcase Day of the Dead and Halloween-inspired art created by regional, national, and international artists. This unique art exhibition will be paired with an outdoor experience on opening night that will feature food, drinks, entertainment and spooky art vendors.
Cost to enter CityArts only: $5
Register for a time-of-entry NOW!
Cost of the Outdoor Dining Experience $40 per person/seat
Includes guarnteed time-of-entry to CityArts
Must register for Outdoor Dining Experience HERE.
About the Outdoor Dining Experience
Guests will gather outside CityArts on Pine Street to enjoy a fantastic evening of exciting entertainment and delicious food from Tamale Co. Mexican Street Food. Registrations are available for private tables, exclusive to the registrant and their guest(s). Tables are available for parties of 2, 4, or 8.
Seating at 6:00 p.m.
Dinner/Show at 6:30 p.m. - 8:00 p.m.
Table registrations include:
One appetizer (shared by all table guests)
One individually boxed meal (for each guest)
One drink ticket (for each guest)
Guaranteed time-of-entry to experience CityArts' exhibitions (5:30 p.m. or 8:00 p.m.)
Meals include:
2 Tacos or 2 Tamales (Chicken, Beef, Vegetarian), served with rice & beans
Live performances during dinner (6:30 p.m. - 8:00 p.m.):
Mariachi Band and Phantasmagoria
Live performances after dinner (8:30 p.m. - 11:00 p.m.):
Bloody Jug Band and Omilasa
____________________________________________________
Thank you to our event sponsors
Bloomingdale's
City Beverages
City of Orlando
Culture Builds Florida
Downtown Development Board
OUC-The Reliable One
Orange County Government Arts & Cultural Affairs
Remixed
Topo Chico
United Arts of Central Florida
____________________________________________________
EVENT PROTOCOL: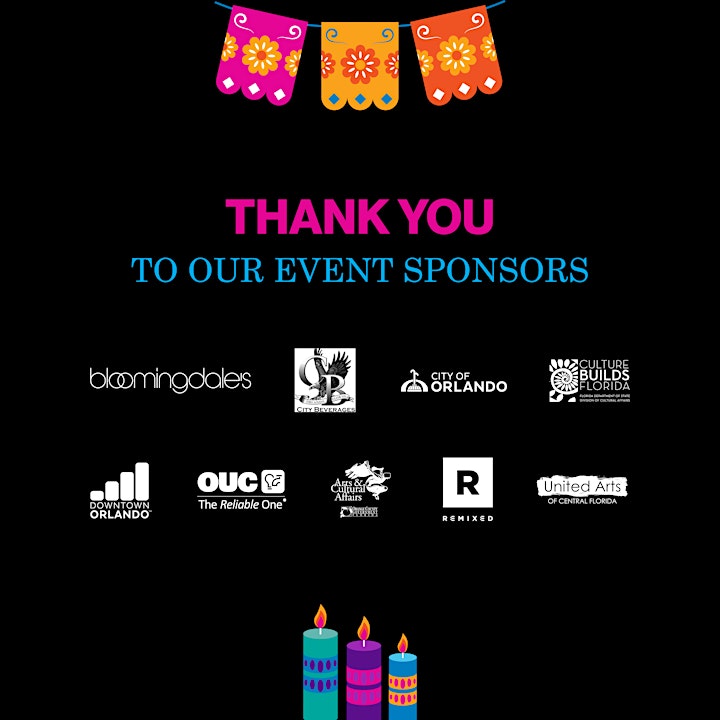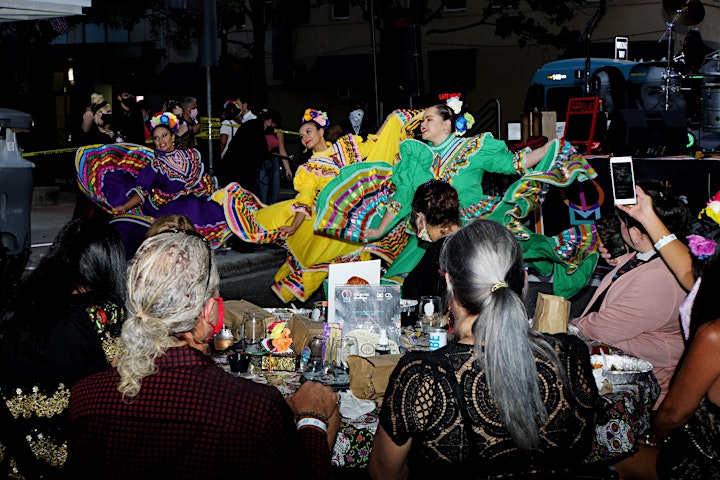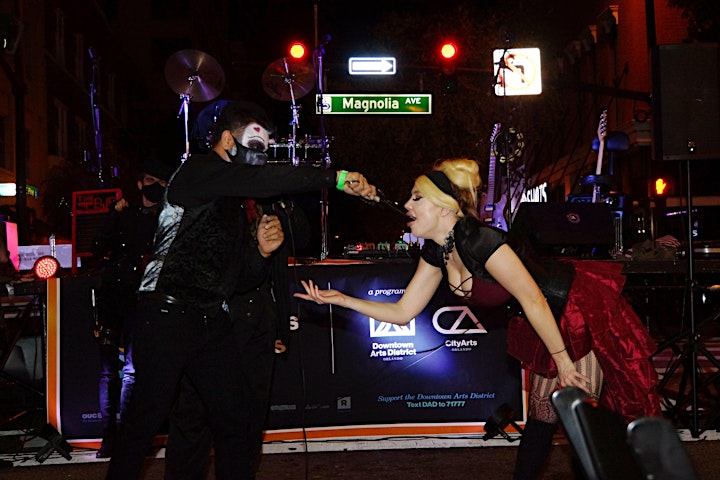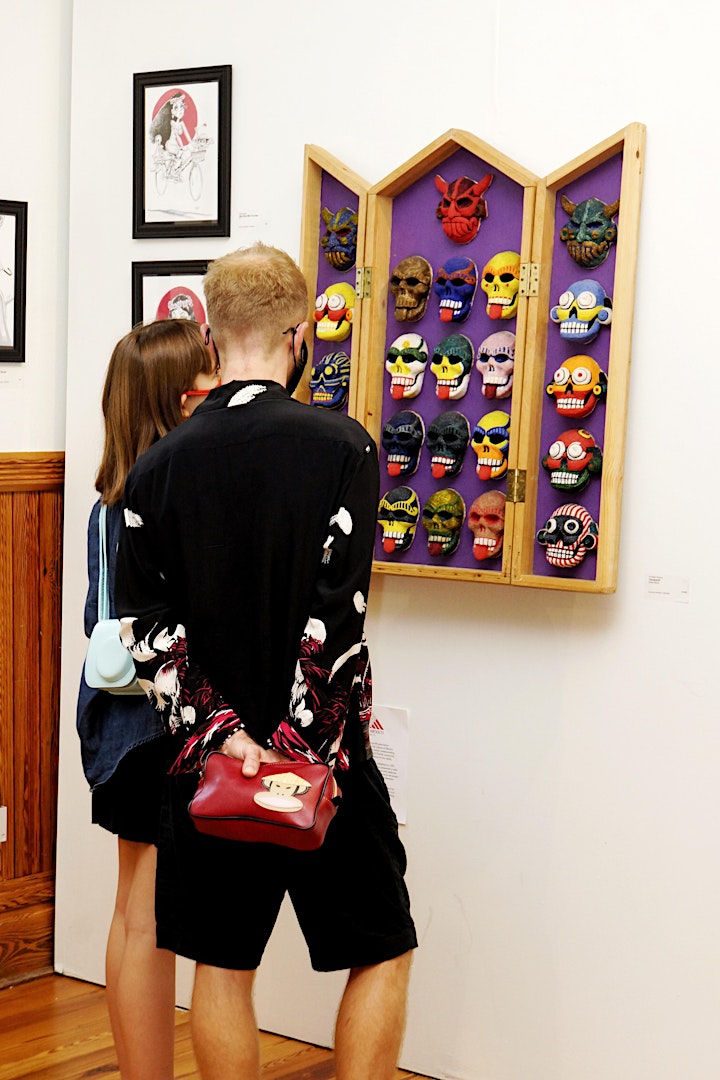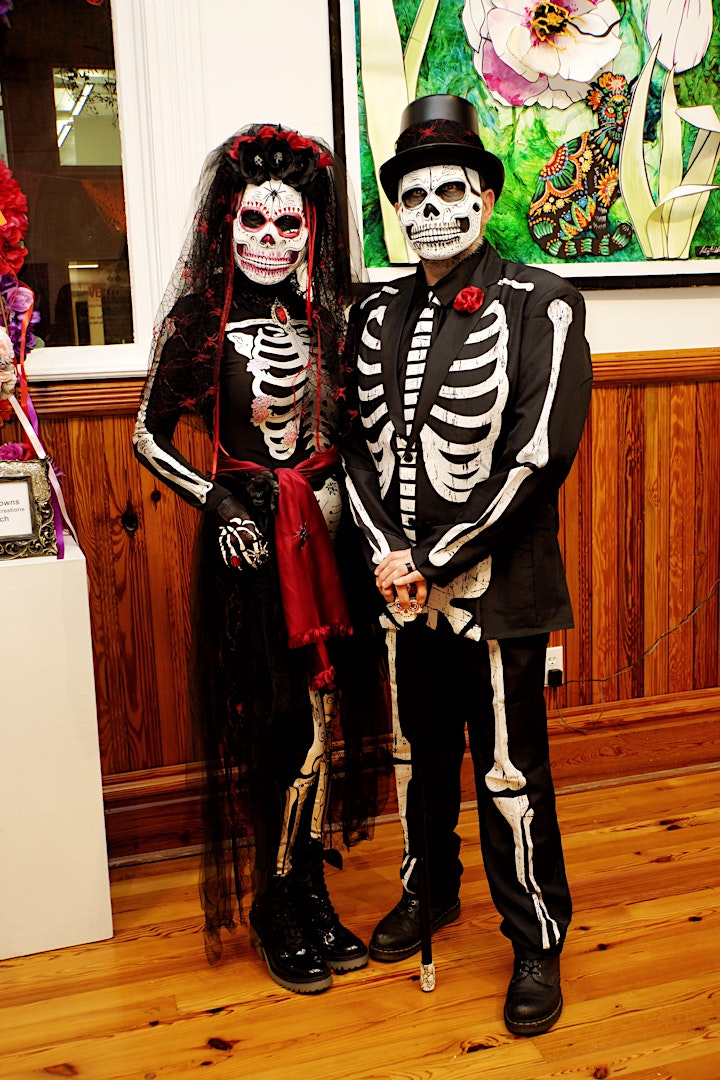 Organizer of 12th Annual Día de los Muertos & Monster Party
The Downtown Orlando Arts District (established in 2000) is a dedicated nonprofit organization for advancing arts and economic development in the City of Orlando. Through visibility campaigns and local outreach, the Arts District aims to lead, stimulate, and grow the development of a vibrant, innovative arts and cultural district in Downtown.
The Arts District is the producer of a series of mission-based events to heighten visibility for the arts including the monthly 3rd Thursday Gallery Hop & Art Walk, In The Artist's Studio, La Maschera, an annual themed arts celebration, and the award-winning network, OrlandoSlice.com.  In addition, the Arts District is the parent company to CityArts Factory – Downtown's collective of community art galleries, a photography studio, café, and SAK comedy Lab. For more information, visit www.orlandoslice.com.