12th Annual Dance Parade - Grand Stand Seating

Saturday, May 19, 2018 from 1:00 PM to 4:00 PM (EDT)
Event Details
Get a front row seat to celebrate the most culturally diverse event in the world!
This year's theme, "THE CABARET OF LIFE," is a celebration of the repeal of New York City's Cabaret Law that supressed dance and culture for 91 years since prohibition times.  Come May 19th, the theme helps us to recognize the importance of the arts in everyday life, both as participant and the audience.  The parade will feature over 80 unique styles and cultures.  Buying a Grandstand Seat is a great way to be apart of our effot to support dance in New York City.  100% of  grandstand proceeds go to support Dance Parade, DanceFest and bringing teaching artists into schools, senior and community centers through our Community Engagement Program.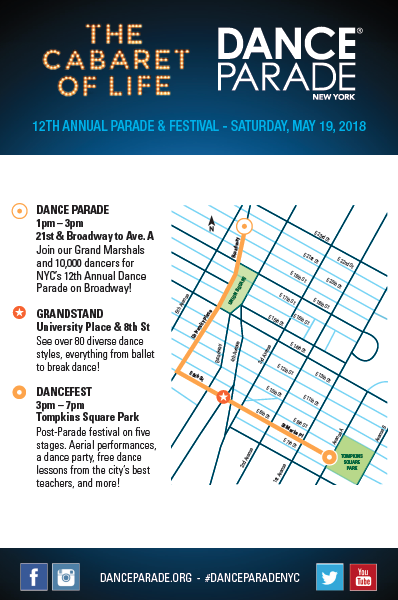 On Saturday, May 19, 2018 get the best seat on the parade route as 10,000 dancers stop and perform in front of this year's Grandstand!  Watch over 150 dance organizations be announced by our emcee DJ BooshWheelz as they turn at the Parade's "Elbow" and dance their way to Tompkins Square Park for DanceFest. Bring your camera--there's no other event quite like this one!
Where:
The Grandstand will be Astor Place Plaza (N/R trains to 8th Street or 6 train to Astor Place)

When:
Seating begins at 1 PM
Why:

This location is perfect for viewing the parade and is within walking distance of DanceFest, the post-parade festival at Tompkins Square Park. Our Master of Ceremonies will announce each group and all dancers will perform in front of the Grandstand.
Reason:
Funds raised from grandstand seating will support the cost of Dance Parade & Festival.
We will boogie our way down Broadway, hula, swing and Irish step our way past Union Square and into University Place. At Eighth Street we will Salsa, Tango and Waltz East into Saint Marks Street. Our House, Techno and Disco floats will have afternoon shoppers wigglin as they watch us get down in the heart of the East Village. A straight shot from there brings us to DanceFest in Tompkins Square Park.  At DanceFest we will come together and celebrate watching free dance performances, be able to take free dance lessons and enjoy a Dance Party.
Our mission is to promote dance as an expressive and unifying art form by showcasing all forms of dance, educating the general public about the opportunity to experience dance and celebrate the diversity of dance.
Price:
$30 up until March 31st.
Space is limited.
Your contibution helps support Dance Parade.
Contact Hal@DanceParade.org for more information!
When & Where

Dance Parade Grandstand
Astor Place Plaza
New York, NY 10003


Saturday, May 19, 2018 from 1:00 PM to 4:00 PM (EDT)
Add to my calendar
Organizer
is a 501(c)3 charity who's mission is to promote dance as an expressive and unifying art form by showcasing all forms of dance, educating the general public about the opportunities to experience dance and celebrating diversity of dance in New York City by sponsoring a yearly city-wide dance parade and dance festival.