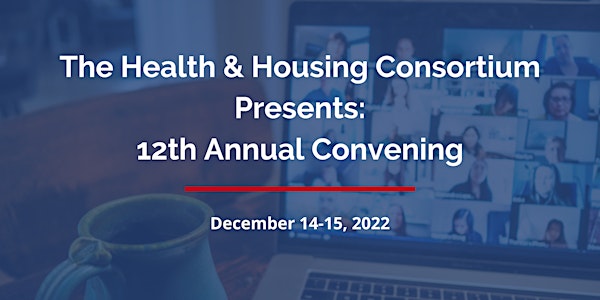 12th Annual Convening
Bringing together professionals across sectors in NYC to showcase work that supports people with unmet health & housing needs.
Refund Policy
Contact the organizer to request a refund.
Eventbrite's fee is nonrefundable.
About this event
Join Us! Registration closes 12/13 at 6pm.
Please join us for our Annual Convening on December 14 and 15. For this two-day virtual conference, we are excited to have an incredible line-up of speakers! Don't miss this once-a-year opportunity to hear from essential front-line leaders and practitioners across the health and housing sectors about critical issues at the intersections of housing, homelessness, healthcare, and immigration.
We are excited to offer complimentary tickets to the 12th Annual Convening to all social workers, care coordinators, case managers, community health workers, housing specialists, peer specialists, and any other direct care workers.
If you are an essential/frontline worker, please check out using use the code ConveningComp to waive the ticket fee.
Additionally, please reach out to tsommer@bxconsortium.org:
For group rates (5+)
If ticket price is a barrier to attending
December 14 | 2-5pm | Zoom
Session 1: Housing Our Neighbors: Implementing the Mayor's Blueprint for Housing and Homelessness in NYC
In June 2022, New York City released its strategy to support New Yorkers' access to safe and stable housing. The blueprint includes a $22 billion investment to address the housing affordability crisis, focusing on (1) transforming NYCHA, (2) addressing homelessness and housing instability, (3) creating and preserving affordable housing, (4) improving the health and safety of New Yorkers, and (5) reducing administrative version. During this session, NYC's Chief Housing Officer Jessica Katz will provide an overview of the plan, with special focus on its homelessness and housing insecurity initiatives.
Jessica Katz, Chief Housing Officer – New York City
Moderator: Michelle de la Uz, Executive Director - Fifth Avenue Committee, Neighbors Helping Neighbors
Session 2: New York State Medicaid 1115 Waiver Proposal: Partnerships to Address Health Disparities Exacerbated by the COVID-19 Pandemic
New York's proposed Medicaid 1115 Waiver aims to expand access to services that address social determinants of health, foster collaboration across the health care delivery system, and improve health outcomes toward achieving health equity. Join this session to learn more about the waiver and opportunities to improve services for your clients and patients.
Emily Engel, Director of Bureau of Social Care and Community Supports - New York State Department of Health
Moderator: Marcella Maguire, Director of Health Systems Integration - CSH
December 15 | 2-4:30pm | Zoom
Session 3: Migrant Rights are Human Rights: Coordinating Support for NYC Asylum Seekers
Opening Remarks: Luba Cortés – Make the Road NY
Dr. Fabienne Laraque, Medical Director – New York City Department of Homeless Services
Chris Keely, Ambulatory Care Chief Operating Officer – NYC Health + Hospitals
Max Hadler, Director of Policy and Immigrant Initiatives, Health Care Access and Policy Unit, Bureau of Equitable Health Systems – New York City Department of Health and Mental Hygiene
Alfredo Matthews, Senior Vice President of Transitional Housing – Acacia Network Housing
Dr. Jessica Sessions, Medical Director - Ramon Velez Medical Center
Moderator: Sarah Oltmans, Chief of Grant Strategy – Robin Hood Foundation
Session 4: Keynote Address - Everyone's Homeless (During a Zombie Apocalypse) + Closing Remarks
M.A. Dennis, Poet and Advocate
Pascale Leone, Executive Director – Supportive Housing Network of New York; Vice President – Consortium Board of Directors