12th Annual Business Supports the Arts Awards Breakfast

Thursday, October 11, 2018 from 7:30 AM to 9:00 AM (EDT)
Event Details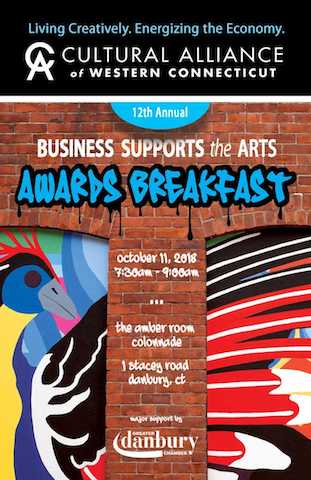 IT'S TIME TO CELEBRATE THE ARTS WESTERN CONNECTICUT!
TABLE & ADVERTISMENT RESERVATIONS
The Cultural Alliance's fundraising event serves to recognize outstanding support by business leaders and extraordinary volunteers as well as to increase visibility for arts and culture in Western Connecticut. Live entertainment, original artwork, and stakeholders who represent a cross section of artists, business and community leaders connecting!  Excellent networking event and just a fun and unique opportunity to get in front of leaders in the region to highlight contributions and celebrate the arts! Proceeds to support services provided by the Cultural Alliance of Western Connecticut. 
---
2018 AWARDEES:
BUSINESS SUPPORTS THE ARTS AWARD - Makery Coworking

Makery Coworking began as a business incubator; a space for entrepreneurs to start-up outside of their home. Located in the heart of downtown, Makery (as it's nicknamed) has quickly become a go-to community center for the arts, offering open mic nights, poetry slams, comedy, dance, film and video, sculpture, visual art exhibits, culinary arts; virtually every type of art imaginable has found an audience here. 
Their mission is to instigate creativity and build an entrepreneurial community that catalyzes innovation and change in the greater New Milford community. We are bullish on our community and believe if we bring the right people together to collaborate, we will ultimately spur innovation and change--the kind that empowers entrepreneurs, stimulates business growth, and creates more jobs.
---
 ARTS IN THE COMMUNITY AWARD - Perry Salvagne, Jr.  
Perry Salvagne, Jr., President of Hodge Insurance Agency, Vice President of CityCenter Danbury Board of Commissioners is downtown Danbury's heartbeat when it comes to arts and culture. He's a long time advocate and exceptional community leader for vibrancy on Main Street. His determination and passion to utilize art to revitalize the downtown area has been a constant drumbeat for many years through his business, through his working with the CityCenter Danbury team, and through volunterism. Perry was the former local hub leader for YES Danbury (Young Energetic Solutions). YES is a statewide initiative seeking to empower young people to create a vibrant Connecticut.
---
 HEART OF THE ARTS AWARD - Mary Rindfleisch (posthumous)
Excerpts from The Ridgefield Press - Published April 11, 2018
Mary Rindfleisch, selflessly supported the arts and her community while helping build the Ridgefield Library into a beacon of knowledge and delight. Working at the Ridgefield Library for more than 20 years, she helped create programs to expand the library's appeal to all ages. She was also an ever-present source of encouragement and volunteer leadership for community organizations as diverse as the Sherman Chamber Ensemble, the Danbury Friendly Visitor Program, the Sherman Library, and the Cultural Alliance of Western Connecticut. Her indefatigable efforts also provided Sherman with a unique and proud musical community. She was completely selfless.  READ MORE 
---
ARTS IMPACT LIFE AWARD - Harambee Youth Center
Since 1991 and under the leadership of Mr. Larry Moore, Executive Director, the Harambee Youth Center supports art, history, and culture by promoting cultural events and its extensive arts programming to youth. Many of the cultural events are geared toward African American and Hispanic/Latino culture which has featured: African drumming, African and Latino dance, African Art, Promotion and education of African American and Latino Human Rights Activists, Cultural dinner and dance events featuring cuisine and music from countries such as: Jamaica, Ecuador, Mexico, Ecuador, Peru, Haiti, Dominican Republic, Puerto Rico, Spain, Colombia, Germany, Ireland, and many African countries. These programs have been offered to countless youth. helping them to connect emotionally, and socially, to learn, and to gain exposure to various cultures.
Mistress of Ceremony

Christine O'Leary
Award winning, funny lady, Christine..
O'Leary Nominated by Curve Magazine as one of the '50 Funniest Lesbians in America,' O'Leary has worked with the top comedians in the business who grace the stage at The Ridgefield Playhouse, including Gilbert Gottfried, Joy Behar, Susie Essman, Chevy Chase, Sinbad, Tracy Morgan and Janeane Garofalo. She's also worked with Margaret Cho, Ian Harvie (Transparent) and headlined Long Beach Pride events with Jennifer Hudson, Indigo Girls, KC and the Sunshine Band, and more.
PERFORMANCE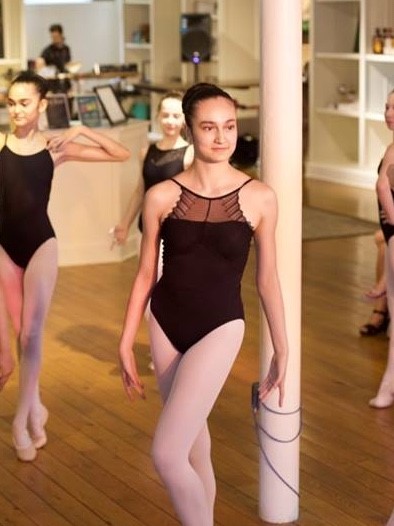 Angelia Prip, high school senior from Brookfield, is bringing selections from her senior project, Ascension - The Show. The show features nine pieces of original choreography that Angelia has choreographed and have been previewed through New Milford Art Walk at The Makery and FineLine Theatre Arts. The cast features FineLine dancers, both present and past alumni.
LIVE MUSIC
Coming soon!
FEATURE EXHIBITS-

 

ENDWORKS Project

 
The Endworks project is designed — to engage the arts community and promote the work of the Women's Center. 
Toni Miraldi, artist and owner of Mural Envy, is designing and painting a wall mural on panels that illustrate and draw attention to domestic violence and sexual assault. 
Thomas Carruthers, Executive Director of the Connecticut Film Festival, integrated the EndWorks Project with his open call for an international film festival. Currently, FilmFest52 seeks submissions for public service announcement and micro-shorts from film producers around the world. 
REMARKS
Lew Wallace, President, Cultural Alliance of Western Connecticut
Mayor, Mark Boughton
Street Art/Graffitti Artists
RAFFLE PRIZES
Save This Event
When & Where

The Amber Room Colonnade
1 Stacey Road
Danbury, CT 06810


Thursday, October 11, 2018 from 7:30 AM to 9:00 AM (EDT)
Add to my calendar
Organizer
Website: https://cawct.org/organizer/cultural-alliance-of-western-connecticut-2/