Description
Photo Credit:
Cycling: 71st Tour of Spain 2016 / Stage 19 Andrew TALANSKY (USA)/ Xabia - Calp (37km)/ Time Trial ITT / La Vuelta / © Tim De Waele
Ready for one amazing day and night in Napa Valley? We hope so. We've got a great bike ride in store. We've also got an unbelievable post ride lobster dinner at the Round Pond Estate in Rutherford, CA. And, we have some super special guests joining the ride this year. All you have to do is say YES and sign up now for the 2016 Bike for Tots event, Saturday, September 24th.
Freddie Rodriguez, Four-time U.S. National Road Race Champion and founder of the Fast Freddie Foundation and the Morgan Stanley Cycling Team invite you to participate on a lightly supported ride, post ride lunch, and dinner in the picture perfect Napa Valley.
This year, we are incredibly proud and honored to have four exceptional cyclists, and simply exceptional people join the ride: world class cyclist, and Napa resident, Andrew Talansky, quickly moving up the top ten at the Vuelta A Espana. We also have Flavia Oliveira and Lucas Euser - Flavia recently represented Brazil in the Women's Road Race at the Olympics finishing 7th. Lucas was born and raised in this most beautiful wine country and recently retired from United Healthcare professional cycling team at the end of 2015. And, to top it off, we have news that Bethany Allen of Inpa-Bianchi, back from Italy, will be joining us as well.
Mark your calendar – and get ready to ride with and do good! Please know 100% of all net proceeds go to purchasing new bikes for the holidays for underprivileged children and funding youth development cycling. The Fast Freddie Foundation is a registered 501C3.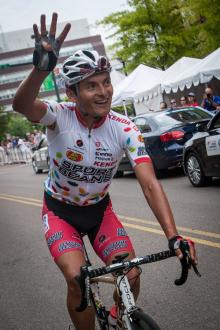 The ride has 3 routes for you to choose from, all leaving from Yountville Park in Yountville at 9:00 am.
Click on the routes below to link to a map of that route:
BFT Lite Ride 35 miles (1,500 ft of climbing)
BFT Medium Ride 55 miles (3,400 ft of climbing)
BFT Real Deal Ride! 70 miles (4,400 ft of climbing)
The ride leaves Yountville Park in Yountville at 9:00am and the dinner will begin at 3:30 pm at Round Pond Estate winery.
Ride only price is $75 (any distance) and includes:
Pre-ride coffee, rest stop at top of Ink Grade (except Lite Ride), post-ride recovery drink, beer, wine & other drinks, and taco bar.
Full Ticket price is $180 and includes:
All of the above plus
The world famous BFT dinner will have....
Killer Mexican Appetizers
Round Pond Estate wine & beer
One of a kind Lobster Dinner location opens 3:30 pm
Dinner is served at 5:30 pm
Dinner Location:
Round Pond Estate
875 Rutherford Rd, Rutherford, 94573
(707) 302-2575
http://www.roundpond.com/
Watch out for amazing live auction items!
Organizer of 12th Annual Bikes for Tots Fundraising Ride.
The mission of the Fast Freddie Foundation (FFF) is to inspire and provide young people with the tools to achieve personal successes by utilizing life skills learned through cycling.
We encourage a commitment to education, healthy life style and physical activity. The FFF believes these are essential elements to achieving success, both in sport and life.