Location
Boulder Airport
3393 Airport Rd.
Boulder, CO 80301
Join us for our unforgettably magical 12th annual celebration!
About this event
We're so excited to be back and can't WAIT to see you this summer! Please be aware that many folks still hold tickets from when we first had to post-pone, so the remaining tickets are very limited!
"A Trip Back in Time!" -LA Times
Join us for our unforgettably magical 12th annual 1940s celebration featuring the World Famous Glenn Miller Orchestra, NYC's Dandy Wellington, Hollywood's Satin Dollz, The Hot Tomatoes, Joe Smith and the Spicy Pickles, The Queen City Jazz Orchestra, Frank Sinatra, Bob Hope, Professor Phelyx, The Flatirons Jazz Orchestra, The Jeremy Mohney Swing Band AND introducing ....the National Red Tails Exhibit: America's Tribute to the Tuskegee Airmen and touring P51 Mustang!
Don't miss out on the MUST DO, most celebrated event of the summer!
Step into Hollywood's WWII planes! Enjoy a night of dancing under the stars w/your sweetheart, amongst WWII planes/flybys/vehicles & re-enactors, listening to the most sought after big bands! See an exhilarating new WWII air show, breath-taking set and prop designs, an interactive scavenger hunt, 1940s DRIVE-IN MOVIE theater, Best Dressed contest, dance lessons, a dance contest and so much more!
Spend a night out in the '40s! Enter our hangar made into Rick's Cafe Americain! Movie set lights, props, and even a roulette table! Walk down Victory St. under a canopy of lights, amidst WWII era vehicles and museum displays!
"The scenery looked straight out of a film set inspired by the Greatest Generation. The setting of the evening was so picturesque that there were several wedding proposals." -9 NEWS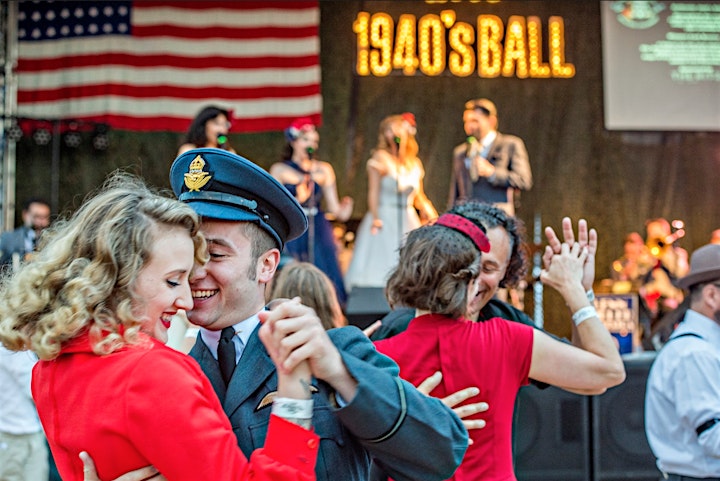 2022 Highlights:
* VICTORY STREET showcasing: spectacular sets, historic exhibits, multimedia displays + International foods!
* Rise Above Tuskegee Airmen Exhibit and P51 Mustang
* BBC Radio with WWII radio presentations; try your hand at vintage radio presenting and broadcasting!
* Check out our 1940s Drive-In Movie Theatre featuring authentic classic cars + concessions!
* Grab a passport, visit + learn + play our interactive scavenger hunt!
* Bob Hope, Carmen Miranda, Lucille Ball, Rita Hayworth, Betty Grable… Meet the stars of the 1940s!
* Climb aboard Rocky Mountain Commemorative Air Force's TBM Avenger!
* An exhilarating new WWII air show and much more!***
🎶🥳 🧳💃🏻🤩🎥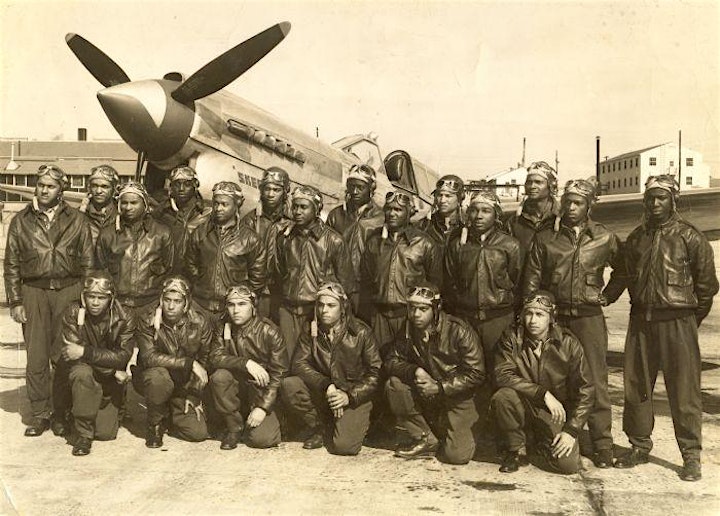 We are thrilled to announce that this summer we will be featuring the National Tuskegee Airmen traveling exhibit: Rise Above, Red Tail!
This incredible exhibit, by the Commemorative Air Force, is honoring the history and legacy of America's first black military pilots and their support personnel, including a P51 Mustang, one of the planes the Tuskegee Airmen flew in WWII! The exhibit "is on a mission to educate people of all ages about these important American icons so their strength of character and ability to triumph over adversity may serve as a means to inspire others to rise above obstacles in their own lives and achieve their goals."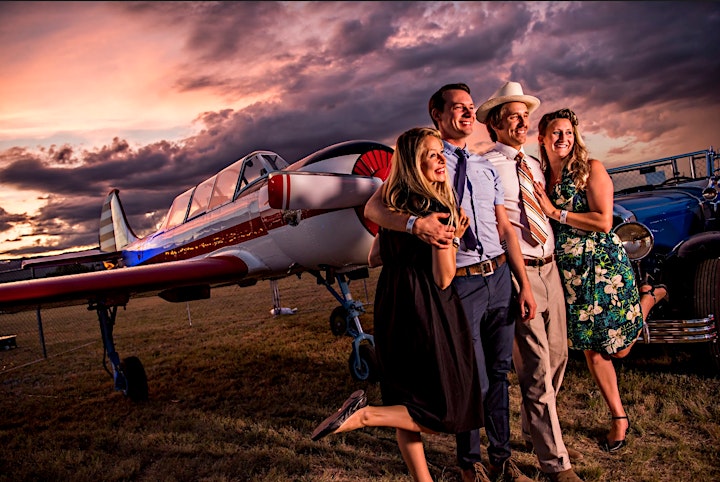 Other fun happenings at the Ball…
Swing dancers will heat up the dance floor under a canopy of movie set lights while cigarette girls hand out rations. Attendees will have the opportunity to have their photos taken with WWII planes and military vehicles, stop by the Tango Tango club tent or the "Cantina" tent, enter the 1940's costume contest and dance the night away in a Conga Line! And to top the night off in grand style we'll announce the end of the war with an authentic 1940's radio announcement complete with a confetti drop and celebration!
Come enjoy Boulder Airport's breath-taking summer beauty with good friends, good music and good dancing!
The best part? You'll be celebrating this cherished era for a great cause! The 1940s Ball donates a portion of ticket sales to non-profits close to our hearts. We're proud to have donated over $106,000 to our charities.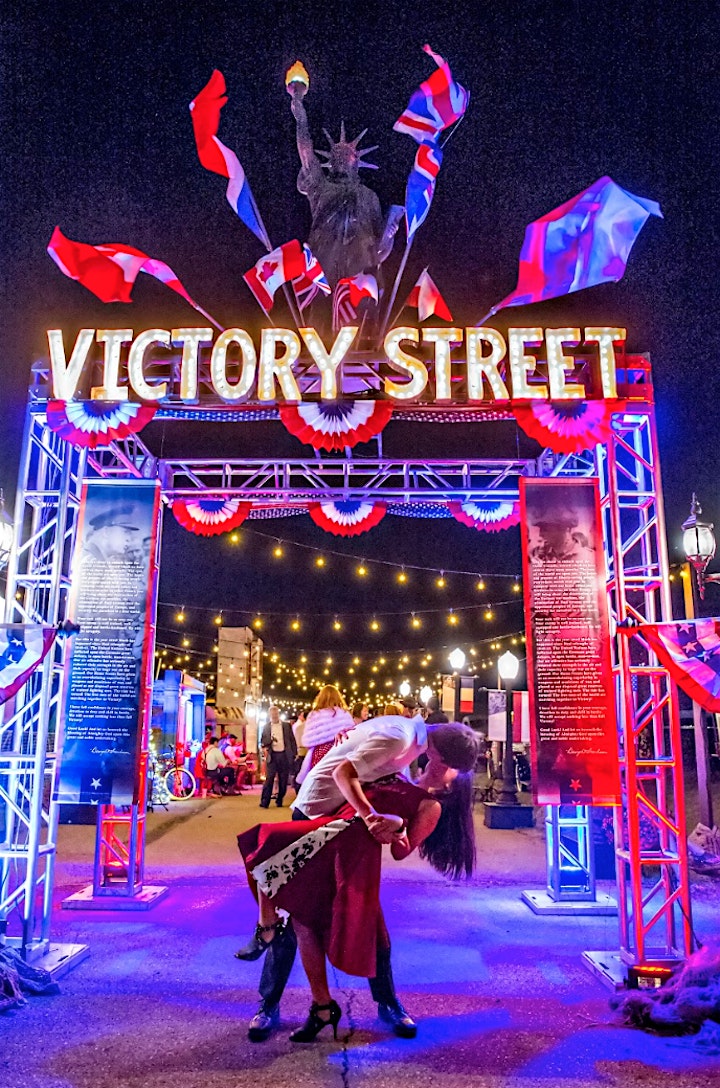 Seating & Tables
GA SEATING:
Except for Reserved Seating, this is not a seated event, however, we will have plenty of table seating in our Mess Hall area for dinner and to rest in between dancing and enjoying the activities throughout the event, on a first come first serve basis. These seats are not meant to sit throughout the event to watch the stage performances and cannot be reserved. If you would like or require a seat throughout the event, we recommend reserved seating.
SENIOR SEATING AREA:
We will have a section of chairs by the stage for seniors over 65 on a first come first serve basis. There will also be room here for handicap seating.
NOTE: ******* If you are bringing a WWII veteran please email info@1940sball.org to have them registered to be a special honoree. They will be honored from the stage and receive special comped VIP seating for them and 1 guest, (additional guests accompanying the WWII Veteran will need to purchase tickets).
Other Information
Attire
We strongly advise 1940's themed evening attire, party dresses and/or uniforms. Actual vintage dress is best, however if you cannot find period attire to wear, women can wear a modern dress that is cut like those from the era with vintage accents such as vintage jewelry and/or a flower in their hair and men can wear a modern suit that looks similar to those of the era with accents like a fedora, suspenders or a bow tie. MORE DETAILS here.
Refunds
Tickets are non-refundable. All sales are final and the event is rain, snow or shine. We do not offer refunds due to scheduling conflicts, illness, injury or other personal issues (under any circumstances, there are no exceptions). Tickets can be sold, however we do not have a waitlist or ticket re-selling platform set up at this time. To transfer your ticket to another person click here
Group Discounts
Group discounts are available for parties of 10 or more (General Admission only, we do not offer any discounts on reserved tables for groups). Please email us for details at info@1940sball.org.
WE DO NOT SELL TICKETS BY PHONE OR IN PERSON.
Stay Connected
Stay connected! Subscribe to the 1940's Ball newsletter and like our Facebook page for a more info about at our events.