Sales Have Ended
Registrations are closed
Thank you for registering for the 12 AF Top III Crossfit event! We look forward to seeing you on August 19, 2017, show time is 7:00a.m.at Crossfit Factotum, 8351 E. Broadway Ste 111, Tucson, AZ 85711. For further questions or concerns, please contact Jonnie 520-228-4275 or Anthony at 520-345-9173. E-mails can be sent to 12thAFTOPIII@gmail.com
Sales Have Ended
Registrations are closed
Thank you for registering for the 12 AF Top III Crossfit event! We look forward to seeing you on August 19, 2017, show time is 7:00a.m.at Crossfit Factotum, 8351 E. Broadway Ste 111, Tucson, AZ 85711. For further questions or concerns, please contact Jonnie 520-228-4275 or Anthony at 520-345-9173. E-mails can be sent to 12thAFTOPIII@gmail.com
Description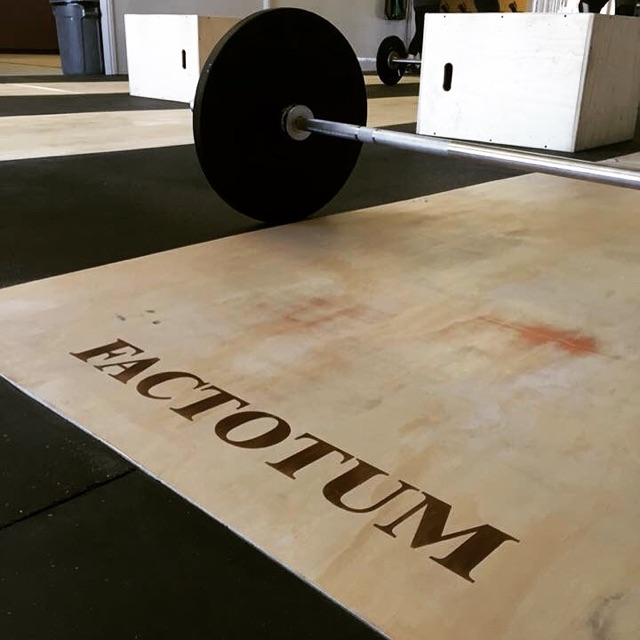 The 12th Air Force (AF) Top III challenges YOU to its first annual Crossfit Competition!!!

It will be held on 19 AUG 2017 at Crossfit Factotum. The event will consist of:
- 3 Work out of the Day (WODs) scaled & prescribed (Rx) available
- 2-person teams
* $42 ticket price is per person*
- Male, female, and mixed categories
Show time will be 7:00 AM for check-in and start time will be 7:30 AM.
There will be prizes for the top two teams in each category for both prescribed and scaled categories. Free T-shirts for each team member!
*UPDATE 11 AUGUST 17*

Hey guys! Want to sign up but haven't done Crossfit before? No worries, our scaled WODs can be completed even if you've never done Crossfit. Sign up and challenge yourself!
*UPDATE 7 AUGUST 17*
Hello Everyone!
The third and final WOD is posted! Who doesn't love some thrusters?!? Sign up and see if you have what it takes!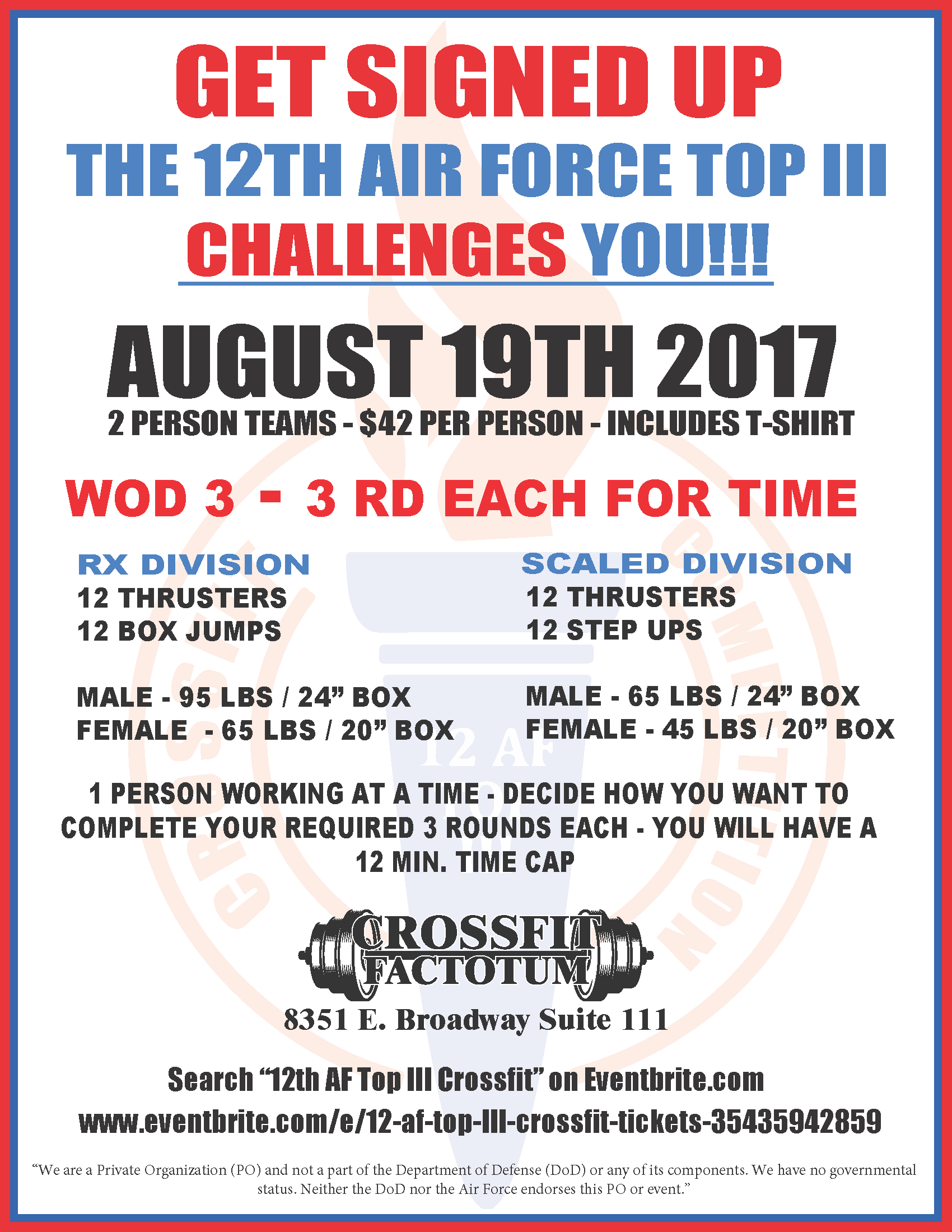 *UPDATE 1 AUGUST 17*
Hello Everyone!
We wanted to let everyone know that the food will be available during the event! Enjoyabowls will be serving up delicious & healthy food, Purple Tree will be serving up refreshing smoothies, and for the coffee addicts Brewd will be there.
Come out and support a great local event with some awesome food, and dont forget to sign up!
*UPDATE 26 JULY 17*
Hello everyone! The second WOD is posted! To celebrate our 12th Air Force heritage you may notice that the workouts include numbers like 6 or 12. This is to represent the 12th Air Force and the 612th Air and Space Operations Center that are part of the Air Forces Southern (AFSOUTH) mission we conduct.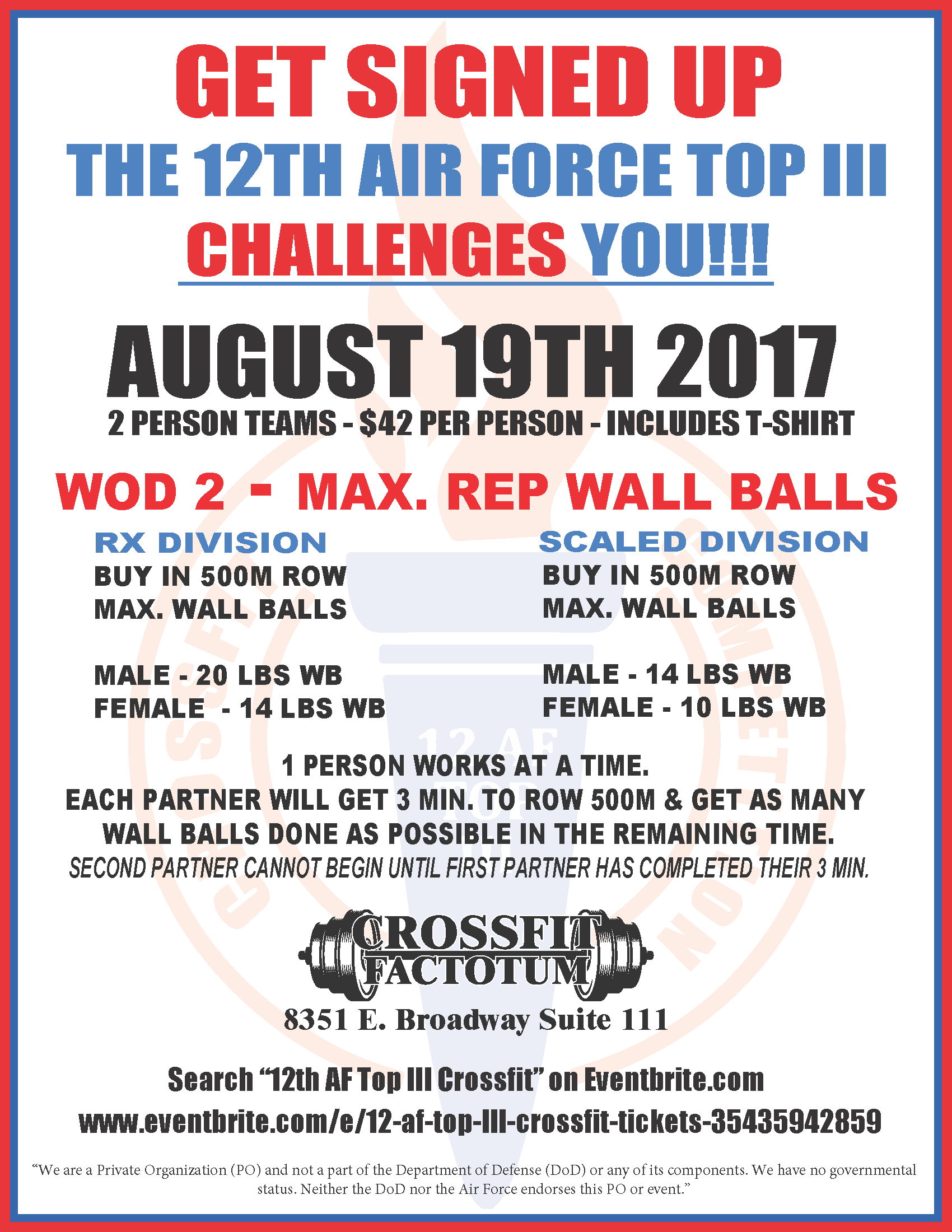 *UPDATE 20 JULY 17*
Do you want to participate but don't have a partner? E-mail us at 12thAFTopIII@gmail.com with your name, contact info, the category you'd like, and if you're doing the scaled or RX and we'll help you find a partner. Thanks everyone!
*06 JULY 17*
First WOD is posted!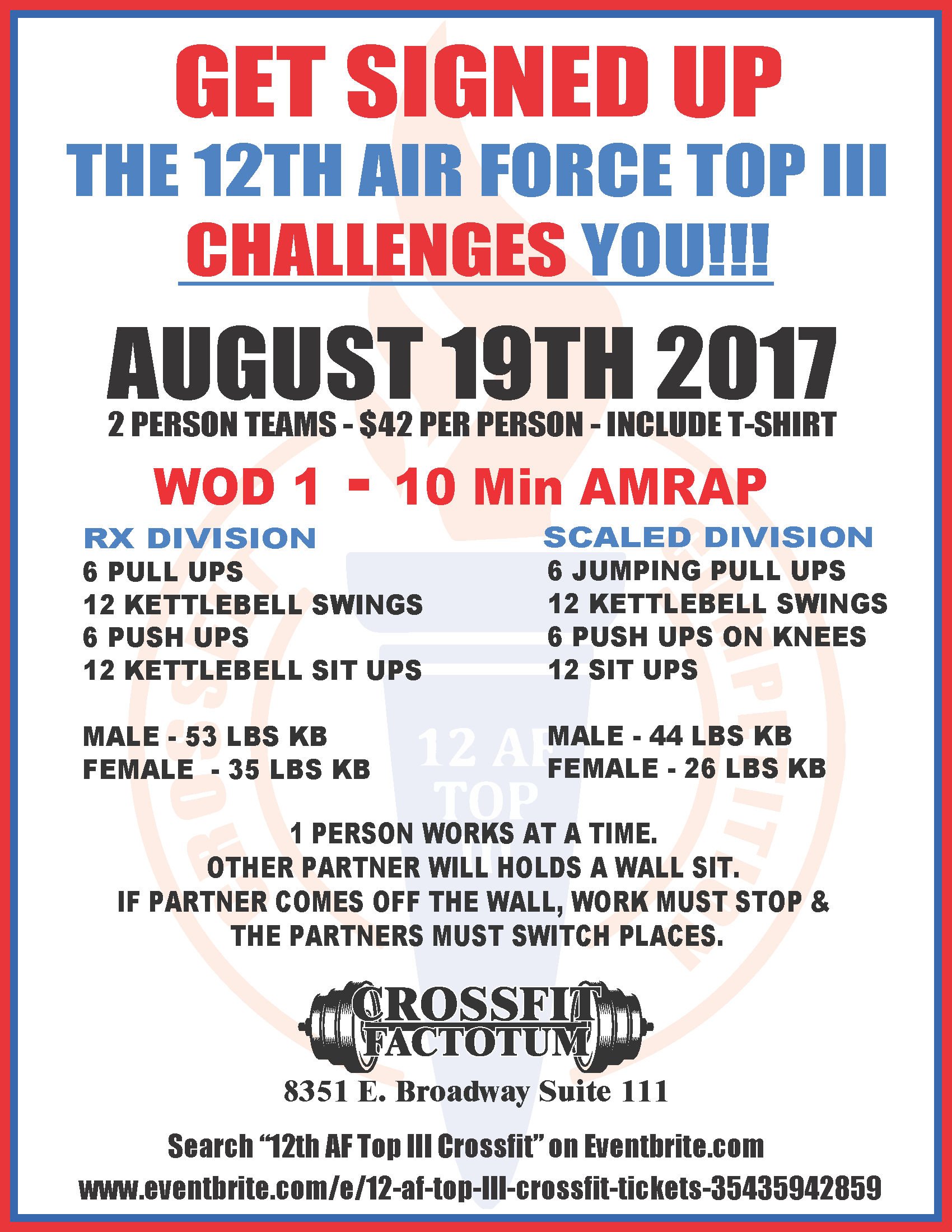 FAQs:
Are there ID or minimum age requirements to enter the event?
Yes, all participants must be at least 18 years or older.
How can I contact the organizer with any questions?
Please e-mail us at 12thAFTopIII@gmail.com or call Jonnie at 520-228-4275 or Anthony at 520-345-9173.