Location
HSBA Hamburg School of Business Administration gGmbH
1 Adolphsplatz
20457 Hamburg
Germany
After 5 yrs 12MIN.ME launches its 1st international conference in it's birthplace Hamburg with igniting talks, panels, artists, and awards!
About this event
12HRS.US - SOCIETY DISRUPTED: The 12MIN.ME - Conference
*the Conference will be fully in English but we announce it here in German as well.
GERMAN:
Nach OMR muss in Hamburg keine Langeweile herrschen, denn wie Euch sicher nicht entgangen sein wird, basteln wir von 12MIN.ME derzeit an unserer ersten ENGLISCHSPRACHIGE Konferenz "12HRS.US - SocietyDisrupted". Wir können Euch heute schon sagen, dass wir schon selbst mega aufgeregt sind: 80+ Speaker / Talks + 20 Panel-Diskussionen + Startup-Pitches und Auszeichnungen über 12 Stunden an 2 Tagen am 20. & 21. Juni im Square ggü. der Hamburger Handelskammer!
Schaut mal rein: KONFERENZVIDEO: https://www.youtube.com/watch?v=CLeT6xXO_Tk
Wir bespielen mehr als 6 Bühnen zeitgleich und durchgehend (*puhhh, das ist eine Orga... ). Es kommen uns vorwiegend die Macher*innen der Digitalisierung auf die Bühne und Leute, die hierzu auch kritische, gesellschaftliche und ethische Fragen stellen.
Programm: https://www.12hrs.us/program (sicher dreht sich hier noch etwas + die Panel-Besetzung kommt dann sehr zeitnah)
Speakers: https://www.12hrs.us/speakersThemen: https://www.12hrs.us/topicsLocation: https://www.12hrs.us/location
Ihr könnt selber auch mitwirken und Euch für Pitches bewerben oder für die beiden mit jeweils 1.200 Euro dotieren Awards nominieren:
Pitches: https://www.12hrs.us/pitchAwards: https://www.12hrs.us/awards
On top versuchen wir derzeit noch eine Demo für und mit Euch zu organisieren für eine faire Digitalisierung und zeitgemäße Bildung im gleichen Zeitraum! Lasst Euch überraschen!
Neben so viel Input und Impressionen muss auch Zeit sein auszuspannen. Hierfür haben wir auch Parties (u.a. im NOHO) und Künstler (Friedberg & Co. > weitere Ankündigung folgen bald) für Euch organisiertParties: https://www.12hrs.us/partyKünstler: https://www.12hrs.us/artists
Klar haben wir auch noch ein paar vergünstige Tickets für Euch (Versorgung und Eintritte soweit inbegriffen wie nur möglich) für 120 statt 312 Euro (12 muss drin sein) mit dem Promocode: ILOVE12MINME
Wer am Mittwoch bei der RoofTopOpeningParty dabei sein möchte kann 100 Euro sparen auf das teure CXO-Ticket, von dem es wirklich nur wenige aufgrund von Platzmangel gibt mit: 12HRSUS19
Das Ganze geht natürlich auch nur mit Top Partnern, wie der Haspa, P3 Group, PwC, Beiersdorf, Taylor Wessing, MOIA, Pawlik, t3n, Square, Redpinata, Voelkel, MVS, uvm.: https://www.12hrs.us/partners
Folgt gern auch auf FB: https://www.facebook.com/events/299744107375040/
Wir freuen uns Euch auf der Konferenz zu sehen!Eure 12MIN.ME & 12HRS.US Crew
PS: unser kurzer Trailer zur Konferenz: https://www.facebook.com/12hrsus/videos/652415581896246/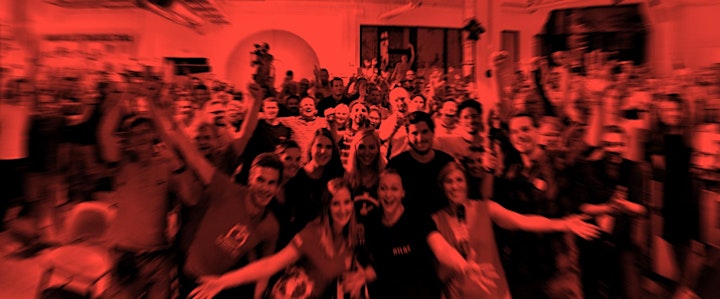 ENGLISH:
Welcome to 12HRS.US - Society Disrupted Conference in Hamburg!
Be there in June: 20 & 21, 2019.We have more than 80!! Speakers & Talks, 20+ Panels, 2 #Awards, many #Startup #Pitches and about 12 Topics (all in the gravitational field of the interplay between #DigitalTransformation and #Society) at 6+ Stages in the very heart of the City for you:
Our 12 topics: #Digitization / #Ethics, #Innovation / #Disruption, #Technology / #Trends, #entrepreneurship / #Startups, #Society / #NewWork / #Economics, #media, #education / #creativity, #data / #security, #artificialinteligence / #robotics, #mobility / #smartcity, #Virtualworlds / #vr #ar #xr #mr, #health / #singularity
💸💰 If you want to join try our promocode: "ILOVE12MINME" at https://www.12hrs.us/tickets (save more than 40%)
The detailed program: www.12hrs.us/program ⚡️👨‍🚀