This interactive mini-retreat will refocus your faith, refresh your courage, and restore your hope. An inspiring 3hr. LIVE event for women.
About this Event
Has the weight of 2020 left you feeling buried?
Are you longing for encouragement and connection? You need Breakthrough LIVE. This interactive mini-retreat will refocus your faith, refresh your courage, and restore your hope. Ladies from all across the country will gather together for this special three hour LIVE event. You won't want to miss it! Wear your comfy pants for some holy yoga, grab your favorite snack and prepare your heart to receive.

Mini-Retreat includes inspirational messages from:
Laura DeGroot is the Caffeinated Woman - motivated speaker and author of Live Wide Awake! She loves to laugh, live out-loud, and drink good coffee. Laura encourages women to embrace their story, lean into rough patches, and be present to God's healing Presence through personal story and Pay-Attention practices.
Malinda Fugate serves as the Children's Education Director at a church in Southern California. She attended Azusa Pacific University and worked behind the scenes in Los Angeles Christian radio. Her writing includes "The Other Three Sixteens", "Bible Time for Active Kids", copywriting, as well as faith-based stage and screen plays.
JJ Gutierrez is a corporate career woman turned homeschool mom, author and speaker. Married for 25 years with three girls, JJ has a passion for equipping women to grow in courage and faith. Often you can find her starting new small group ministries. JJ loves her German Shepherd- Bella and most days you'll find her sipping a glass of fresh brewed ice tea.
Abby McDonald is a writer and speaker whose passion is to help women find the hope of Christ in the middle of life's messes. She is the author of Shift: Changing Our Focus to See the Presence of God, and her work has been featured in numerous publications. Abby lives with her husband and three children western Maryland. You can connect with her at abbymcdonald.org.
Melissa Dyer is a lifelong business woman and ministry leader. Through her writing, podcasting, and groups she's committed to seeing woman of faith leave their comfort zones so they can realize their full potential. She's been married to her business partner and best friend for more than two decades and has two nearly adult children. Melissa resides in sunny South Florida and is an avid collector of sea glass and shells.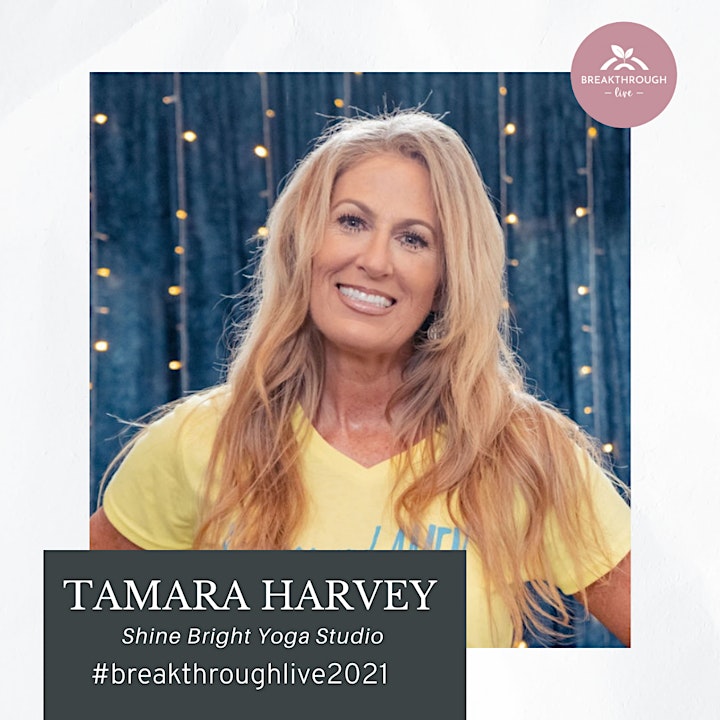 Tamara Harvey retired from the dental industry to follow her entrepreneurial dream to connect women together with faith. Her journey began with opening Shine Bright Yoga Studios and continues with Shine On Mentors, a non-profit ministry. Married for 30 years, Tam and her husband have two daughters one of which she homeschools.
What you get as an attendee:
Five INSPIRATIONAL MESSAGES and live HOLY YOGA.
BREAKOUT GROUPS to connect with new friends.
Downloadable interactive EVENT GUIDE.
GIVEAWAYS to bring the message home.
The BREAKTHROUGH you need!
Here's how it works...
Breakthrough LIVE will be hosted on the ZOOM platform. Please download the ZOOM app on your computer, smartphone, or tablet before the stream takes place to ensure you can tune in. You can download the app here.
Once a ticket is purchased, you will receive a confirmation email from Eventbrite.
On January, 20th, you will receive an email from the Breakthrough LIVE Host Team with the event link to Zoom, your downloadable EVENT GUIDE and any further information needed to access the event.
Please make sure you submit the proper email address when purchasing as that will be the main way to keep you updated on all information regarding the event.
1 ticket needed per person. For any questions, please email breakthroughlive2021@gmail.com. We can't wait to see you at the event!
Date and Time
Location
Refund Policy