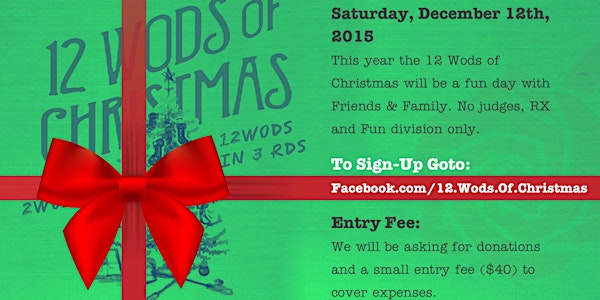 12 WODs of Christmas
When and where
Location
CrossFit Roseville 8413 Washington Blvd #120 Roseville, CA 95678
Description
This year we are putting on this event as a fun community event! No judges, just fun with amazing people and hard workouts! The 12 Wods of Christmas is an amaizing team event, wherin the four team members work in pairs to complete 12 classic benchmark workouts.
The workouts are broken up into 3 heats, with each heat containing 4 individually scored workouts. For example: Heat 1 is comprised of: Helen, Fran, Nancy, Jackie.
How it works: Two athletes begin by taking turns until they complete Helen. Immediatly after the first two athletes complete Helen, two athletes work to complete Fran; this repeats for Nancy & Jackie. All athletes must compete in 2 workouts per heat. All Wods are scored as 4 seperate workouts.
Heat 2: DT, Grace, Angie, Diane
Heat 3: Karen, Nasty Girls, Isabel, Elizabeth
There are two divisions: RX & Fun division! The RX division must be composed of consisting of 2 males and 2 females and will have standard RX weights and movements. The Fun Division can be any team of 4 and teams can scale as they wish. For Instance, Pull-ups may be subbed out for Kettlebell Swings or Burpees.
For Entry Fee we are asking each team to bring a donation for a charity (TBA) and a small entry fee to cover expenses ($40/team). We will have the BBQ going, else bring a potluck dish to share your cooking talents!
All Event information (Updates, Heat Times, etc.) will be posted to the facebook page: www.facebook.com/12.Wods.Of.Christmas
*No Refunds . You can sell your team spot, just forward me the details.