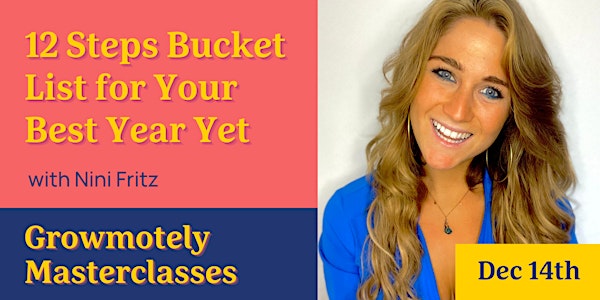 12 Steps Bucket List for Your Best Year Yet I Live Masterclass
Life's too short not to live your Bucket List - LIVE MASTERCLASS
About this event
As the end of the year is near, it's time to skip your to-do list for a moment and focus on your Bucket List for Life!
What is this about?
Within an hour of power, you will learn how to create and take action on your personally meaningful 12-steps Bucket List for a life with more purpose, meaning, and fulfilment.
How? By taking some time out of your busy to work on your best life. Learn how to thrive in every area of your life when you fill your own cup first and get motivated from the inside out.
Best of all: We take action on the spot! At the end of the workshop, we set a countdown and take a first step of action to come one step closer to one of your 12 Bucket List goals.
What can you learn from it?
How to become a successful goal-achiever in every area of your life;
How fulfilment from inside directly translates into performance at your job;
What makes your team members thrive outside of work
How to experience immense personal & professional growth by finding joy outside your comfort zone ;
How to stop postponing your dreams and goals to "some day maybe"
And how to take action on the spot!
How does it work?
Guided by Nini, a Certified Bucket List Coach, each member in the audience will create their individual meaningful list for life based on the ultimate 12 steps M.Y.B.U.C.K.E.T.L.I.S.T. Blueprint.
Every letter of the blueprint represents one specific Bucket List category, (e.g.= taking lessons) and together, they form a multi-faceted and holistic Bucket List that will even turn the most unmotivated couch potato into a motivated Bucket Lister with a tangible action plan for Life!
Who's your facilitator ?
Nini Fritz, the Founder of the Work Happiness Project
After living her own adventurous Bucket List Year (including goals like touching hands with the Dalai Lama and hitchhiking Nicaragua in a toilet paper truck), Nini has moved to Bali and swapped her Bucket List Year for a Bucket List Life.
She now works as a coconut-slurping team building coach for remote teams across the globe and helps teams like Hubspot make connections stronger than WIFI and live their best Bucket List Lives.
Nini genuinely believes that we can only unfold our fullest potential & bring our best selves to work when we are in an environment that matches our values and helps us to shine our brightest light, so we can thrive not just survive.
Therefore she has based all her remote team building workshops on the three pillars: Live fuller. Connect deeper. Be happier.
From 12-steps Bucket List sessions to Digital Detox workshops, and "no small talk" virtual coffee breaks to "The Art Of Happiness At Work" (based on principles by the Dalai Lama), her workshops cover every aspect to help remote teams supercharge from inside so they can show up as their best - and most productive - selves at work.
Live fuller: The 12-steps M.Y.B.U.C.K.E.T.L.I.S.T. workshop (inspirational 90min / motivational 2.5h / transformational 12h), Bucket List accountability check-ins, mini-workshops based around the Bucket List e.g. How to set goals and get goals, time management hacks, the importance of "filling your own cup first", How to get comfy outside your comfort zone
Connect deeper: Digital Detox workshop, "No smalltalk" coffee break, How to create & nurture a remote culture stronger than wifi, How to make connections stronger than wifi - in life & at work
Be happier: The Art of Happiness At Work based on principles of the Dalai Lama, The Power Of Fun - How to Feel Alive gain
...as well as virtual Christmas parties, off-site retreats as well as customized happy hours for your team.
💫 We'll have a dedicated space for questions at the end of the masterclass
💫 Join our Global Community for remote professionals (monthly 'pay what you can' subscription starting at 3$ USD) to get access to the library of our past masterclasses (including this one) and join our upcoming ones + many other resources!