Multiple Dates
12 Mighty Orphans , a true story at The Historic Select Theater
During the Great Depression, Rusty Russell gives up a privileged position to coach football at an orphanage in Fort Worth, Texas.
About this event
12 MIGHTY ORPHANS tells the true story of the Mighty Mites, the football team of a Fort Worth orphanage who, during the Great Depression, went from playing without shoes—or even a football—to playing for the Texas state championships. Over the course of their winning season these underdogs and their resilient spirit became an inspiration to their city, state, and an entire nation in need of a rebound, even catching the attention of President Franklin D. Roosevelt. The architect of their success was Rusty Russell, a legendary high school coach who shocked his colleagues by giving up a privileged position so he could teach and coach at an orphanage. Few knew Rusty's secret: that he himself was an orphan. Recognizing that his scrawny players couldn't beat the other teams with brawn, Rusty developed innovative strategies that would come to define modern football.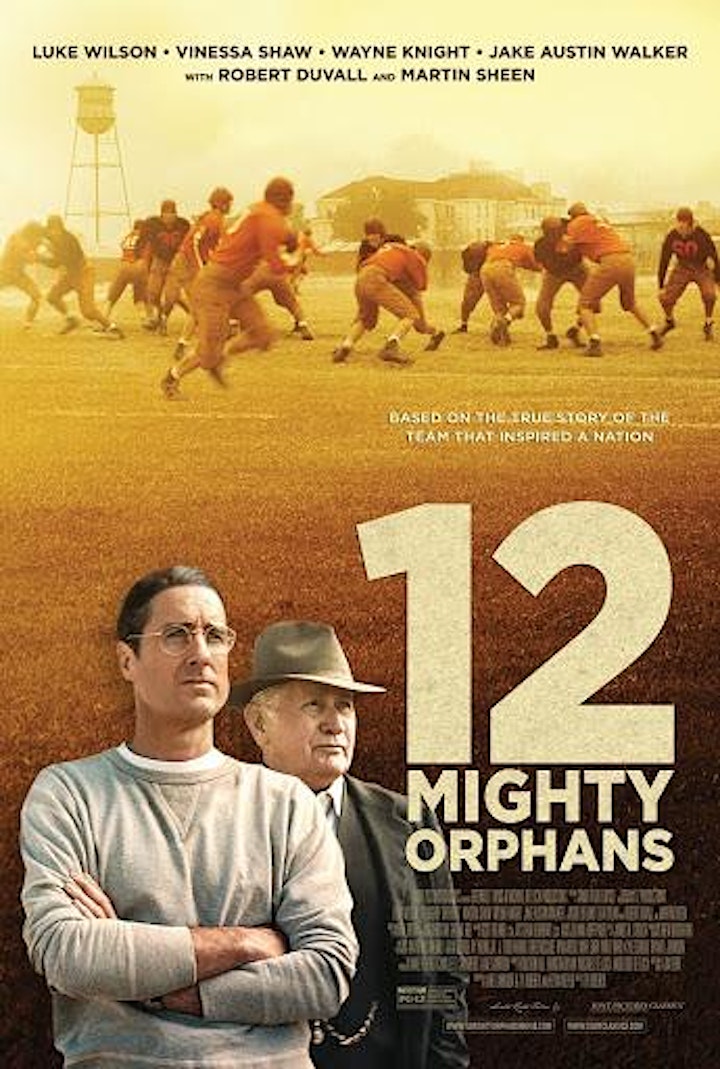 Organizer of 12 Mighty Orphans , a true story at The Historic Select Theater
As one of the oldest continuously operating theaters in Texas, the Historic Select Theater located at 114 N. Johnson St. is a true Texas (and Mineola) treasure.
Mr. and Mrs. R. T. Hooks opened the Theater as a movie house in 1920, and the building retains much of its historical style and ambiance today.
In 1978, a group of actors determined to bring live theater to the Lake Country area formed the Lake Country Playhouse. They purchased the Theater in 1993, ensuring that Mineola would continue to have a movie theater and a venue for live theatrical and musical productions.
The Playhouse produces four live plays each year one in each season and shows first run movies each weekend.
Patrons especially love the summer musicals and popular Christmas shows. The Theater is also home to the Lake Country Symphonic Band (formally the Wood County Orchestra), which presents four scheduled performances during the year.
Lake Country Playhouse is a non-profit organization under section 501(c)(3) of the United States Internal Revenue Code. All donations to Lake Country Playhouse are deductible.
The mission of Lake Country Playhouse is to promote the Arts in East Texas, and to provide a home for Performing Arts at its facility, the Historic Select Theater. Additionally, Lake Country Playhouse will maintain and operate the Select Theater as a historical treasure by continuing to show motion pictures in the longest continuous-operating movie theater in Texas.