12 Inches of Sin (VI) Art Festival

Friday, July 21, 2017 at 8:00 PM

-

Sunday, July 23, 2017 at 6:00 PM (PDT)
Event Details
Fri July 21      8pm to 11:30pm
Sat July 22     1pm to 1am
Sun July 23     1pm to 6pm
A culturally rich and stimulating weekend awaits artists and art aficionados from around the world.  Over 100 visual and performance artists exhibit at New Orleans Square, a 72,000 sqft commercial retail complex, to ignite the senses in Las Vegas.
Established in 1963, the Commercial Center has produced numerous arts and cultural events throughout the decades. From the days of the Rat Pack's escapades to Led Zeppelin playing at the Ice Palace, the festival celebrates the modern provocateur in each of us. The weekend provides the platform for everyone to celebrate their sexy self and shine bright. Artists from all over the world will exhibit and create immersive experiences for you to enjoy.
Monies raised from the event will be donated to the The Sin Sity Sisters of Perpetual Indulgence.  The 501c3 charitable nonprofit assists members in need of HIV/AIDS services.  The Sin Sity Sisters will oversee all the activities to ensure that EVERYONE has a great time
Both Friday and Saturday nights will provide the most outstanding live entertainment from drag to burlesque and many surprises in between.  Live music and DJs will be grooving throughout the weekend. Workshops and lectures are intended to provide pertinent skills to be utlized whenever, wherever and to whomever (with permission).  Entrance for the entire weekend is $20 so that patrons may come and go to enjoy the many amenities in the area.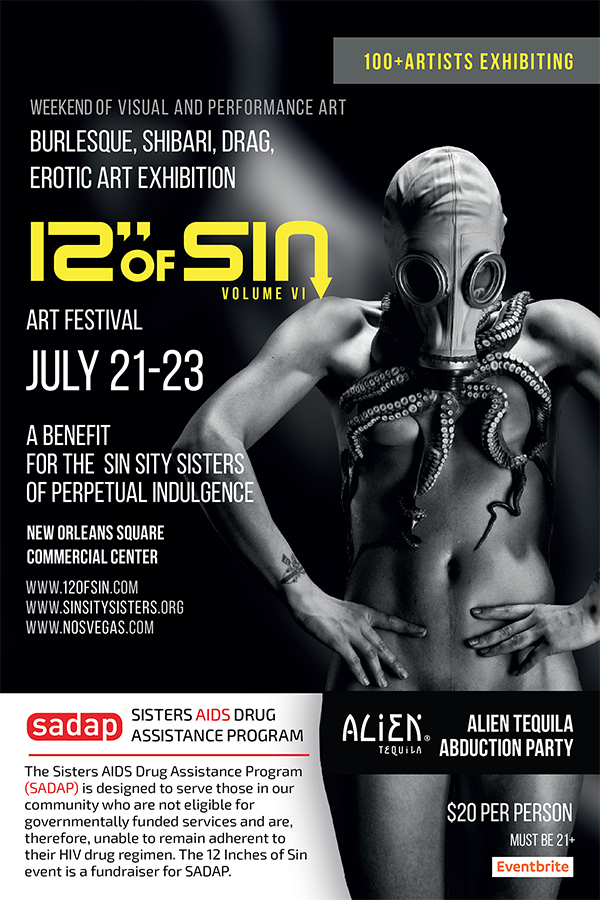 FAQs

Are there ID or minimum age requirements to enter the event?

You must be 21 years of age and present a valid ID.
An art festival in July?  Say what?  Is there air conditioning? 
Yes, and plenty of it.

Where is New Orleans Square located?

New Orleans Square is located only one mile east of the fabulous Las Vegas Strip, minutes from Downtown, and walking distance to the Las Vegas Convention Center, Westgate, SLS, Turnberry Place, Turnberry Towers, and across the street from the prestigious Las Vegas Country Club. The venue provides access to restaurants and the many progressive amenities located at the Commercial Center. 

What are my parking/transportation options for getting to and from the event?

There is plenty of parking at the Commercial Center and it is well lit at night. Should you intend to get your drink on, we highly encourage you to use Lyft or Uber. 

What can I bring into the event?

Bring yourself and good cheer. Dress to impress and let your sexy self or freak shine bright. 

What exactly is 12 Inches of Sin? 

12 Inches of Sin features sophisticated, intelligent, witty and provocative artworks from around the world. The juried exhibition explores eroticism and sensuality through the lens of contemporary art.  

In its seventh year, the annual juried art exhibition explores the diverse landscape of sexuality through the lens of contemporary art, with a twist: every piece submitted for consideration may not exceed one one-foot square in measurement. This scale allows a certain challenge to emerge for each artist in hand with an astonishing tension between subject matter and material. The project strives to foster artistic practice that embodies cutting-edge creativity and diversity of the contemporary art world.

The globally recognized project is dedicated to promoting educational dialogues about human diversity and sexuality. Within this methodology, the exhibition seeks to move beyond the idea of produced sexuality and offer an alternative, inclusive and meaningfully personalized view of human identity, sexuality, gender and expression. Artists from 23 countries have submitted to the exhibition.  

The 12 Inches of Sin weekend is an annual event that showcases art, entertainment and fun workshops.  

Can I buy art and bring it home the same day?

Yes! We encourage you to do so!

Will there be an ATM at the event?

There are several machines in and next to Commercial Center. We hope you will buy art, buy drinks, buy food, and perhaps donate a little more dinero to the Sin Sity Sisters of Perpetual Indulgence!

Who are The Sisters? What is SADAP? 

The Sin Sity Sisters of Perpetual Indulgence was founded in 2005 in Las Vegas. They are affiliated with the Sisters of Perpetual Indulgence founded in 1979 in San Francisco. The Sisters host fundraising events to team up with local charities that serve the Las Vegas community. They are also a nonprofit organization that raises money for its Sisters AIDS Drug Assistance Program (SADAP). SADAP is designed to serve those in the Las Vegas community who are not eligible for governmentally funded services, and are therefore, unable to remain adherent to the HIV drug regimen. Ticket sales for 12 Inches of Sin are donated to the Sin Sity Sisters of Perpetual Indulgence's SADAP program.

Is there a schedule of entertainment and workshops?

Yes, a schedule will be posted soon.

What does the $20 admission fee provide?

You are free to come and go during the weekend. The $20 includes all activities. It is entirely up to you to enjoy a day, an evening or the entire weekend.  

Purchasing your ticket helps your community! So, invite your friends to join you. The more the merrier!

Tickets available on Eventbrite and also at door.

Are there any rules?

As long as you are responsible, respectful and consenual, you are good to go! Please be mindful that some people may not want their picture taken. Some people may want their personal space respected. Be mindful, and have a great time!

Are you looking for volunteers?

Yes, and we are looking for awesome people who want to have fun and help us have a successful weekend. Please contact Sin City Gallery, the organizer, or the Sin Sity Sisters of Perpetual Indulgence.

How can I contact the organizer with any questions?

Please contact info@sincitygallery.com.
Our partners

When & Where

New Orleans Square
900 Karen Avenue
Las Vegas, Nevada 89109


Friday, July 21, 2017 at 8:00 PM

-

Sunday, July 23, 2017 at 6:00 PM (PDT)
Add to my calendar
Organizer
12 Inches of Sin is produced by Sin City Gallery as a benefit for the HIV/AIDS nonprofit organization, Sin Sity Sisters of Perpetual Indulgence.
Sin City Gallery exhibits sophisticated, alluring and thought-provoking contemporary art in Las Vegas. Globally renown for exhibiting hundreds of exhibitions on and off The Strip, the gallery presents an array of international artists and mediums.  
Please visit Instagram @sincitygallery | www.12ofsin.com for more information.
12 Inches of Sin (VI) Art Festival