Event Information
Refund policy
Contact the organizer to request a refund.
Eventbrite's fee is nonrefundable.
Join us over the holidays for an exclusive series of Belly Dance Workshops!
About this event
Choose the ticket option for the preferred workshops. Zoom links will be emailed to you upon registration and 1 hour before the workshop. Video On Demand (VOD) links will be emailed to you at the conclusion of the workshop.
For live classes, please log on 15 minutes before the workshop for a meet and greet.
Use discount code COVID to save $20 on individual workshop tickets.
If you have any questions, please contact info@dancegardenla.com
Thank you for supporting our studio and teachers!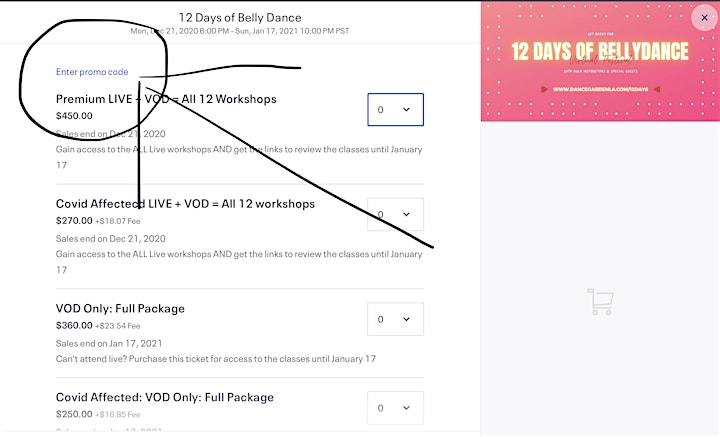 Workshop Schedule
Mon, Dec 21, 2020
6pm-8pm PST
Sabah Saeed
"She's Got Legs"
She's Got Legs! Discover the power of a strong dance foundation and your connection to the earth in this exciting workshops. Sabah will dive deep into techniques and exercises to strengthen your legs for dance. Enhance your shimmies, hip technique and layers by developing more powerful 'leg-work'!
Tues, Dec 22, 2020
6pm-8pm PST
Ebony Qualls
"Urban Fusion Choreography"
Explore a fun and unique spin on contemporary belly dance. Learn combinations which fuse modern urban styles found in hip hop, retro funk styles such as locking, and the timeless art of raqs sharqi. Build coordination, work on isolating movements, and expand your dance style with popping and liquid. This workshop will be high energy, prepare to sweat and have fun. Dance shoes recommended, but not required.
Wed, Dec 23, 2020
6pm-8pm PST
Ahava
"Graceful Arms and Hands"
Graceful Arms and Hands (Technique) 2hrs All LevelsThis is a great workshop for students who aren't sure about what to do with their upper body. The arms and hands are an important extension of the body and this workshop teaches students how to express themselves by creatively using their arms and hands. We'll discuss posture, anatomy, framework, and how to create innovative pathways with beautiful arms and hands.
Thur, Dec 24, 2020
10am-12pm PST
Kaeshi Chai
"BELLY DANCE FANS"
Fascinated by fans but don't know how to use them? Then come and discover how the beauty of fan dancing can enhance your ability to mesmerize an audience. Kaeshi learned fan dance first hand from Chinese dance masters as a teenager, and toured throughout multiple cities in Australia dancing with the "Chinese Youth League". Learn different hand holds, poses, dramatic accents, poses you can strike, plus a myriad of bellydance movements that work well with fan technique.
Sat, Dec 26, 2020
10am-12pm PST
Kamala Almanzar
The Golden Age of the Mejance 1980s Nightclub Style
In the early 1980s Arabic nightclubs proliferated from Cairo to Europe & across the USA. The emergence of what we now call Mejance was amplified by some of the most beautiful music ever written for Oriental Dance, designed for the dancer to take the stage in dramatic fashion. Kamala will dig deep into her personal journey to present the dance style specifically performed in Arabic '80s nightclubs for this iconic Egyptian musical genre. Hips were the focus and subtle movement was favored. A great addition to broaden your dance education! This is an improvisation class. Bring a veil, preferably chiffon, for era accuracy!
Sun, Dec 27, 2020
10am-12pm PST
Dahlena
"Beladi Taxim"
Deep Undulations and curvaceous hips - that is how you spell a Beladi Taxim. Whether with or without rhythm, the Beladi Taxim is a precious moment during a dancer's show where musicians and dancer improvise together, it is both a spontaneous and deeply connected moment of art and performance. Dahlena will guide you through this topic with a focus on music phasing and context - take a deep breath and go with the musical flow in this workshop.
Mon, Dec 28, 2020
6pm-8pm PST
Helena Vlahos
"The Sensual Chiftetelli"
Chiftetelli is often the first rhythm belly dancers learn to recognize, yet it holds its magnetic charm through our entire dance careers! The intricate rhythm starts to feel natural, freeing the dancer to become creative and explore new movements and different connections to the music. Helena having danced to the Chiftetelli countless times, will open the doors to the multitudes of possibilities for creative musical interpretation within this rich, and multi-layered rhythm, bringing new life and classic beauty to your belly dance
Tues, Dec 29, 2020
6pm-8pm PST
Roxxanne Shelaby
Beledi
Explore Beladi style within the context of the culture. Focus on fundamental movements while gaining a deeper understanding of the Beladi feeling and musicality. No experience necessary.
Wed, Dec 30, 2020
6pm-8pm PST
Aisha Ali
"Tunisian Shaabi"
Shaabi means "of the people" or "folk", and this is one of the most dynamic dance styles in North Africa, the dance is distinguished by swift thrusting hip movements and forward back twists accompanied by traditional syncopated drum rhythms and the drone of the gaita, a goatskin bagpipe. It is performed by Arabs and Berbers alike although it is sometimes romantically referred to as a "Bedouin" dance.
Thur, Dec 31, 2020
10am-12pm
Natalie Nazario
"Drum Solo"
The drum solo is an exciting part of a belly dancer's traditional repertoire. This workshop will start with the technique of each movement and explanation of the different variations. Hip works, accents, layerings and different types of shimmies will be explained. One of the sections will be dedicated to explore your creativity and how to show your personality with your movements. Furthermore, we will be working with the basic Arabic rhythms. Each rhythm has their own character and movements that belong to them. Natalie will share some of her favorites drills to improve your shimmies technique and coordination. Guaranteed to be a great workout!
Fri, Jan 1, 2021
10am-12pm PST
Khadijah
"Persian Bandari"
In Farsi (vs. Persian) Bandar means "harbor". This high energy Southern Iranian dance from the Persian Gulf not only reflects on ties from
the Arabian Peninsula but from traditional African dances that were introduced to the Persian Gulf by African people brought in to work and build empires outside of their native land. Come learn history, musicality, abdominal movements , traveling movements , fun undulations, graceful arm and hands movements, various shimmies and fun spins and turns!
Sat, Jan 2, 2021
10am-12pm PST
Yasmina Ramzy
"Be The Art - Creative Choreography & Improvisation"
Good choreography and improvisation need each other. Both need your unique soul in order to come alive and impact audiences. How to tap into your unique expression while creating choreography and improvising.
Date and time
Location
Refund policy
Contact the organizer to request a refund.
Eventbrite's fee is nonrefundable.