12 Bars of X-Mas with Crawl In Boston
When and where
Location
Faneuil Hall 1 Faneuil Hall Square Boston, MA 02109
Description
PLEASE VISIT CRAWLINBOSTON.COM FOR REGISTRATION INFO
Please join Crawl in Boston on 12/7/13 to tour the Faneuil Hall area to kick off the holiday season as we bring back the 12 Bars of X-Mas!
Here are just some pictures from the past couple of years of this fantastic event.
2010 , 2011 and 2012 Pictures from Crawl In Boston
And here are some ideas from our pinterest page
Last year was an amazing experience for us. And we're always trying to make things better for our crawlers. So we are making a few changes in hopes for an even more fun experience for you.
1. Last year for X-Mas we had around 1,050 attend. It was a great time, but we decided this year to decrease the amount of tickets so we can cut down the check in time. We're going to cap the event at 700.
2. This year we'll have increased staff on hand to check you in and answer your questions. Our staff works hard to get you checked in and to the bar as quickly as possible! We also signed contracts this year that will give us premier access to the bars when we're scheduled to be there.
3. We realize that you work hard for your money. We always want to give you the best experience ever. Buying a ticket should always be more than just having access to the bars.
Tickets to the 12 Bars of X-Mas will be $20 until 10/22/13. Prices will increase as event gets closer until we sell out. We are not expecting to do any day of sales.
We sold out our Halloween Crawl two weeks before that event so you're not going to want to wait too long on this one.
You will always get tons of bang for your buck with Crawl In Boston. We're able to give away much more for our crawlers!
Your ticket price will include: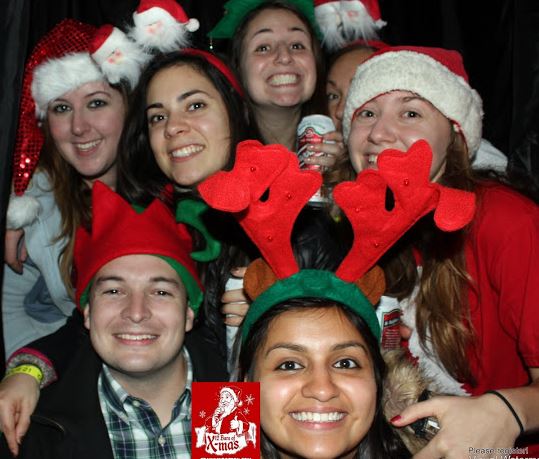 Drink specials at all the bars
Kooze
Shot Glass
Glow Stick
Candy Cane
Drawstring Backpack
Photo Booth!
Tickets are non-refundable. You must arrive to register by 3:00 or your ticket may be resold. Registration will be split up by last name at multiple bars for check in. So if you're coming with a group it might be easier for one person to buy the tickets in bulk and pick up all your goodies at once.
And we are still raising money for charity with proceeds to benefit Coins for Cures by Boston's Children's Hospital.
Registration bars will be e-mailed to ticketed customers the week of the event.
You will receive the entire schedule when you register in person at the event. We will have 12 - 14 total bars participating. All the bars will be in the Faneuil Hall and Financial District areas. We are not releasing the schedule prior to the crawl to avoid crawl crashers (we've already seen the Facebook and Twitter posts). We want to keep this event as exclusive as possible for your own comfort. Please note, the bars have the right to refuse entry to anyone due to bar capacity or personal incapacity.
Please don't wait to join this incredible event. Cheers! -C.I.B.