Description
The 2nd Annual 12 Bars of Christmas Crawl is coming back to town Saturday December 1st from 12pm-8pm!! Put on your best holiday onesies, Santa suits, ugly sweaters, and elf costumes and get ready to crawl!
- 16oz Bad Santa Stadium Cup for all your drinks!
- Bus transportation to participating bars!
- Santa Hat for online orders only while supplies last!
- Wristband for entry and drink/food specials!
- No cover with your ticket purchase!
- Drink specials at all participating bars!
- Everyone dressed in outrageous costumes!
**EVERYTHING YOU NEED TO KNOW ABOUT THE CRAWL**
REGISTRATION IS FROM 12PM TO 4PM AT:
REGISTRATION: You'll receive your 16oz Santa Stadium Cup, Santa hat and wristband. If you can't make it by 4pm have a friend pick everything up for you and they will need to have your ticket.- Santa Hat for online orders only while supplies last!
TICKETS: You MUST have a copy of your ticket with you or on your phone. Screenshots will not work, it must be the actual ticket. Tickets are transferable and not refundable. You can give your ticket to a friend to use if you cannot attend the event. If purchasing at the door it's $25 cash only!
BUS TRANSPORTATION: Buses will be running from 2pm-8pm and shuttle you to the participating bars. They will pick up at The BOB and follow a route that will be posted on the event page and ticketing page. You must have purchased a ticket to use the bus transportation.
TRANSPORTATION: Transportation services for the 12 Bars of Xmas Grand Rapids is provided by Affordable Limousine. We will have several vehicles stopping at or near each bar in a specific order. We will not make any stops aside from the bars in the rotation. You may ride on a vehicle only if the onboard security personnel deems there to be room. VEHICLES CANNOT EXCEED CAPACITY.
By riding in the vehicles, you agree:
1. To refrain from the use of vaporizers and/or smoking.
2. Use of emergency exits for non-emergency purposes will result in your immediate ban from the use of the provided transportation services.
3. Failure to adhere to any request made by the provided security on the vehicle or a driver of one of the vehicles will result in your immediate ban from the use of the transportation services.
4. Permission to use the provided transportation can be revoked at any time at the discretion of an Affordable Limousine driver or representative or the onboard security officer(s).
Please enjoy the experience responsibly.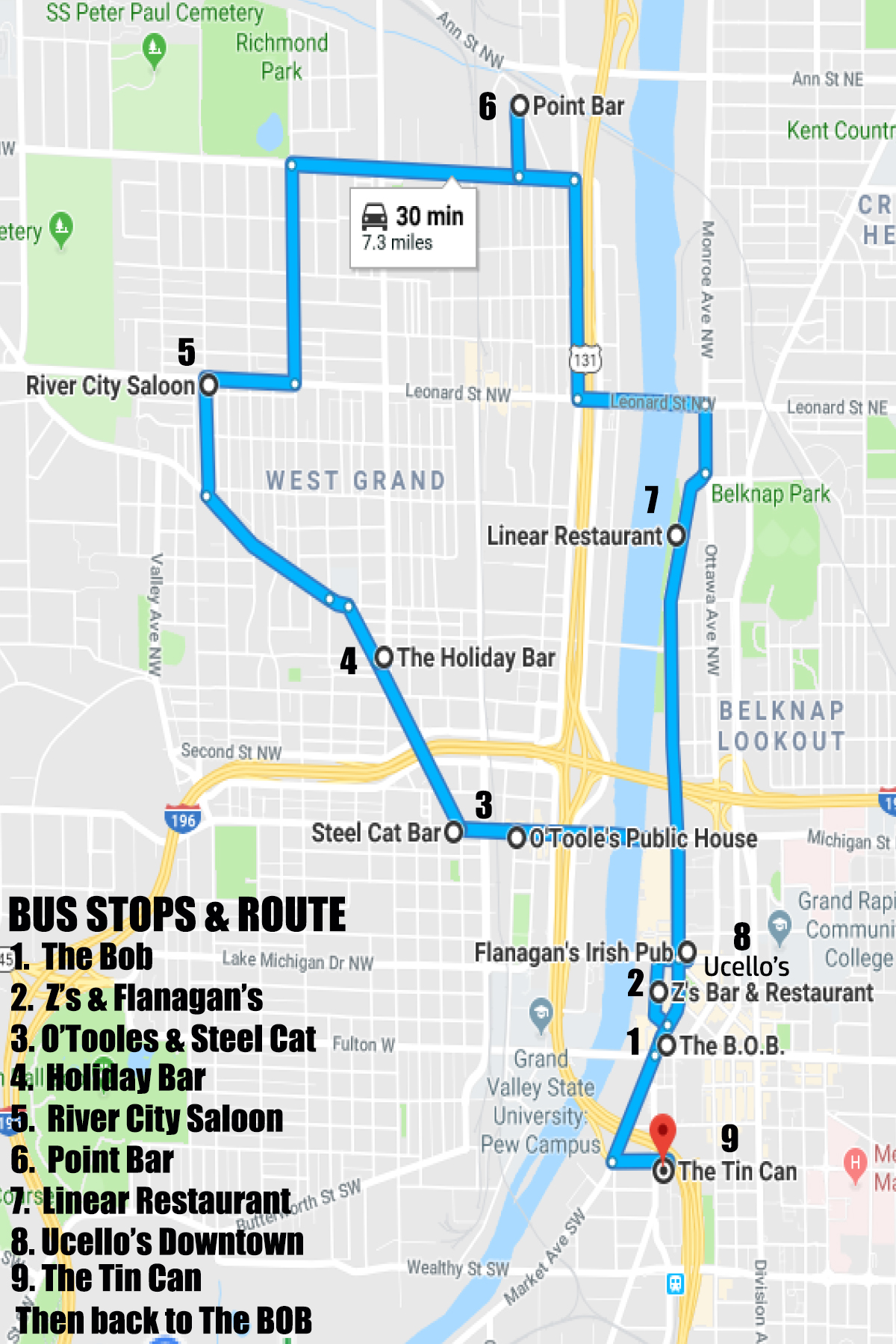 ROUTE: You're able to go to any of the participating bars at your leisure after you register!
SPECIALS: From 12pm-8pm. All specials are listed below and on the Facebook event page at https://www.facebook.com/events/209875336224055/
INTERACTIVE MAP: Find all the drink specials and bars at www.xmasbarcrawl.com/grandrapids
ID: DO NOT FORGET YOUR ID!! It will be checked at every participating bar that you choose to go to. All participants must be 21 years old or older.
WEATHER: Event goes on rain, snow or shine!
Be safe and have a great time! Please don't drink and drive. Call a cab, Lyft or Uber, or have someone who will be a designated driver.
HOME at The BOB (Registration 12pm-4pm)
Bobarino's (Registration 12pm-4pm)
$4 Miller Lite bottles and drafts
$5 Suck My Snowballs shots
$2 Shorts Locals Light draft beer
$5 "The Grinch" holiday cocktails
$2 domestic bottles until 6pm
$3 cherry Tootsie Pop shot
Everything $1 off until 7pm
$2 Bud Light, Miller Lite, and PBR pints
$3 Peppermint Patty shots
Everything $1 off until 7pm
$2 Bud Light, Miller Lite, and PBR pints
$3 Peppermint Patty shots
$2.50 Spooky pudding shots
$2 domestic bottles & short domestic drafts
$4 tall domestic drafts, beer flights, select wines and bellinis
$5 sangria mules margaritas and mojitos
$4 The Frosty Drink (Caramel Vodka, Irish Cream, Soda on the rocks with a touch of Whipped Cream)
$4 Santa's Little Helper shots (Chilled Dark Creme De Cacao, Orchatta, and Bourbon)