11th LAPPG Anniversary Meeting - June 13, 2019

Thursday, June 13, 2019 from 7:00 PM to 10:00 PM (PDT)
Event Details
Please join us for on June 13th (doors open at 7pm) for:
LAPPG'S 11th Anniversary Meeting
 
We will be featuring two informative presentations, valuable networking time, delicious refreshments, a huge giveaway and a fun celebration!

LUMBERJACK BUILDER 2.0
Philip Hodgetts will demonstrate Lumberjack Builder, a unique text driven NLE for Premiere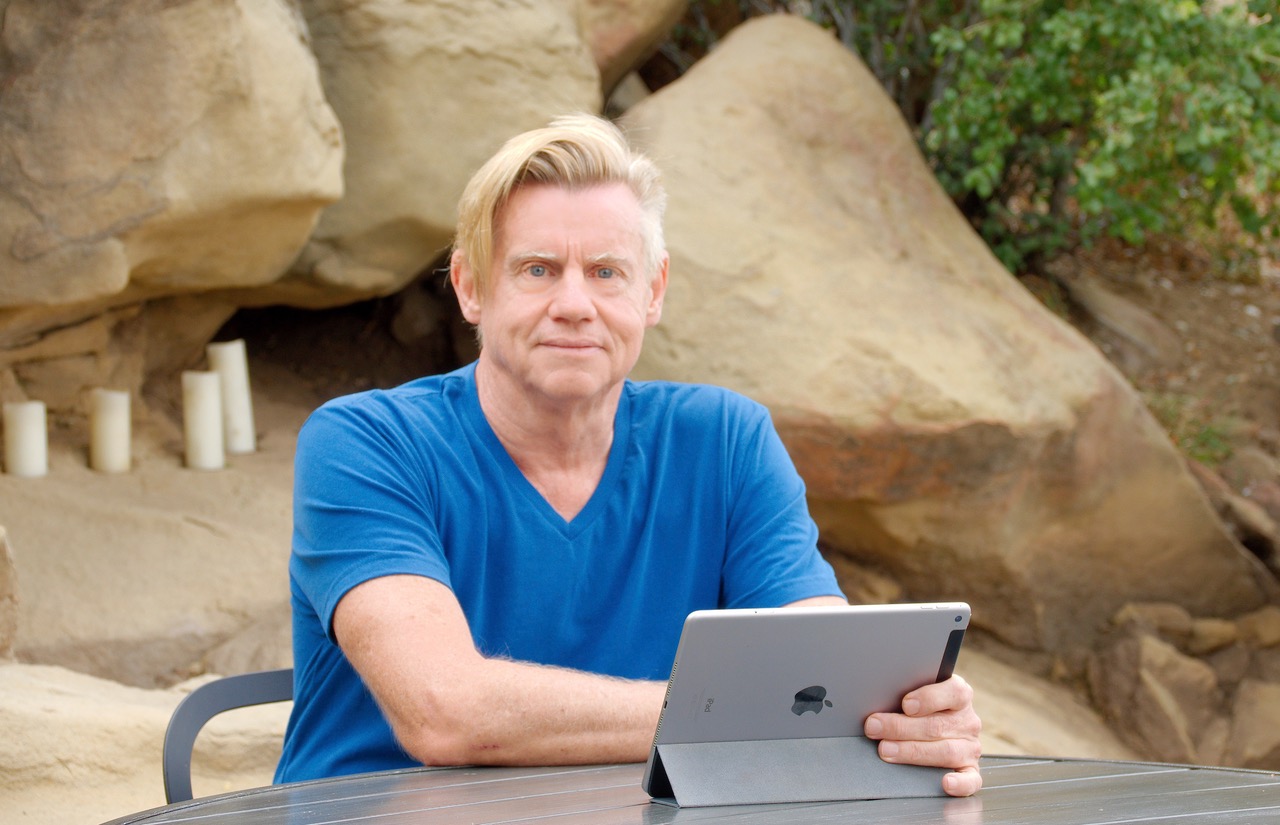 Pro and Final Cut Pro X. Builder picks up where transcription services finish. He will show how Builder creates stories from text ranges out of multiple transcripts. Stories can be read as text or played as video! There are comprehensive (but optional) logging tools for adding Keywords to Text Ranges.

In Builder you order transcripts in the app, or bring your own transcripts, and use the transcripts to drive the video and audio edit. Builder has fully featured Logging tools, including the world's only Keyword Manager, and text correction tools in the Logging Window. In the Story Building view, Builder has comprehensive filtering so you can find the perfect sound bite quickly and easily. Selects go into a Storyline script. You can read the script, edit the text and play the video as the story develops. Export preliminary sequences for finishing in Premiere Pro or Final Cut Pro X.


PHILIP HODGETTS is an expert in content metadata, particularly how it is applied to derive production metadata in post workflows for organization and pre-editing, with a prior history in knowledge system development. He is the President and CEO of two companies: Lumberjack System, an innovator in acquiring and using content metadata, and Intelligent Assistance Software, Inc, a technology developer specializing in metadata-enabled, XML-integrated workflows. He is the author of several books and has been a keynote speaker at many conferences. He is a thought leader in the application of Artificial Intelligence to production workflows.
GROW YOUR CAREER BY DEVELOPING YOUR
PERSONAL BRAND

Your personal brand is who you are. It's what promises you're making to your clients and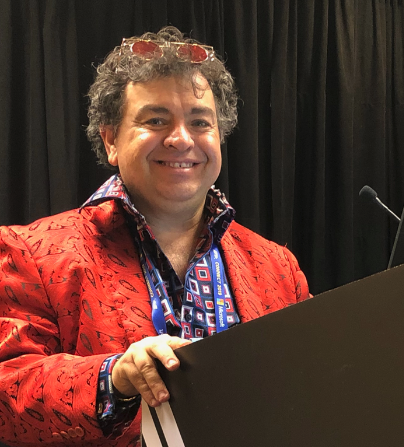 those who you work with. It's your values. If you don't define and work at your brand, someone else will. Jeff Stansfield and Philip Hodgetts will help you how to find and promote your personal brand, and how to use your brand to further your career.

Jeffrey Stansfield is the President and CEO of Advantage Video Systems, a leading technology provider to the broadcast, motion picture, television and motion graphics industries. AVS is one of the leading system integrators for the media & entertainment industry building numerous production & post facilities and VFX houses, and over the past 18 years has completed over 250 TV stations nationwide.

Refreshments will be provided courtesy of: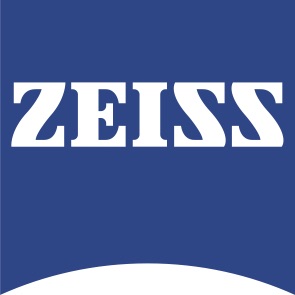 ***As always there will be plenty of time to network, enjoy some coffee and participate in our great giveaway which includes thousands of dollars of amazing prizes from our generous partners!

$5.00 cash kindly requested at the door will include 1 giveaway ticket.
Location:

Roth Hall

1714 21st Street

Santa Monica, CA 90404
Click for a map here. 
***Street parking is available and a Crossroads parking lot on 22nd Street. Click here for a parking map. We encourage ridesharing or using public transportation as there are two Metro Expo Line stops within walking distance to Roth Hall. 

---
SUBSCRIBE TO LAPPG'S YOUTUBE CHANNEL TO CATCH UP ON MISSED MEETINGS
Debbie Berman is co-editor of the Marvel blockbuster films - Spider-Man: Homecoming, Black Panther, as well as Captain Marvel and spoke with Monica Daniel at our March 2019 meeting. Take a look at this highlight reel where she talks about collaboration with other editors on the films and discusses working with the visual effects teams to best tell the story. She also stresses the importance of creating a network of people who are doing the work that you want to be doing, and the importance of mentors on your work and your career.


Watch here: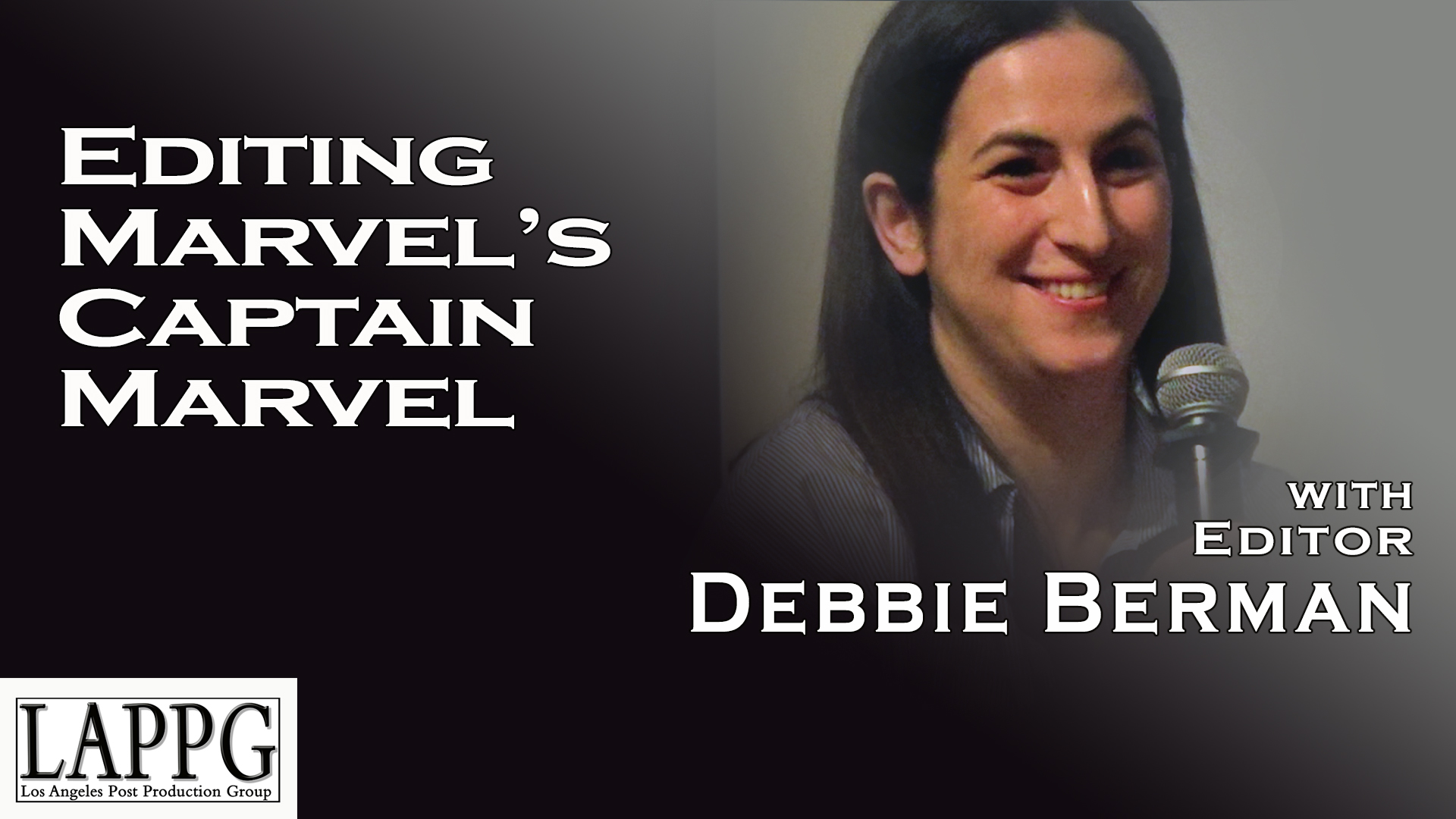 Click the button below to SUBSCRIBE and be notified as new videos hit our YouTube Channel!


---
DON'T MISS THE ULTIMATE VR/AR/360 PRODUCTION TRAINING EVENT IN LOS ANGELES THIS SUMMER!

Mark your calendars and join us on June 18-20 for a 3-day event featuring hands-on training for production and post-production professionals on how to create compelling 360/VR/AR content.
Immersive media is becoming increasingly important in a growing number of fields, from entertainment to engineering, education, and beyond. As immersive media continues to grow in use and importance, so does the need for qualified professionals who can help organizations integrate VR into their workflow. Don't miss the opportunity to learn how to create your own VR content from FMC's team of certified instructors and industry gurus.
The training sessions, expo, and networking will take place at the Hilton Los Angeles/Universal City. Visit the event website for more details and book your pass:
http://www.dellivrconference.com/
All LAPPG members

can save $50 off on any of the 1, 2, or 3-day training passes by using exclusive member code: VRLA.
Students and faculty are also entitled to a 35% discount on any of the passes.

See you on June 18th!
---
CALL FOR ENTRIES!
CREATE A FILM FOR THE 2019 NFMLA ON LOCATION: LOS ANGELES VIDEO PROJECT
NewFilmmakers Los Angeles (NFMLA) is thrilled to invite you to create a short film for the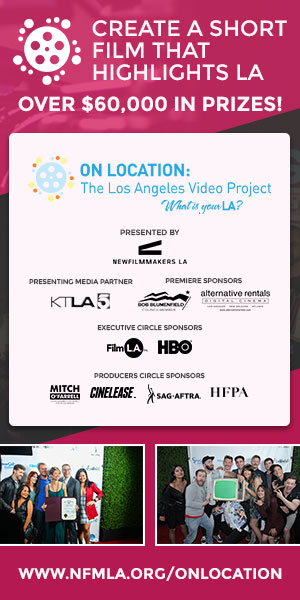 2019 On Location film competition! Tell them your story in a narrative, documentary, commercial or animation format that positively highlights Los Angeles to the rest of the world. Create original, branded entertainment with Los Angeles as the experience. These short films will celebrate our fabulous City of LA and answer the question "What is your LA?"
This competition is an excellent opportunity for you to showcase your filmmaking skills and promises to highlight finalist entries with over a million views, a red carpet premiere screening event at Sunset Studios in Hollywood with 750+ attendees, a celebrity judging panel with press interviews, an after-party, and over $60,000 in prizes, including cash!
For this years' On Location program, NFMLA has partnered with LA City Councilmember Bob Blumenfield, LA City Councilmember Mitch O'Farrell, Sunset Studios, Cinelease, KTLA, The Central Hollywood Neighborhood Council, SAG-AFTRA, FilmLA, Hollywood Foreign Press Association, The California Film Commission, Alternative Camera Rentals, and HBO.
To learn more about creating a film, please visit http://www.nfmla.org/onlocation/
---
AFTER EFFECTS WORLD HEADS TO SEATTLE JULY 26-28
Co-Founder of Territory Studio, Marti Romances, joins After Effects World as a Keynote Speaker!
Throughout his creative career as a multi-media artist, Marti led on UI design for films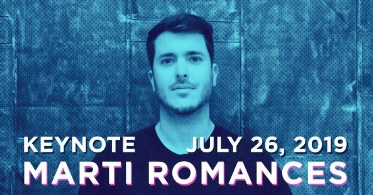 including Avengers: Infinity War, Guardians of the Galaxy, and The Martian. Marti's passion for creative technology led him to the United States and currently Marti works as the creative director and co-founder of Territory's San Francisco studio.
Marti will show attendees how to manage 3D render passes, object buffers, pre-animated libraries and other details about the pipeline at Territory Studio. Attendees will walk away from his sessions with a stronger grasp on motion graphics in relation to film productions, the importance of compositing render passes, and design techniques for real projects.
Don't miss the opportunity to learn from him during this year's After Effects World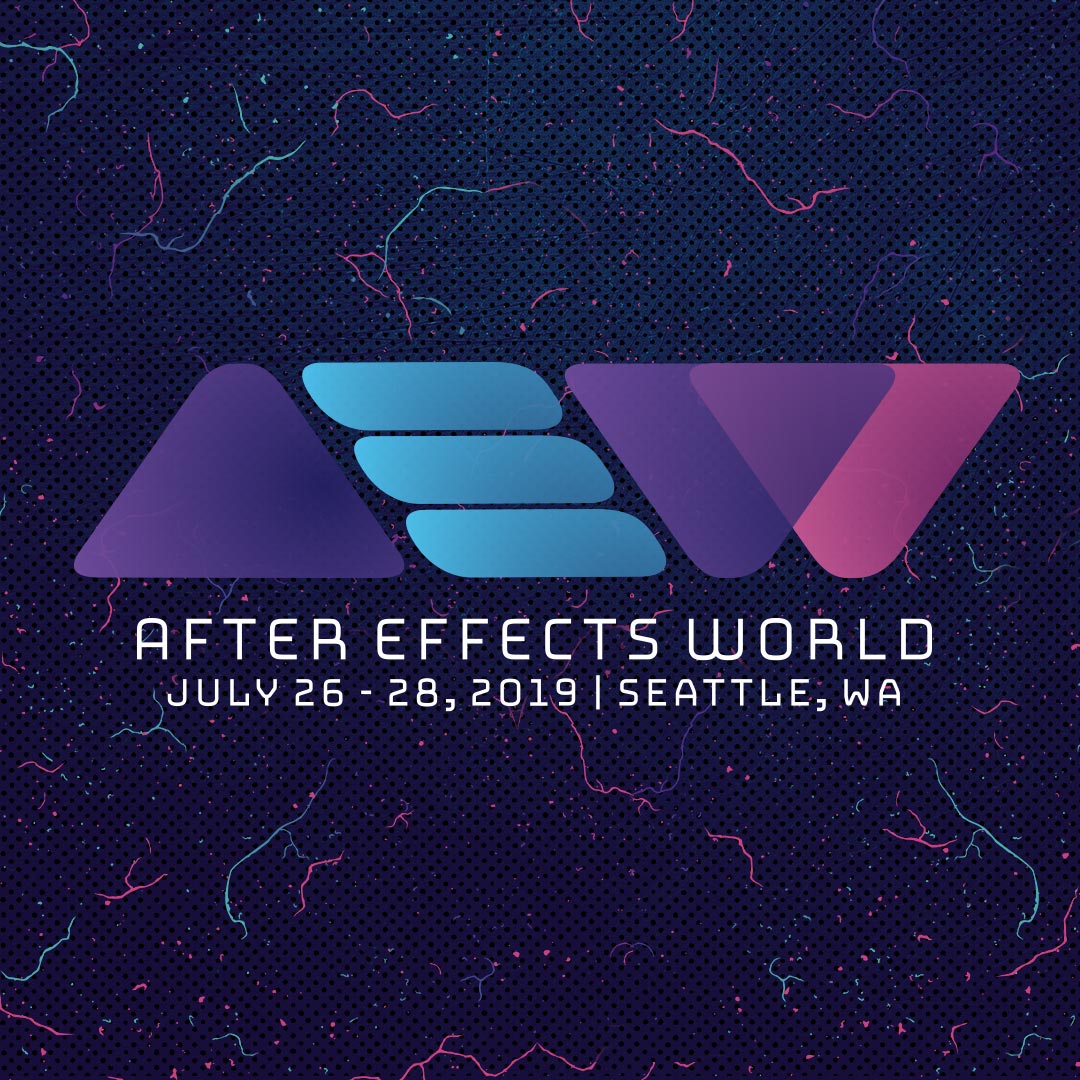 Conference in Seattle, July 26-28. The 3-day program features training for motion designers and animators seeking to maximize their workflow and creativity when using the award-winning software Adobe After Effects. Visit the event website for more details and book your pass.
All students, faculty, and government professionals can save 15% off their training pass. Contact event manager, Daniel Amaro, at daniel-at-fmctraining-dot-com for more details.
---
CONNECT WITH US!
Adobe, Advantage Video Systems, Blackmagic Design, BorisFX, Cine Gear Expo, Digital Rebellion, Indie Shooter, iZotope, Mercury Production Report, NewFilmmakers Los Angeles, Other World Computing, Pro Sound Effects, Pro Video Coalition, ProductionHUB, Shutterstock, Sound & Picture, The Telly Awards, Vimeo, Zeiss
We look forward to seeing you on Thursday, June 13th!

Sincerely,
Los Angeles Post Production Group
Please visit www.lappg.com for discounts, job listings, industry news and more.
When & Where

Crossroads School's Roth Hall
1714 21st Street
Santa Monica, CA 90404


Thursday, June 13, 2019 from 7:00 PM to 10:00 PM (PDT)
Add to my calendar
Organizer
The Los Angeles Post Production Group is a professional organization for people with a passion for film, video and the digital media finishing process.

The LAPPG discusses all aspects of post production, from picture and sound editing to color correction, visual effects, codecs, storage and post workflows.

Expert presenters and leading companies come to our monthly meetings and share new technologies, techniques, tools, products and best practices to aid us in telling great stories.
We also provide our members with great offers and discounts as well as opportunities to network and make industry connections.
Membership is free and you need not live in Los Angeles to take advantage of this great resource.
To become a member please email your name and information about yourself to membership@lappg.com.