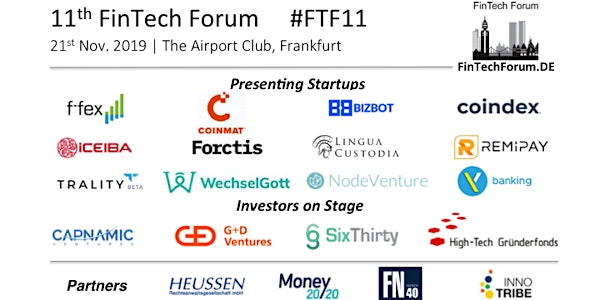 11th FinTech Forum | 21st Nov. 2019
When and where
Location
Airport Club for International Executives GmbH Hugo-Eckener-Ring 60549 Frankfurt am Main Germany
Refund Policy
Contact the organiser to request a refund.
Description
Agenda (subject to changes)
10:00 - 10:30 Event Registration
10:30 - 10:40 Welcome Note: Frank Schwab, Co-Founder, FinTech Forum
10:40 - 10:50 FinTech Deal Highlights: Samarth Shekhar, Co-Founder, FinTech Forum
10:50 - 11:50 Startup Pitches I
11:50 - 12:30 Guest Speakers
Jens Jennissen, Founder, Fairr.de (exit to Raisin)- Journey to Exit
Daragh Hanratty, VP Financial Services, IDA Ireland- "Elevator Pitch"

12:30 - 13:30 Buffet & Networking
13:30 - 14:30 Startup Pitches II
14:30 - 15:00 Coffee & Networking
15:00 - 15:45 Guest Speakers
Nikolai Dördrechter, XTP Group & Karl-Heinz Passler, Basler Versicherungen - Mapping the InsurTech Opportunity for FinTechs & Banks
Christian Knott, Capnamic Ventures - Banks in the Open Banking Era- from Surviving to Thriving via Partnerships
15:45 - 16:15 Panel Discussion: "When finance becomes an add-on" - FinTechs make it easy to embed financial services into the customer workflows of other sectors, but are incumbents prepared for an era of "backstage banking" (or insurance)?
Panelists:
- Christian Arndt, High-Tech Gründerfonds
- Matthias Klein, Management Partners Group
- Peter Barkow, Barkow Consulting
- Terrie Smith, Digiseq
Moderator: Frank Schwab, FinTech Forum.
16:15+ Networking Drinks


Participating Companies
Aigang
Allvest
Balgheim Consult
Barkow Consulting
Bizbot
Börsen-Zeitung
Capnamic Ventures
Cashlink
Coindex
Coinmat
Deutsche Bank
Digiseq
Exaloan
Fairr.de
Finlab
Flovtec
Forctis
f-fex
G+D Ventures
Gulf International Bank
Hal9K Capital
Hasso Plattner Institute
Heidelberger Vermögen
Heussen Law
High-Tech Gründerfonds
iCEIBA
ING Group
Irish Development Authority
Lingua Custodia
Lithuanian Business Angel Network
Lufthansa Airplus
Management Partners Group
Mastercard
Merrill Lynch
Nissay / NIppon Life
Nodeventure
Raisin
Remipay
Santander UK
Senacor
SixThirty Ventures
Trality
Wechselgott
Wipro
Wuestenrot Bank
YBanking
ZDF
---
Highlights from the 10th FinTech Forum (Nov. 2018)
10th FinTech Forum shows the next wave of FinTechs, investments, partnerships and M&A is here
http://www.fintechforum.de/10th-fintech-forum-shows-the-next-wave-of-fintechs-investments-partnerships-and-ma-is-here/
FinTech Forum: Nr. 10 im Airport Club des Frankfurter Flughafen – das Jubiläum: IT Finanzmagazin (DE).
https://www.it-finanzmagazin.de/fintech-forum-10-frankfurt-82226/
---
The 10th FinTech Forum - also our 5th Anniversary Edition since the first event on 22nd Nov. 2013 - seeks to identify innovators, disruptors and "hidden champions" in the financial services sector, and bring them together with investors and financial institutions.
Agenda
10:00 - 10:30 Event Registration
10:30 - 10:40 Welcome Note: Frank Schwab, Co-Founder, FinTech Forum
10:40 - 10:50 FinTech Deal Highlights: Samarth Shekhar, Co-Founder, FinTech Forum
10:50 - 12:10 Startup Pitches I
AAZZUR
advinda
BITA
CCEX
CrowdDesk
DACEBOOK
finbc
Imburse Payments

12:10 - 12:30 Keynote: Thorsten Terweiden, InvestHK
12:30 - 12:45 Essential lessons from Germany's first FinTech: Laurens Mauquoi, Smava
12:45 - 13:45 Buffet & Networking
13:45 - 14:00 Financial Services innovation by Be TSE: Dirk Fuchs, Be Think, Solve, Execute
14:00 - 14:10 Creating a loyalty platform with financial services: Bernd Wendln, Miles & More
14:10 - 15:20 Startup Pitches II
ForexFix
Fractal Blockchain
Growney
JUNIUS Capital
Neon Banking
RYSKEX
XTECH

15:20 - 15:35 Coffee Break
15:35 - 16:05 Panel Discussion: German FinTech, Outside Backers- Fast Forward 2023
Andreas Thümmler, Acxit Capital Partners
Dr. Christian Nagel, Earlybird Venture Capital
Hans de Back, Finch Capital
Kerstin Eichmann, Innogy Innovation Hub
Paul Morgenthaler, CommerzVentures
Moderators: Frank Schwab & Michael Mellinghoff

16:05 - 16:20 Fireside chat: Nektarios Liolios- 5 years accelerating FinTech globally (with Michael Mellinghoff)
16:20 - 16:30 FinTech Forum Retro- 5 Years in 10 Minutes: Samarth Shekhar
16:30+ Networking Drinks
Presenting Startups "in a Tweet"
Participating Companies
AAZZUR
Acxit Corporate Finance
advinda Investor Cloud
Aigang
BDK Bank
Be Think, Solve, Execute
Bita Data
Börsen Zeitung
CCEX Cloud Commodities Exchange
City Eschborn
CrowdDesk
DACEBOOK
DC Placement Advisors
DVFA
Earlybird Venture Capital
finbc
Finch Capital
First Momentum Ventures
Forexfix
Fractal Blockchain
Growney
Hasso Plattner Institute
HighTech Gründerfonds
Helaba Digital
Heussen Law
Imburse Payments
Innogy Innovation Hub
InvestHK
KfW Capital
Lufthansa AirPlus
Miles & More
Nagarro
Neon Banking
Ryskex
smava
Specific Group
Trendlink
Wüstenrot Bank
XAnge Venture Capital
XTECH.ai
yabeo Management
+ several Business Angels


Previous Events
9th FinTech Forum: Frankfurt, Sep. 2017
8th FinTech Forum in Tweets: Frankfurt, Nov. 2016
7th FinTech Forum in Tweets: Frankfurt, Apr. 2016
FinTech Forum On Tour | UK FinTech meets Germany: Frankfurt, Mar. 2018
FinTech Forum On Tour | InvestTech: London, Apr. 2017
FinTech Forum On Tour | FinTech meets Telecom: Frankfurt, Mar. 2017
FinTech Forum On Tour | FinTech meets Travel: Neu-Isenburg / Frankfurt, Sep. 2016
Location:
Airport Club
Frankfurt Airport Center I
Airport, Frankfurt / Main
Directions ( PDF to download here )
Email
contact@FinTechForum.de