Description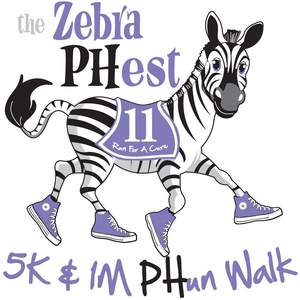 ONLINE REGISTRATION IS NOW CLOSED.
If you would like to register for the 5K, please do so SATURDAY at 8:00 A.M. AT THE EVENT. You can register for the 1M PHUN WALK at 9:15 A.M. AT THE EVENT.
EVENT DATE: NOVEMBER 11, 2017
Join us for the 11th Annual North Texas Zebra PHest on Saturday, November 11, 2017. The fun includes a 5K race, 1M walk, a free 100-yard dash for kids, face painting, raffle, silent auction, vendor booths, music and a picnic. You can even be a virtual runner!
Event Information
8:00 a.m. - Registration Opens
9:00 a.m. - 5K Begins
9:15 a.m. - 1M PHun Walk Registration Opens
10:15 a.m. - Team Awards
10:20 a.m. - Kids Dash
10:45 a.m. - 1 Mile PHun Walk
Registration Fees
PH Patient: Free
Virtual Walker: Free
PH Caregiver: $10
Walker: $25
Runner (5K): $35
Combo 5K and PHun Walk: $55
What is PH?
High blood pressure in the lungs is called pulmonary hypertension (PH) or pulmonary arterial hypertension (PAH).
Pulmonary hypertension is a serious, debilitating, and often fatal progressive condition where the blood pressure in the lungs rises to dangerously high levels, ultimately resulting in right heart failure.
Without treatment, the mean survival rate of patients with PH is approximately 2.8 years.
Proper treatment has been found to extend life and improve quality of life, however early intervention remains the key to maximizing treatment efficacy and patient outcomes.
Why the Zebra?
Among healthcare providers, the zebra is a metaphor for an unexpected diagnosis.
When first learning how to reach a diagnosis, health professionals are taught, "When you hear hoof beats, think horses, not zebras." Through this example, instructors encourage their students to think first of the more common, and therefore more likely, diagnosis.
This logic makes sense most of the time, but also partly explains why PH is often misdiagnosed as asthma, chronic obstructive pulmonary disease (COPD) and other more common diseases. The goal of the Early Diagnosis Campaign is to encourage care providers to look beyond common explanations and consider the possibility of pulmonary hypertension when it becomes clear that the answer is not a simple one.