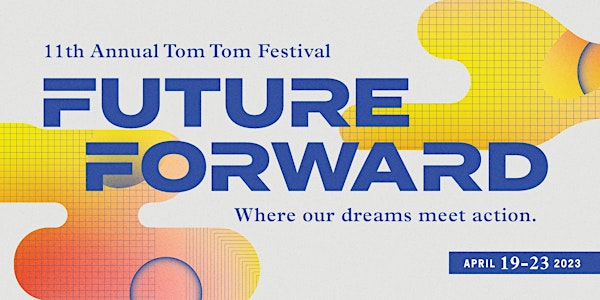 11th Annual Tom Tom Festival | FUTURE FORWARD
The 11th Annual Tom Tom Festival is a city-wide celebration with a BIG theme: FUTURE FORWARD.
Date and time
April 19 · 8am - April 23 · 9pm EDT
Location
Historic Charlottesville Downtown Mall 1 Charlottesville, VA 22902
About this event
4 days 13 hours

Mobile eTicket
Ideas by Day
Come explore expansive ideas about the future alongside the creative doers who launch businesses, spearhead initiatives, organize neighborhoods, write policy, create art, and lead organizations for the betterment of our community. Together we'll look at innovations in science, technology, and entrepreneurship, and innovative approaches to how we build community.
Celebrations by Night
We believe in having fun, and the Festival dance series is a testament to it. Put on your dancing shoes and join neighbors and friends for two big nights as we build community and make memories while we dance, dance, dance.
Learn more: www.tomtomfoundation.org/2023-festival
A Pay What You Can Experience
The Tom Tom Festival has been created as an offering to the Charlottesville Community (and beyond). In the spirit of a gift, we are offering a Pay-What-You-Can model.
A brighter tomorrow is only possible when everyone gets a seat at the table. In the spirit of a gift, we invite you to assess the value of attendance in terms of its unique capacity and interest.

The Future Forward Conference is a unique convening in Charlottesville that focuses on the future of the community. Engaged citizens from across sectors come together to connect, learn, and get inspired to take action. Engage with some of the most important questions of our time with leading thinkers while also having moments of pause, reflection, and connection that allow for deeper relating and collaboration.
Learn more: www.tomtomtoundation.org/2023-conference

Conscious City | Wed. April 19
Healing the individual; healing the collective -- tomorrow's Charlottesville starts with each of our journeys.
As our opening track, this conference takes us on a intellectual and an experiential journey through healing. We all experience suffering in our lives – physical ailments, mental stress, emotional pain, societal pressures – and it's up to us to decide how we handle it. The process of understanding, accepting, forgiving, and ultimately healing ourselves is a lifelong journey. How can you experience wholeness and happiness on an ongoing basis?
We explore a variety of proven ways we can heal ourselves and increase our awareness and happiness -- from meditation and mindfulness to plant medicines (inc. psychedelics) and guided practices such as counseling, yoga, energy healing, hypnosis, and more. Along the way, we will explore ideas about what is meant by "consciousness," whether any part of your consciousness might survive death, how to bring more awareness to all parts of your life, and how you can meaningfully increase joy and fulfillment in your day-to-day activities and truly flourish.
Location: The Code Building and Common House

Technology for Good | Thur. April 20
How do technology, entrepreneurship, and investment increase opportunity in the community?
Charlottesville's technology sector is one of the region's most vibrant areas of economic opportunity; and a source of global innovation and ideas. This conference is a state of the union for Charlottesville Tech, mixing it up with all the players in some sectors including biotechnolgy, energy, and data, and AI, and assesses how these innovators are driving global change. The conference also looks at Diversity in the sectors -- from a workforce and cultural perspective --- ensuring that there are multiple voices shaping decisions, as well as the funding cycles.
So whether you're looking for insights into some of the most relevant global trends, the ethics around data and AI, or some of the hottest emerging Charlottesville companies, this is a conference for you.
Location: The Code Building and Common House

Society & Justice | Fri. April 21
A sustained look at the ways the structures and resources of our community can be used to assist everyone, and bring everyone into a conversation on the future.
Future Forward conference ends with a sustained look at the ways the structures and resources of our community can be brought to bear to assist everyone and bring everyone into a conversation the future.
This day will feature critical conversations around criminal justice reform, art and culture, financial access and empowerment, and early childhood education.
Location: The Code Building and Common House

DANCE SERIES | PARADISE & CARNIVALE
An invitation to dance and build community. Dance connects us. Dance is a universal language of creative self-expression. And we're here for it. Two unique events. One amazing time!
Paradise | Latin. Brazilian. Funk. | April 21 | 9 PM-2 AM
Carnivale | Afrobeats. Afrofuture | April 22 | 9 PM-2 AM
Location: Common House| ages 21+
Learn more: www.tomtomfoundation.org/dance-series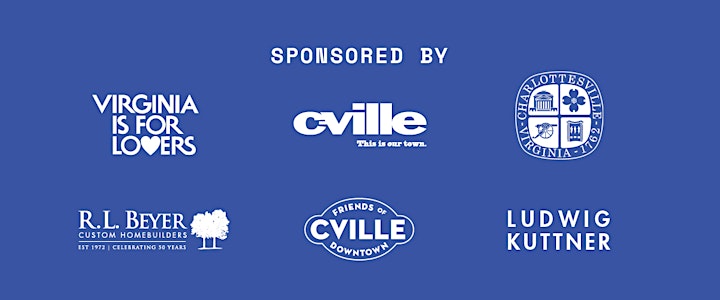 About the organizer
The 11th Annual Tom Tom Festival will be April 19-23, 2023. Our theme is FUTURE FORWARD, and will connect diverse communities to share ideas and build a brighter tomorrow for Charlottesville. The Festival is a cultural experience throughout the historic downtown, connecting neighbors and friends through music, art, ideas, and performances.