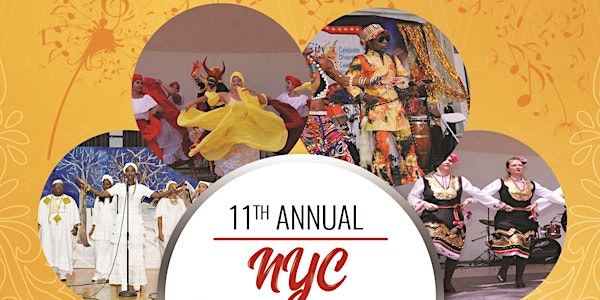 11th annual NYC Multicultural Festival Quarantine Edition part II
Sales Have Ended
Ticket sales have ended
Thank you for your registration to attend the 11th annual NYC Multicultural Festival. We will contact you by email if your registration requires any more information otherwise we look forward to receiving you at the festival.
Description
The 11th Annual NYC Multicultural Festival is one of the most awaited festivals celebrating New Yorkers' diverse cultural traditions through music, dance, art, food, fashion, new technology and more.
Due to our present need for "Social Distancing" to avoid COVID-19 infection, New York African Chorus Ensemble Inc. presents the 11th annual NYC Multicultural Festival Quarantine Edition part I on May 30th from 12pm to 6pm & part II on June 6, 2020 from 11am to 7pm. You will be able to sit back and enjoy multicultural performances and fun virtual classes live streamed from the comfort of your own home.
Our goal is to join the movement to help New Yorkers Rise, Renew, & Recover through family oriented activities that educate, promote physical and emotional healing and entertainment. Secondly, we want to help people discover talent that is right under our noses which may not have received sufficient attention. Thirdly, we want to encourage people to continue to support artists whose livelihood depends so much on your generous contributions. Finally, our organization which is made up of artists, needs your contributions to stay afloat so we can continue to contribute to the work being done to bring back the joyful spirit and colorful vibrancy of this great city.
This year's festival will be presented for Free on www.facebook.com/nycmulticulfest, and virtual classes will be hosted through the Zoom platform. Join in on the fun and enjoy our arts and crafts, dance, and health and wellness virtual classes.
New York City has been hit hard by the Coronavirus pandemic, but together we will get through this because New Yorkers always come together and stand strong in the face of adversities.
We dedicate this festival to those who have lost their lives to COVID-19, their families and the essential workers.


FESTIVAL ACTIVITIES:
Remarkable cultural music and dance performances from all over the world.
1st DATE: SATURDAY, May 30, 2020 PART I
Time: 12 pm- 6 pm EST
Program Order*
Video Message from Council Member Mark Levine -12:00pm
---


2nd DATE: SATURDAY, June 6, 2020 PART II
Time: 11 am-7 pm EST


Program Order*
Video Message from Elected Offical


---
ZOOM ROOM CLASSES part II
Wellness Awareness with Luci
(Date: May 30th & June 6th at 1pm EST)
Gwendolyn Black Project: Reading and Puppetry™

(Date: May 30th & June 6th at 4pm EST)
How to address Mental Health issues during the COVID-19 pandemic with Shola Adewumi
(Date: May 30th & June 6th at 5pm EST)

"Whippin in the Kitchen" with Khadijah
(Date: May 30th & June 6th at 6pm EST)

---
WHAT IS NYC MULTICULTURAL FESTIVAL?
NYC MULTICULTURAL FESTIVAL IS FOR EVERYONE; it's about celebrating all cultural expressions through music, dance, poetry, art, food, fashion, etc. The festival is organized for the community, by the community.
WHO CAN ATTEND?
Everyone!!! Children, adults, senior citizens and families will all have a blast at this virtual festival.


HOW CAN I WATCH THE 11th ANNUAL NYC MULTICULTURAL FESTIVAL QUARANTINE EDITION PART I & II?
Register here for main stage performances and visit our
Join, like and follow us on social media
FB: @nycmulticulfest
IG: @ny_africanchorusensemble