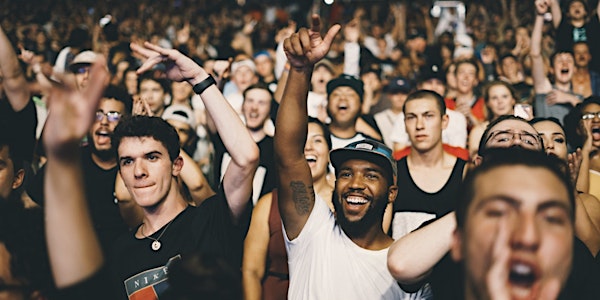 11th ANNUAL KICKING+SCREENING SOCCER FILM FESTIVAL
When and where
Location
SCANDINAVIA HOUSE 58 PARK AVENUE New York, NY 10016
Refund Policy
Refunds up to 7 days before event
Description
11th Annual Kicking+Screeing Soccer Film Festival
FOOSBALLERS AND SOCCERTOWN USA HIGHLIGHT FILM LINEUP FOR KICKING + SCREENING SOCCER FILM FESTIVAL IN NEW YORK, JUNE 4-7
This one goes to 11!
Pardon the non-soccer film reference there, but it's true – this year, we are presenting our 11th annual Kicking + Screening Soccer Film Festival in New York. And we are kicking things up a notch. Just as a soccer team's starting lineup has 11 players, so too does our lineup. Eleven films, from full-length features to micro-shorts, will screen over four nights, along with a full slate of complementary events, including panel discussions, filmmaker Q&As, post-screening parties, and raffles.
This year's festival takes place Tuesday, June 4, through Friday, June 7, at midtown Manhattan's Scandinavia House. For more news head to kickingandscreening.com
So without further ado, here is the #ksfilmfest lineup:


NIGHT 1: Tuesday, June 4
Foosballers
New York Premiere | 96 mins | USA | 2019 | Directed by Joe Heslinga
This is the story of a group of professional athletes the world doesn't know exist: professional table soccer players. Through the nostalgic lens of a forgotten American popculture phenomenon, Foosballers shares the stories of six players as they prepare for the sport's most prestigious event, the World Championships.
PLUS:
Now We Can Die in Peace (Short)
During the 1998 World Cup final, a cop and his partner wait in their surveillance van to bring down a "big fish." Directed by Arnaud Guez.
GOAAL! (Short)
The universal appeal of Diego Maradona's legendary playmaking in a variety of different languages. Directed by Richards Nimbley.


NIGHT 2: Wednesday, June 5
The Return of the Cup
US Premiere | 89 mins | Germany | 2019 | English subtitles | Directed by Jan Strasheim + Franziska Rappl + Bjorn Tanneberger
In 2018, Eintracht Frankfurt won the German Cup, their first major trophy in 30 years. A film crew accompanied the club on their triumphant adventure, from their arrival in Berlin for the match to the victory celebrations at the Römer in Frankfurt. The result is a behind-the-scenes look at the inner workings of the team and a lasting record of the searing emotions brought on by the historic 3-1 victory over powerhouse Bayern Munich.
PLUS:
The Lunch Break (Short)
The boys of 5-B plan a soccer game for the lunch break, regardless of the fact that the gym is closed for an after-school teachers' meeting. When the principal catches them and sends two of them to the discipline committee, their friends refuse to back down. Directed by Ozan Yoleri.
Saudade (Short)
The Portuguese writer Manuel de Melo defined the saudade in 1660 as "the joy that is suffered, and the suffering that is enjoyed," which perfectly describes the life of a soccer fan. Directed by Pedro Segarra + Jorge Bravo.


NIGHT 3: Thursday, June 6
Coach
26 mins | USA + UK | 2019 | Directed by Matthew Ellison + Jordan Axelrod.
Coach follows Tracy Hamm, who currently leads the women's soccer team at San Francisco State, in her quest to earn the internationally renowned UEFA A coaching license. Hamm turned to Europe after her efforts to pursue a top license from U.S. Soccer were obstructed by requirements that candidates seeking waivers to bypass lower certification levels must have played three years of professional soccer. When she graduated from college in 2006, no professional women's league existed in the United States.
Coach is a Growth Through Sport production.
PLUS:
Yasmina
Fifteen-year-old Yasmina passionately loves football and practices at the Saint-Étienne football club. But she is also a Moroccan who is in France without a visa, with her father and his French girlfriend. After she watches her father get arrested right as she returns from training one evening, she will have to make a decision that tests her love of the game. Directed by Claire Cahen & Ali Esmili.
Aim High
Having consistently beaten the other girls' teams, Lleida's AEM girls' football club decided to play with the boys. This documentary tells the story of what happened next. Directed by Rojo Rosenvinge + Sandra Bauera.
NIGHT 4: Friday, June 7
Soccertown USA
World Premiere | 65 mins | USA | 2018 | English | Directed by Tom McCabe + Kiko Doran
Before they played in the World Cup together, Tab Ramos, John Harkes, and Tony Meola were three kids from the same place: Kearny, New Jersey. A small working-class town, Kearny had a passion for a game that, back then, their country didn't share. It had a vibrant street-soccer scene, a strong youth club, a championship culture at the high school, and a history of soccer dreams.
Together, Tab, John, and Tony grew up to form the backbone of the U.S. National Team that willed its way to famous victories and earned the world's respect in both the 1990 and 1994 World Cups, laying the foundation for soccer's explosion in American and inspiring future generations to play the game.
PLUS:
Battle for New York
Short | New York Premiere | A behind-the-scenes look at the key supporters of the New York Red
Bulls and New York City FC as they gear up for their first-ever derbies in 2015. The Battle for New York is in the stands and on the field, revealing the fanaticism and the friction as it unfolds. Directed by Greg Jenkins.
For more news on the upcoming festival, check out kickingandscreening.com