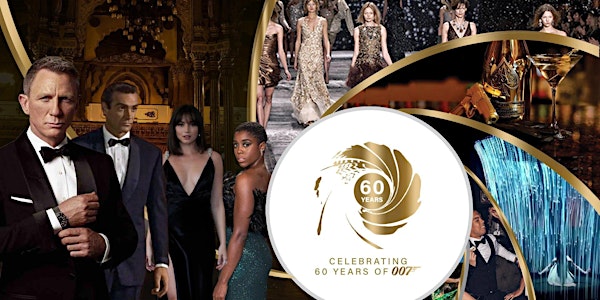 11th Annual James Bond Soiree - Global Livestream
Join the official global livestream of the 11th Annual James Bond Soiree!
About this event
You're cordially invited to join KS Champagne Lifestyle, Pittsburgh Fashion Week, and the Global Bond Society for the 11th Annual James Bond Soiree, as we celebrate the 60th anniversary of the James Bond films (and officially kick off Pittsburgh Fashion Week), while benefiting Animal Friends and their fight to ensure a humane and compassionate future for all animal companions.
Some have called it the best event they've ever attended. It all started back in 2012, with a small group of friends. The next year, we were already joining forces with 10+ cities across the globe. Last year, during our decade anniversary, the event featured champagne drone delivery onto a yacht, holographic technology, and much more. This year we not only commemorate the 60th Anniversary celebration of the James Bond film franchise but also kick off Pittsburgh Fashion Week... and we have some very special top secret surprises in store to catapult this year's event to yet another level...
This year, we'll once again be live streaming the action, to give guests the option of joining the party from the comfort of home! Perfect for those in other parts of the world who are unable to join us this year.
To purchase tickets to the in-person event, please visit: http://pghbondsoiree.eventbrite.com
****************************************************************************************************** 
REFUND POLICY:
*No refunds unless event cancelled*
****************************************************************************************************** 
FACEBOOK EVENT PAGE: https://www.facebook.com/events/900977140776589
**********************************************************************************************
BENEFITING: Animal Friends
**********************************************************************************************
PRESENTED BY: KS Champagne Lifestyle | Global Bond Society | Pittsburgh Fashion Week
**********************************************************************************************
What some people have said about the event... "one of my favorite events ever" - guest from Seattle event
"Caution: Attending this event will forever alter your expectations of what an event should be!" - guest from Pittsburgh event
"Kent Schmor is one of Pittsburgh's most innovative party planners..." - Pittsburgh Post-Gazette
"I've been hired by top event planners, agents, and promoters from all over the world... and I can tell you that this event is one of the best organized and most fun I've ever attended." - James Bond (Daniel Craig) double 
************************************************************************************************