11th Annual IMTM Hall of Fame Induction Ceremony Banquet 2021
11th Annual Hall of Fame Induction Ceremony & Reunion
About this event
The International Monster Truck Museum & Hall of Fame was established in 2010 with the mission of collecting and archiving the history of the monster truck sport and related aspects of the high performance aftermarket, focusing upon capturing history from the surviving pioneers and legends. Each year, the International Monster Truck Museum will honor the most accomplished and significant people in the history of monster trucks with induction into its Hall of Fame.
The Official Class of 2021 Inductees: TIM HALL, MARK HALL, JOHN MOORE, & BOBBY HOLMAN.
IMTM is honored to be hosting the 11th Annual Induction Ceremony & Reunion Weekend at it's own facility this year.
Limited Tickets available (don't hesitate) !
Regular Ticket $40 each
Sponsorship $250 Sponsorship includes, a commemorative plaque with your chosen name on it, 2 commemorative tickets, and a $5 discount on any other tickets you buy (up to 15).
Call our office for sponsorship opportunities'. Also, for those who are interested in a Whole table, please call the office (whole table - seats 8).
ONLY TICKET HOLDERS / SPONSORS WILL HAVE ACCESS TO:
~ Nov. 12th FRIDAY NIGHT RECEPTION
~ Nov. 13th SATURDAY MORNING HISTORY DISCUSSION
~ Nov. 13th SATURDAY NIGHT HALL OF FAME INDUCTION CEREMONY
More Information about event coming soon!
Message from the President of the Museum: "This years banquet will be very different from the past. We will NOT be having table displays. We will NOT be having an R/C Show, and this years event will NOT be open to the public for the Friday Night Reunion. Now that we have our own building with limited space we will be spreading the different activity's into events throughout the year. Tickets for the Banquet go on sale Monday Sept. 27th. We have a limited amount (don't hesitate) reserve your tickets now. Hope to see you all soon!"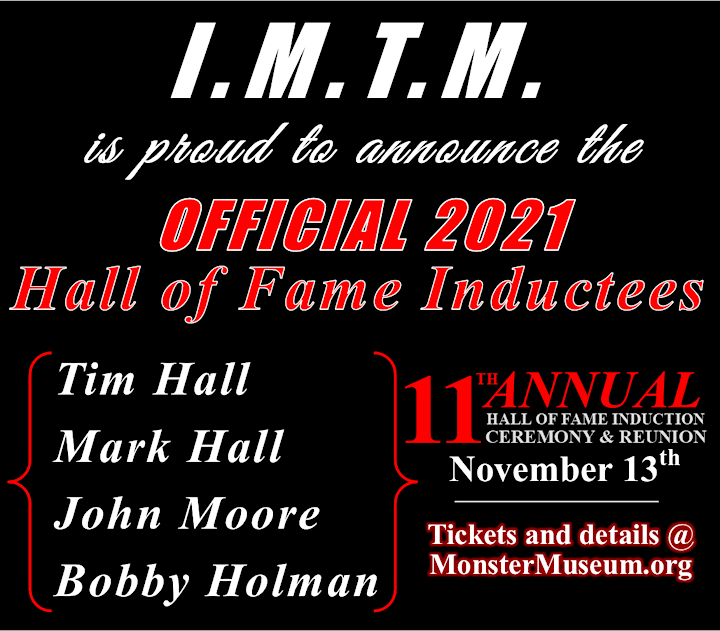 Organizer of 11th Annual IMTM Hall of Fame Induction Ceremony Banquet 2021