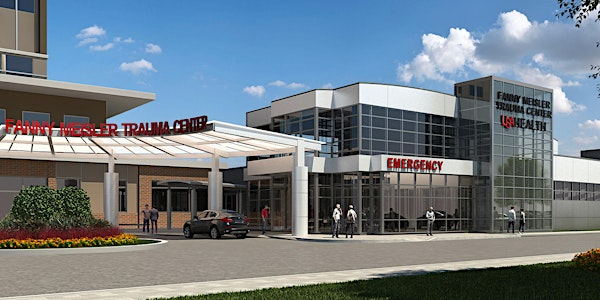 11th Annual Gulf Coast Trauma Symposium
Location
Battle House Renaissance Mobile Hotel & Spa
51 North Water Street
Mobile, AL 36602
Gulf Coast Trauma Symposium William A.L. Mitchell Endowed Lectureship John Campbell Tribute Lecture March 24-25, 2022 Battle House Hotel
About this event
On behalf of the Fanny Meisler Trauma Center, we cordially invite you to attend the 11th Annual Gulf Coast Trauma Symposium which will be held on March 24-25, 2022, at the beautiful Battle House Renaissance Hotel & Spa in downtown Mobile, AL. The Gulf Coast Trauma Symposium is an annual event aimed at educating all healthcare providers in our region who treat critically injured patients. This symposium will feature several nationally recognized speakers discussing prehospital care for injured patients, while also highlighting the importance of injury prevention and systems of care. Additional sessions will concentrate on community violence prevention and the management of toxic stress & PTSD in patients and healthcare professionals. The overarching goal is to improve outcomes by integrating all phases of trauma care.
This year's conference will be headlined by Dr. Eileen Bulger MD, NRP, as the 13th William A. L. Mitchell Lectureship speaker. Dr. Bulger is the current Chair of the American College of Surgeons Committee on Trauma and the Trauma Medical Director at Harborview Medical Center in Seattle, WA. Dr. Bulger is a national leader in violence prevention, prehospital care for injured patients, and systems of care.
The 2nd John Campbell Tribute lecture will be given by Dr. Jeff Kerby MD, PhD. Dr. Kerby is the Chief of Acute Care Surgery and the Trauma Medical Director at University of Alabama at Birmingham (UAB). Dr. Kerby is an accomplished surgeon and researcher. His group is responsible for several clinical trials involving EMS, including prehospital blood transfusions and the Crash Injury Research and Engineering Network (CIREN).
A major focus of the symposium this year is on the management of toxic stress and PTSD for patients and healthcare workers. Trauma Centers across the country are designed to heal physical injuries but often are not equipped to handle the emotional aspects of toxic stress or PTSD in our patients or healthcare providers. We are excited to welcome Heather Martin to start the session on the final afternoon by discussing "Surviving Columbine: Lessons Learned in Survivor Care and Recovery." Heather Martin was two days away from her 18th birthday when the shooting occurred during her senior year at Columbine High School on April 20, 1999. After barricading in a small office for three hours, Heather returned home physically uninjured, but the effects of the trauma she experienced that day continued to impact her life to this day. She co-founded The Rebels Project afterwards which provides support to victims of violence. Following Heather's talk, the experts from the Veteran's Recovery Resources will provide a comprehensive session on the management of toxic stress and PTSD for patients and healthcare providers.
Finally, we are offering Advanced Burn Life Support (ABLS) at USA Health University Hospital on March 23rd as a pre-conference. The ABLS course will be taught by experts from the Arnold Luterman Regional Burn Center. This course will have a separate registration and the class size is limited, so register early!
We look forward to seeing you at this year's symposium! For additional information or questions, please contact Rebecca Scarbrough at rscarbrough@health.southalabama.edu or 251-471-7971.
To register for the Trauma Symposium or the ABLS course, please click on the following link: Eventbrite.
Follow this link for hotel reservations: The Battle House Renaissance Mobile Hotel & Spa
AGENDA
Day 1 – Thursday, March 24, 2022
Plenary Session
6:45 am Registration
7:15 am Welcome - Jon Simmons, MD, Chief, Division of Trauma, Acute Care Surgery, & Burns
7:30 am Violence Prevention in our Community – Jon Simmons, MD (Moderator)
1. Project THRIVE – Commander Curtis Graves, MPA
2. Project Inspire – Ashley Williams, MD
3. Light of the Village – John Eads MBA
9:00 am WILLIAM A.L. MITCHELL LECTURESHIP – Eileen Bulger, MD, NRP
"The Public Health Approach to Firearm Injury Prevention"
10:00 am BREAK - Visit the Exhibitors
10:30 am Overview of Trauma Outcomes at USA Health – Andrew Haiflich, BSN, MS, MBA
11:00 am Achieving Optimal Outcomes in Trauma Patients – Michael Chang, MD
11:30 pm Mississippi Nursing Awared
11:45 am LUNCH
1:30 pm EMS Track or Trauma Nursing Track
Afternoon Session Day 1 – Thursday, March 24
Trauma Nursing Track
1:30 pm Updates in VTE Prophylaxis – Mackenzie Krebsbach, DNP
2:00 pm Prevention & Treatment of Delirium – Julie Farrar, PharmD
2:30 pm Geriatric Trauma – Ashley Williams, MD
3:00 pm BREAK - Visit the Exhibitors
3:30 pm Medical Management of Spinal Cord Injuries – Michelle Butler, CRNP
4:00 pm Management of Intracranial Hypertension – Maryann Mbaka, MD
4:30 pm Diagnosis & Treatment of Diabetes Insipidus – Hilary Harless, CRNP
5:00 pm ADJOURN
EMS Track
Goal of Expert Panels: The moderator will provide case-based scenarios that target specific topics that are chosen by paramedics. The panelists are specifically chosen as national experts in the topics that will be discussed in each session.
1:30 pm Expert Panel - Controversies in EMS & Emerging Technologies - Nathan Polite, DO (moderator)
Paramedic
Trauma Surgeon
ER Physician
2:30 pm Optimizing Prehospital Trauma Care through Research – Eileen Bulger, MD, NRP
3:30 pm BREAK - Visit the Exhibitors
4:00 pm Expert Panel - Difficult Patient Populations in EMS – Caleb Butts, MD (moderator)
Neuro-intensivist
Burn Surgeon
Pediatric Surgeon
Orthopedic Surgeon
ER Physician
5:00 pm ADJOURN
Day 2 – Friday, March 25, 2022
Plenary Session
6:30 am Registration
7:00 am Optimizing Blood Transfusions – Jon Simmons, MD, NRP
7:30 am Burn Care in EMS - Andrew Bright, DO
8:00 am Using Lasers to optimize functional outcomes in Burns - Kimberly Donnellan, MD
8:30 am Adjuncts for Hemorrhage Control in the Field – Matt Kutcher, MD
9:00 am BREAK - Visit the Exhibitors
9:30 am JOHN CAMPBELL TRIBUTE – Jeff Kerby, MD, PhD,
"Creating an all-inclusive of the State-Wide Trauma System in Alabama"
10:30 am Emerging Technologies in EMS – William Crawford, MD, NRP, Alabama EMS Medical Director
11:00 am LUNCH
12:30 pm Trauma Survivor – Heather Martin
"Surviving Columbine: Lessons Learned in Survivor Care and Recovery"
1:30 pm Neurobiology of Toxic Stress – Erin McAdams, PA-C, MHS
2:00 pm Predictors of PTSD – Beth Huffmaster, CRNP
2:30 pm BREAK - Visit the Exhibitors
3:00 pm Moral Injury in EMS and Hospital Providers – Joe Currier, PhD.
3:30 pm Trauma Recovery – Hanna Hinkel, MA
4:00 pm Trauma Informed Care for Healthcare Providers – Rochelle Murrell, MA, LPC
4:30 pm Understanding the Role of Peers to Heal after Trauma– Charles Dent, MD & Lloyd Michael Austin
5:00 pm Closing remarks
ABLS Course – March 23rd (Space is limited)
Please use code (learn!) The ABA will not charge the individual at the time of registration. Payment will need to be submitted at the time of the course via cash or check. $225 for non-Physicians $350 Physicians). Checks made payable to "Arnold Luterman Regional Burn Center".
You MUST register through the ABA to receive credit and be ABLS Certified. You do not need to be an ABA member, but you must create an account with the ABA if you do not already have one. If the individual already has an account where the membership has lapsed or their information has changed, the ABA can update it to a nonmember account, and you can update your profile.
Registration will remain open until the day after the course. Coordinators CAN NOT ADD A REGISTRANT, the attendee must register themselves through the ABA site so the ABLS certification can be added to their profile.
Approximately 10 days after the course is held, the ABA will send a Course Evaluation link to all registered attendees. Once you complete the survey, a link to add ABLS Certification to your profile will show in a popup window – you must use this link to complete the certification process and receive your certificate. Once you complete the process, you will be able to download their certificate and view their expiration date.
Once you have registered additional information will be email to you from the coordinators of the ABLS course. For additional information contact Taryn Lindsay at tlindsey@health.southalabama.edu