11th Annual #FistUpFilmFestival Opening Night Film KATU
About this Event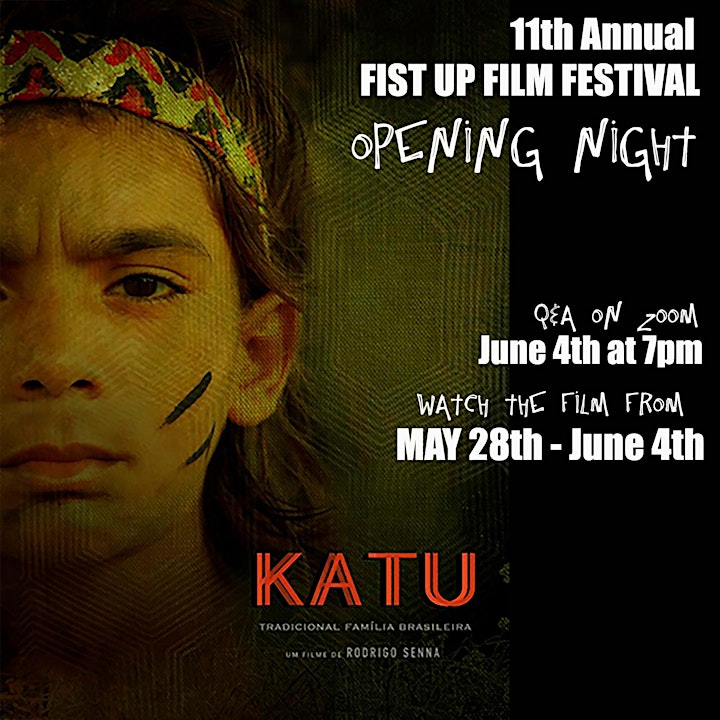 11th Annual Fist Up Film Festival (#StayAtHomeEdition) Since this year you can't go to the movies, we are bringing the movies to you!
WE BELIEVE WATCHING A GOOD FILM CAN CHANGE YOUR LIFE, WE BELIEVE SOME FILMS ARE MADE TO BE DISCUSSED!
We have been bringing people life changing films for over a decade and we are not going to stop now!
HERE IS THE PLAN
1) Only people who sign up for the event through eventbrite will have the opportunity to watch the films on a password protected Vimeo link . Then on Thursdays we will hold a Q&A with filmmakers on ZOOM.
2) People will have one week to watch the program. (The week prior to the Q&A)
3) You will need to sign up to each film program individually to recieves the film link and the zoom link for the Q&A
You are signing up for the May 28 - June 4th Opening Night Film, KATU. You will receive the film link on may 28th and will have one week to watch the film . The Q&A with the filmmaker will happen on June 4th at 7pm (PST). You will receive a separate ZOOM link to join us!
11th ANNUAL FIST UP FLM FESTIVAL ( FULL SCHEDULE )
May 28 - June 4th Opening Night Film
Q&A with filmmaker June 4th at 7pm (PST)
The Traditional Brazilian Family KATU 25:00
June 4 - 11th The Animation Collection
Q&A with filmmakers June 11th at 6pm (PST)
Delphine "No Dogs" 3:45
Ayacocha 8min
Migrant 5:38min
Pozolli 3min
The Juggler 10:55min
Little Giants 5:35min
Mare Monstrum 5:29min
Patricia and the Witch 5:10min
The water of the earth 4:11min
Cabin Fever 55sec
June 4 - 11th Fist Up Documentary Shorts Program Q&A with filmmakers June 11th at 7pm (PST)
Ang Meron Sa Wala (Beyond Nothing) 13:53
Stories Happen in Forests 28:33min
The Wasted Effort 5min
The Land of Thalochians 18:01
What If... 7:37min
June 4 - 11th African Diaspora Films Q&A with filmmakers June 11th at 8pm (PST)
Loyalty 5min
My Goddess and I 16:13
Buckle Winter 3:14
I am Rosa Parks 14:41min
12 Ingredients 13:20
June 11-18th - Feature Length Documentary Films Q&A with filmmakers June 18th at 7pm (PST)
El Viaje - Sonidos que migran (The journey - Sounds that migrate) 60min
Never Going Back 65min
June 18-25th - Closing Night Films Q&A with filmmakers June 18th at 7pm (PST)
Santo Amaro Was a Skateboarder 72min
Old Dog, Pioneers by Esence 50min
*THIS FESTIVAL IS MADE POSSIBLE WITH THE GENEROUS SUPPORT OF*
The East Fund For Artists, Greenlining Institute, Sol Collective, madetogrow, Nestal Family, HustleInPlace.com, FistUp.Tv