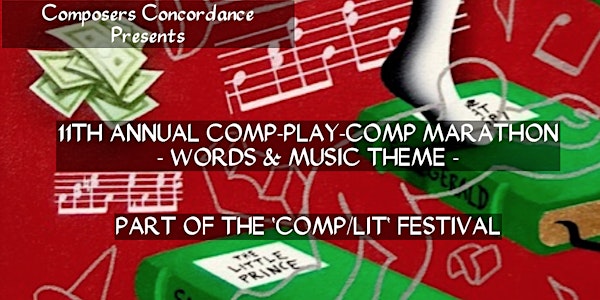 11th Annual Comp-Play-Comp Marathon
CompCord's 11th Annual Comp-Play-Comp Marathon: Composer/Performers Write and Perform 4-minute Works on the Theme 'Words and Music'
Date and time
Sunday, November 29, 2020 · 6 - 9pm EST
Location
DROM 85 Avenue A New York, NY 10009
Refund Policy
Contact the organizer to request a refund.
About this event
Composers Concordance presents the 11th annual Comp-Play-Comp Marathon on Sunday, November 29 at DROM NYC. The 3-hour marathon showcases amazing composer/performers in a cavalcade of short pieces.
Composers Concordance invited dozens of composer/performers to answer a question, "What kind of music would you compose if you know you're the performer?" For this year's marathon, a time parameter and theme were added into the fray: the piece must be 4-minutes at most, and be on the theme of 'Words and Music.'
Composer/Performers: Seth Boustead, Geoffrey Burleson, Charles Coleman, Dan Cooper, Beth Holub, Erik T. Johnson, Mark Kostabi, Peri Mauer, Eugene McBride, Alon Nechushtan, Gene Pritsker, Charlie Rauh, Jay Rodriguez, Steve Sandberg, David Saperstein, Rolf Schulte, David See, Daniel Schnyder, Tania Stavreva, Faye-Ellen Silverman, David Taylor, Maria Tegzes.
Featured compositions include Maria Tegzes' Legacy on her own poetry; Gene Pritsker's The Dress In The Wind on a poem by Erik T. Johnson; Charles Coleman's The Music Between Us on a poem by Robert C. Ford; and Eugene McBride's Key?Largo featuring violinist Rolf Schulte.
Limited, in-person seating to 25 audience members. Tickets are $10 with an additional $20 food/drink minimum from DROM.
The Comp-Play-Comp Marathon is the 3rd concert of Comp/Lit, Composers Concordance's ongoing festival on the theme of music and literature, to be presented throughout the 2020-21 season.
The concert will also be live streamed on the Composers Concordance Facebook page.
https://www.facebook.com/ComposersConcordance/
Limited in-person seating to 25 audience members.
Tickets are $10 with an additional $20 food/drink minimum from DROM.
About the organizer
Staying in rotation for 37 years in NYC is a rare feat. In the case of a new music presenting organization, it requires not only diligence and cognizance of achievements of the past but also an ethic of keeping one's ear to the ground for emerging stylistic and technological developments, as well as talented new composers on the scene. Composers Concordance, founded in 1984 by Joseph Pehrson and Patrick Hardish, advised by Otto Luening, strives to present contemporary music in innovative ways, with an emphasis on thematic programming. Directors Gene Pritsker and Dan Cooper co-curate the programs and lead the CompCord Ensemble, Chamber Orchestra, String Orchestra, and Big Band. Associate Directors are Milica Paranosic, Peter Jarvis, Debra Kaye, and Seth Boustead. Composers Concordance has also created a Naxos-distributed record label: Composers Concordance Records, co-directed by Peter Jarvis. Composers Concordance's overriding vision is to promote contemporary music, composers, and new works as a rightful and respected part of society. Good music performed and recorded well, pushing the boundaries of sound and composition.
"For the past 37 years, Composers Concordance has been a booster for local composers, through both its concerts across the city and a record label."  -The Wall Street Journal. "Enterprising new music organization" -The New York Times. "The Composers Concordance folks are unpredictable and at times refreshingly irreverent in a reverent sort of way....ingenious fun" -Classical-Modern Music Review. "Edgy...boisterous...demanding our attention" -San Diego Story. "These men and women are creating exciting music with elements of jazz, world music and many experimental techniques blended with equal parts classical tradition and playing techniques." -Asbury Park Press. "There is considerable evidence to show that Composers Concordance may be one of the most exciting labels in American contemporary music. - JazzdaGama

composersconcordance@gmail.com
https://composersconcordance.wixsite.com/2021-22-season