About this Event
Will call patrons must present photo ID at the door.
Doors and box office open at 1:30 PM for this event.
When box office is closed tickets may be purchased at the front desk of the Graduate Athens Hotel.
There's almost nothing more American than fireworks on the Fourth of July. Other than that: 12 acts, two stages, fried & grilled food, Yuengling beer specials & great drinks, BBQ, and American music all day Saturday comes in a close second! Join us on July 6th for 11th annual CCAMF! An ALL AGES family friendly event - Doors open at 1:30 pm and music begins at 2 pm.
1:30 PM - Doors open
2:00 PM - Pickled Holler (Patio Stage/Outdoor)
2:30 PM - Will White & The Howlin' South (Mainstage/Indoor)
3:30 PM - Mermaid Motor Lounge (Patio Stage/Outdoor)
4:00 PM - Redstone Ramblers (Mainstage/Indoor)
5:00 PM - BorderHop 5 (Patio Stage/Outdoor)
5:30 PM - Heart of Pine (Mainstage/Indoor)
6:30 PM - Adam Klein & The Wild Fires (Patio Stage/Outdoor)
7:00 PM - Grassland (Mainstage/Indoor)
8:00 PM - Norma Rae (Patio Stage/Outdoor)
8:30 PM - Packway Handle Band (Mainstage/Indoor)
9:30 PM - The Welfare Liners (Patio Stage/Outdoor)
10:00 PM - The Hogslop String Band (Mainstage/Indoor)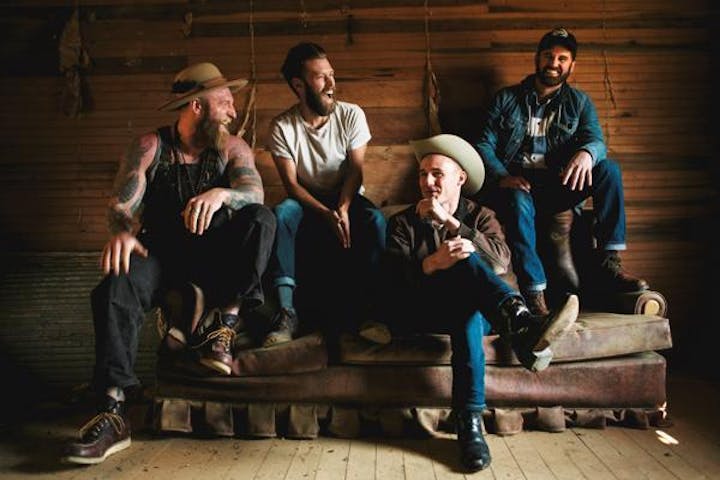 10 PM - HOGSLOP STRING BAND on Mainstage/Indoor
Based out of Nashville, Hogslop String Band creates & performs cross-genre music that pushes the boundaries of what Old Time music could/should be, blending country, psych, and astounding stamina for an energetic performance. Hogslop has shared stages with the likes of The Avett Brothers, Lukas Nelson, Del McCoury, Punch Brothers, The Infamous Stringdusters, Yonder Mountain String Band, Dom Flemons, and many more.
First and foremost, Hogslop is rooted in traditional southern American old-time string band music. Each member of the band was naturally exposed to this wonderful musical heritage through family and friends--just the way traditional music has always been passed down. The band formed in 2009, and soon set about entering--and winning--every major string band contest in the South, as well as putting on epic, sweat-drenched square dances wherever space allowed.
Fast-forward to 2017, and the boys begin writing and arranging original material, shaking constraints of traditional forms, but still lending their old-time sensibility to a fresh new sound. With influences ranging from The Byrds to John Prine, Doug Kershaw (Guest Appearing on the album) to the 1920's sound of The Skillet Lickers, their new direction is something not easily defined, but unmistakably Southern, unmistakably raw and exciting. This new material is on full display in their first official, self-titled studio album, to be released in July 2019, accompanied by an extensive schedule of live performances.
If you've never seen Hogslop live, you're missing out on one of the most exciting, floor-stomping musical rides you'll ever see. So be sure to check their tour dates, because these fellas get around!
HOGSLOP STRING BAND IS:
Vocals, Fiddle / Kevin Martin
Vocals, Guitar, Harmonica / Gabriel Kelley
Vocals, Banjo / Daniel Binkley
Vocals, Washtub Bass, Upright / Pickle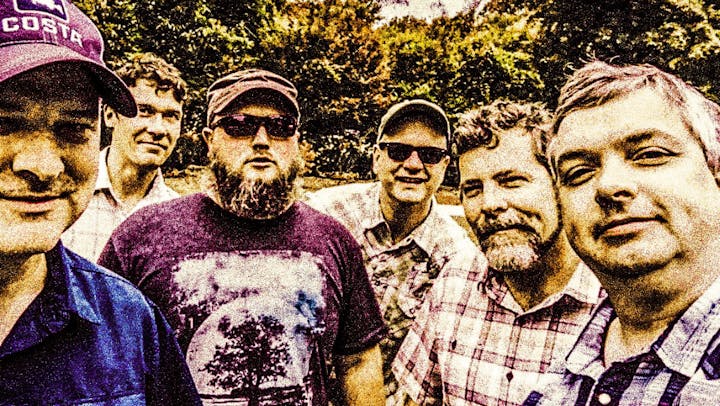 9:30 PM - THE WELFARE LINERS on Patio Stage/Outdoor
The Welfare Liners came together from the eclectic Athens, GA music scene in 2010 and combined contemporary and traditional influences to create a brand of bluegrass that has earned praise from young and old. After releasing a self-titled, six-song EP on Ghostmeat Records in 2011, the band found themselves sharing the stage with the likes of The Del McCoury Band and Dawes. Slowly, original compositions began to make there way in to sets previously dominated by standards from Bill Monroe, Flatt & Scruggs and The Stanley Brothers. These original songs borrowed heavily from the tradition of brother harmony mastered by Jim & Jesse and The Louvin Brothers.
With Just Stars For Light, The Welfare Liners build on the foundation laid down with their 2012 full-length debut High On A Hilltop. On their second album, the group incorporates several non-traditional instruments, adds drums and percussion and occasionally expands in to more rock-like song structures to create something that is at once familiar and innovative.
Just Stars For Light includes nine original compositions featuring Rob Keller (Six String Drag, The Drovers Old Time Medicine Show, Workhorses for the Entertainment/Recreational Industry) on vocals and bass, Wayne Wilson (Athens Grass, The F Holes) on vocals and banjo and Russ Hallauer (Sunbrain, The Lures, Ghostmeat Records) on mandolin, guitar, banjolin, Irish tenor banjo and organ. The album also includes appearances by William Tonks (Bloodkin, Barbara Cue) on dobro and guitar, Jon Hallemeier on fiddle, Ethan Jones on fiddle, Jake Mowrer on guitar and Dean Johnston on drums and percussion.
Just Stars For Light was recorded and mixed by Russ Hallauer at Ghostmeat Studio in Watkinsville, GA. It was mastered by Neal Warner at Chase Park Transduction in Athens, GA. The cover design which features a 1906 postcard of the Barnett Shoals Dam is by Russ Hallauer.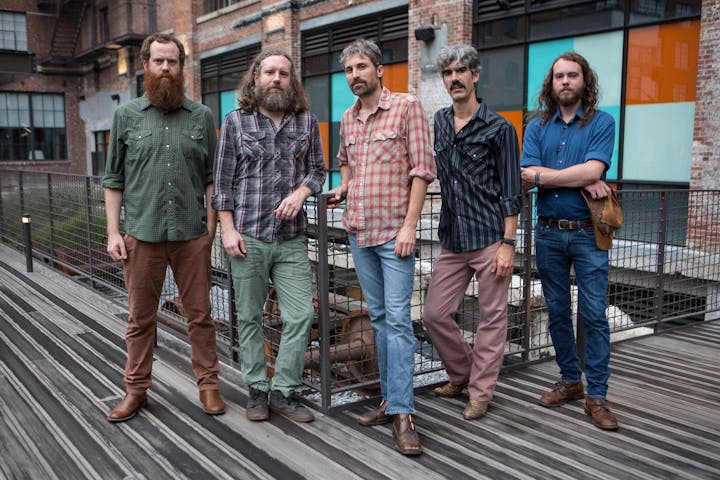 8:30 PM - PACKWAY HANDLE BAND on Mainstage/Indoor
2015 began with the Packway Handle Band touring in support of their Yep Roc release, Take It Like A Man, alongside producer and collaborator, folk surrealist, Jim White. The band's second consecutive voyage aboard Kid Rock's annual Chillin' the Most Cruise yielded an invitation to join Kid Rock and Foreigner for forty amphitheater shows on the 2015 Cheap Date Tour. The tour took the Athens five-piece to all corners of the continental United States and included 10-consecutive sold out shows at the DTE Energy Music Theater in Detroit, a feat that was commemorated by Billboard Magazine. Since the tour wrapped in mid-September, Packway played the industry-focused, Americana Music Festival in Nashville, Bristol Rhythm and Roots Reunion, and the Hardly Strictly Bluegrass Festival in San Francisco, CA. At long last, the boys are back in Georgia gearing up to hit the studio and record a new album.
PACKWAY HANDLE BAND IS:
Tom Baker - Banjo and Vocals
Josh Erwin - Guitar and Vocals
Andrew Heaton - Fiddle and Vocals
Zach McCoy - Bass
Michael Paynter - Mandolin and Vocals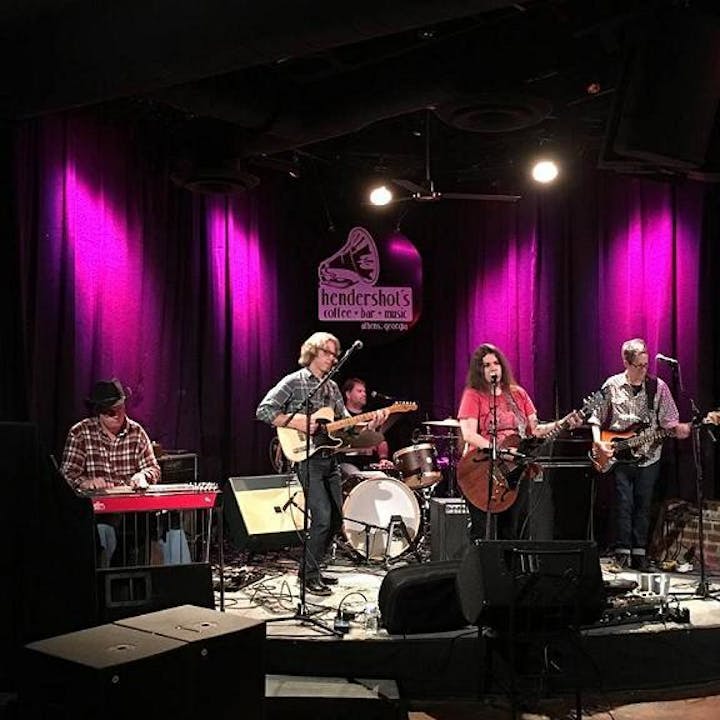 Norma Rae - 8:00 PM on Patio Stage/Outdoor
Athens, Georgia, band "Norma Rae" writes songs about the South, blending original lyrics with raw, inescapably Southern, vocals into its Americana sound. All the stories –inspired from true Southern experiences—are indelibly sown from that unpretentious, and unpredictable, "soggy" part of the real South – the part where both good and evil take root in the same soil, and where certainly everything grows…
Norma Rae began life in 2008 as an independent music project by guitarist and songwriter, Jeff Soileau – a native of the music-rich region of Muscle Shoals in Northwestern Alabama. The initial focus of Norma Rae, was simply to complete a collection of songs addressing contemporary southern concerns, told from a female perspective, hence the project's name. Athens musicians Leslie Helpert and Lera Lynn contributed the "voice" to the "Norma Rae project" prior to Georgia native, Kelly Hoyle, lending her indigenous Southern sound and songwriting expertise to what would grow into a full, permanent band by the summer of 2011. Drummer, Andy Robison (also from Muscle Shoals) and bassist, Jeff Rieter (The HEAP) round out Norma Rae's rhythm section, with Zach Wright providing the newest addition to the band's sound on pedal steel.
Both Norma Rae songwriters, Jeff Soileau and Kelly Hoyle, were recently featured in Southern Distinction magazine's 2017 article, "Best of Unknown Athens --Athens Best Kept Secret".The band released a self-titled EP in 2013. The following year their hometown tribute song "Muscle Shoals" was featured nationally on the PBS series Independent Lens.
"We always love coming to Athens, just a great town with a great venue, the Georgia Theatre, and always really great people. What's not to love? We had a lot of fun after the show up on the rooftop listening to local band Norma Rae, who were great. Check 'em out!" -Lucinda Williams (Facebook, May 5th 2016)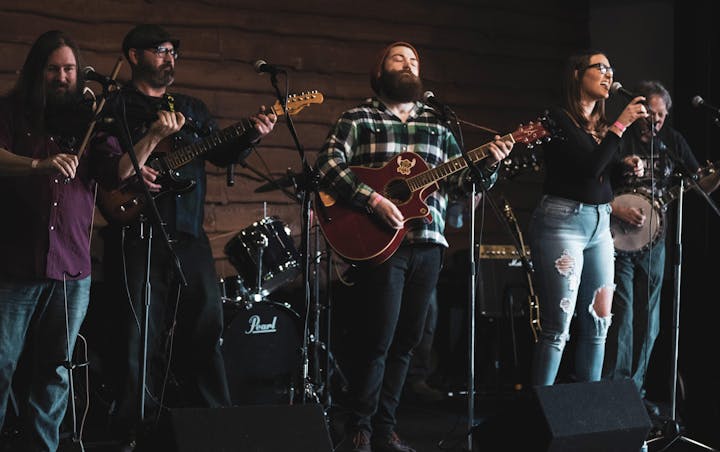 7:00 PM - Grassland on Mainstage/Indoor
Grassland began their journey in late 2012 when singer multi-instrumentalist Jody Daniels was ready to build a new band. Beginning as a bluegrass duo, then soon after as a trio with drummer Todd Ferguson, the pieces began to fall into place and Grassland String Band was born. A few years later, the band had grown into a multi-generational six-piece band that boasted members with master's degrees in classical organ and guitar and a jazz-folk-pop and bluegrass influenced, improvisational live performance style -a hybrid the group called Amerigrass.
You would never have put together a band like this using a formula.
In the summer of 2014, GSB's debut album Before the Feast was released and quickly brought attention to the band. The album was a first glimpse into the group's palpable chemistry, strong songwriting and virtuosic musicianship. In 2015, a live performance from the EOP Red Clay Music Foundry (Duluth, Ga) was successfully released as their 2nd album. Clearly the band was in control of its unique sound and headed to success. Shows during that time included a performance at the Ted, the Atlanta Braves former stadium.
In the fall of 2016, the band released the Echo Mountain Sessions EP, recorded during an epic January snowstorm in Asheville. The album, named after the famed studio in which the recording took place, elevated the band to yet another level in its journey. The EP received much praise and recognition from noteworthy media outlets including NPR Atlanta, Stomp & Stammer, Flagpole Magazine, and the Alternate Root (Calif.)
In the spring of 2018, the band released Dreamers, a song supporting the children of immigrants and their fight to remain in the U.S. Dreamers debuted at number 4 on the Alternate Root's list of top ten songs and was used by NPR Atlanta in a piece they aired about the struggles faced by those youth.
At live shows, every element of the band is turned up to eleven. This is not a show you'll see fans chatting through. The crowd yells "woo"s of encouragement. They slap their thighs. They sing along. They dance. The band's chemistry positively fills the room as they grin their way through the set, extending some of their tracks into improvised jams. Sometimes it looks a little like bluegrass. Sure, it has a banjo, a fiddle and a mandolin on occasion. But there is the electric guitar and a drum kit. It's jazzy, bluesy, soulful, country and rock. It's something much more, something modern and amorphous. Its music that crosses generations, crosses genres, and will cross your soul. It just happens.
(Grassland is: Jody Daniels, banjo, guitar, mandolin: Kevin Fleming, Guitar, Lap Steel, Mandolin: Todd Ferguson, Drums: Adam Poulin, Fiddle, Guitar: Derek Warren, Bass: Leanne Daniels, acoustic guitar, vocals: Jason Badia, guitar, mandolin)
6:30 PM - ADAM KLEIN & THE WILD FIRES on Patio Stage/Outdoor
Adam Klein is a Georgia-based singer/songwriter, troubadour, and world traveler whose music touches on Americana, rustic country folk, folk-rock, and West African Mande music. With six albums under his belt, Klein performs either solo, duo, or with a rotating cast of players in his band, Adam Klein & The Wild Fires.
Klein's records have featured a who's-who of talented musicians from Athens and beyond, including Randall Bramblett, John Neff, Carlton Owens (Cracker), Lera Lynn, David Blackmon, AJ Adams, and more.
His next album, Low Flyin' Planes, is currently being produced by collaborator and engineer Bronson Tew (Water Liars, Jimbo Mathus) at Dial Back Sound in Water Valley, MS, and features sometime Wild Fires guitarist Crash Cason, Matt Patton (Drive-By Truckers), Stuart Cole and Eric Carlton (Jimbo Mathus & The Tri-State Coalition), Will McCarley, and others.
In the meantime, Klein has been working as an actor in Georgia's thriving music scene, with roles on Amazon's Z: The Beginning of Everything as well as various commercials and indie film projects. He can be seen performing his unreleased song "Goin' Down to Peachtree" in the independent film Born River Bye. He also hosts the quarterly African Sky podcast about Mali, West Africa, and its culture, history, music, and development.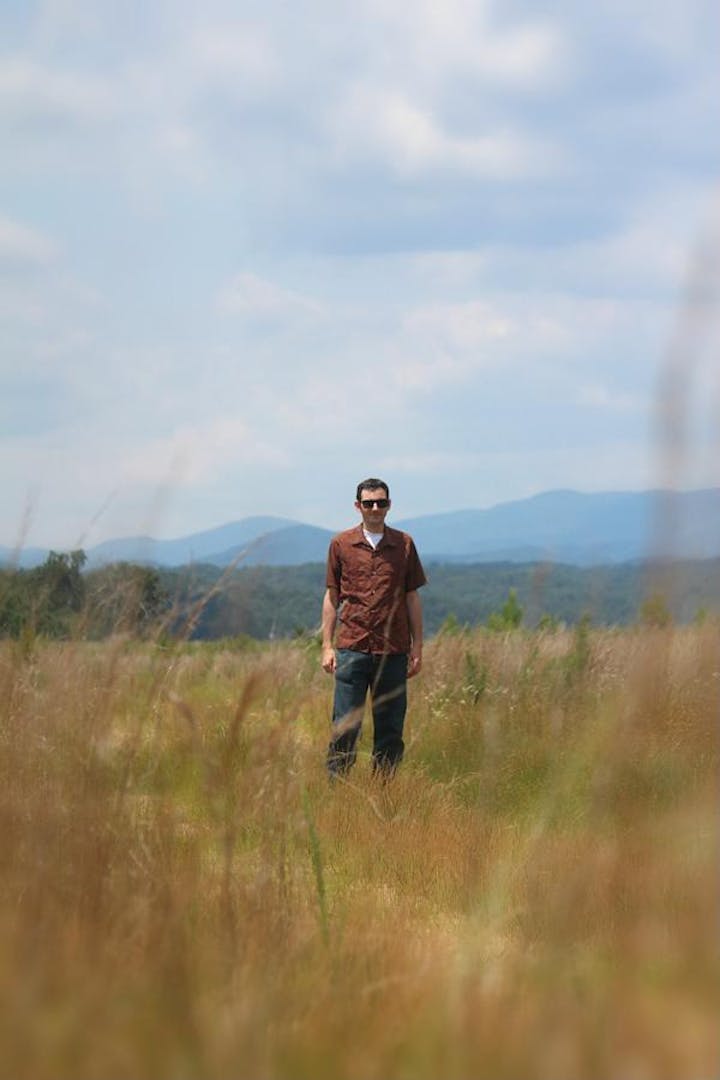 5:30 PM - HEART OF PINE on Mainstage/Indoor
Spawning from a Georgia BBQ and music festival late night whiskey fueled jam session, founding members, Steven Bagwell and Travis Richardson, discovered they had similar interests in music. Years later, with the help of Curt Spell, the two decided to try their luck at writing together and thus began the Athens based group, Heart of Pine. With the addition of Burton Hood as the bass player the boys finally filled out the sound they were looking for. Since their first full album, Highly Flammable, released in March of 2019, the group has been adding fans all over the world. With their influences ranging all over the genre map, Heart of Pine's music has the potential to reach almost everyone. Heart of Pine has supported shows and festivals alike for bands such as Brent Cobb, Drivin' n Cryin', Chris Knight, Turnpike Troubadours, and many more.

5:00 PM - BORDERHOP 5 on Patio Stage/Outdoor
It all starts with that High Lonesome sound and then keeps getting higher and lonesom-er till your left asking "What just happened?!" While deeply rooted in the traditions of Bill Monroe, Flat & Scruggs, the Stanley Brothers and Jimmy Martin, the BorderHop Trio is not afraid to push the boundaries of Bluegrass Music and good taste.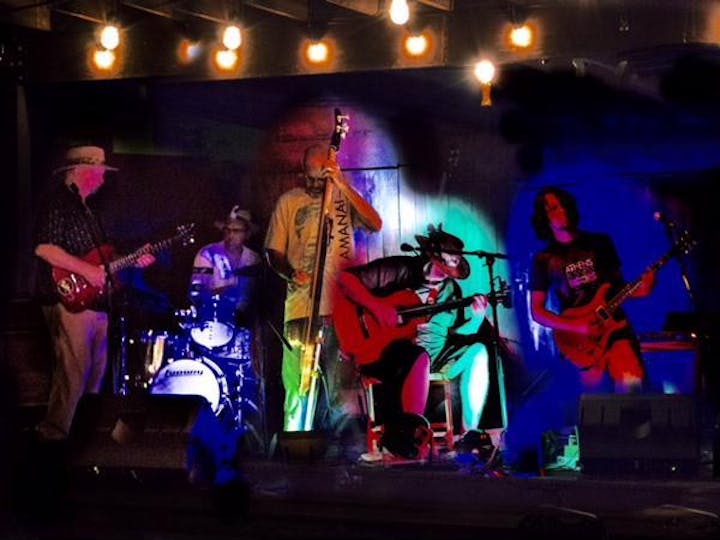 4:00 PM - REDSTONE RAMBLERS on Mainstage/Indoor
The Redstone Ramblers are a Country Delta Blues Band from Jefferson Georgia. Originals with some old classics thrown in. Playing through out North Georgia from Blind Willies in Atlanta to The GA Theatre in Athens and beyond.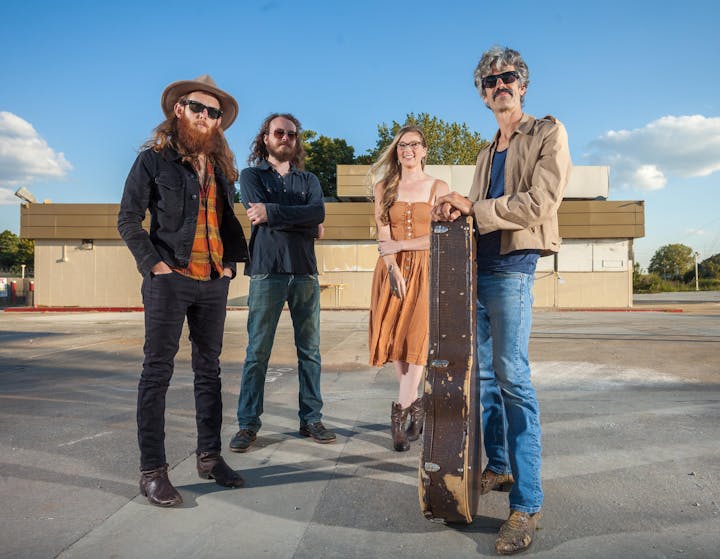 3:30 PM - MERMAID MOTOR LOUNGE on Patio Stage/Outdoor
Depending on the lore, Mermaids are saints and saviors, or they're muses and murderers. Josh Erwin is hosting them all at the Mermaid Motor Lounge. Delivering songs of damning relief as well as happy despair, Mermaid Motor Lounge is releasing their debut album, "Fits and Starts," an opportunity for Erwin to perform churning and bumping rhythms along with atmospheric and dreamy melodies.
There is a cohesiveness to this collection of songs on "Fits and Starts." The local coloring of reverbs on electric guitars and fiddles have just as an important of a role as the percussion. The melody lines lie easily on a bed of guitar, bass, and background vocals. These songs have a comforting familiarity, but there are still some unexpected musical shifts that keeps a listener on his toes. The theme of this album was to make the music dynamic by working with non-standard rock band instrumentation. By only relying on acoustic guitar, upright bass, vocals, electric guitars, fiddle, and percussion instruments it allowed the production to be more thought out. Oftentimes, nontraditional percussion adds great flavors to music that is not captured by a standard 4 piece drum kit. Nonetheless, a drum kit was used on the track, "The Preacher Tampered With The Radar"-- too tempting to pass up a 28" marching kick drum thundering through the back beat.
Nine songs were recorded at Standard Electric Studios by Damon Moon, who co-produced the album alongside Josh Erwin. Josh (guitars and vocals), Troy Harris (basses), Jenna Mobley (fiddle and background vocals), and Colin Agnew (percussion) performed all the music on the album. Damon was at the helm of Tascam M-600 serial #001 helm, turning knobs on the Echoplex EP-3 and Space Echo RE-201 [for all the fun stuff], and supervised vocal mic selections, compressors, and other dynamic effects.
At first, Mermaid Motor Lounge was purely a challenge to showcase a live-show based around Erwin's own material on his own alongside Harris. The experimentation with new songs performed with only guitar, vocals, and bass on stage was too seductive to leave in the hypothetical, so more instruments were added, a band was formed, and a record was made. The universe laid out a path to create this sound and the music deliberately pursued it. Sometimes the best thing you can do is to get out of your own way. When you do, you could end up finding something better than you could ever expect-- like a mermaid motor lounge.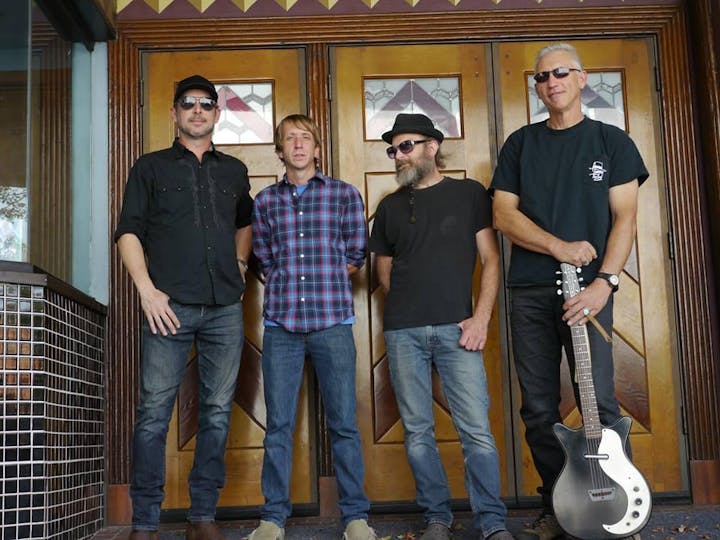 2:30 PM - WILL WHITE & THE HOWLIN' SOUTH on Mainstage/Indoor
Will White & The Howlin' South brews a mixture of Texas style Country Blues and Southern Rock. Slide guitar driven originals and covers in the likes of Ray Wylie Hubbard, Delta Moon, Muddy Waters, The Allman Brothers etc.. This seasoned Athens, GA based four piece is sure to make you glad you made it.
Members: Will White, Doug Peters, Joe Ellison, Derek Warren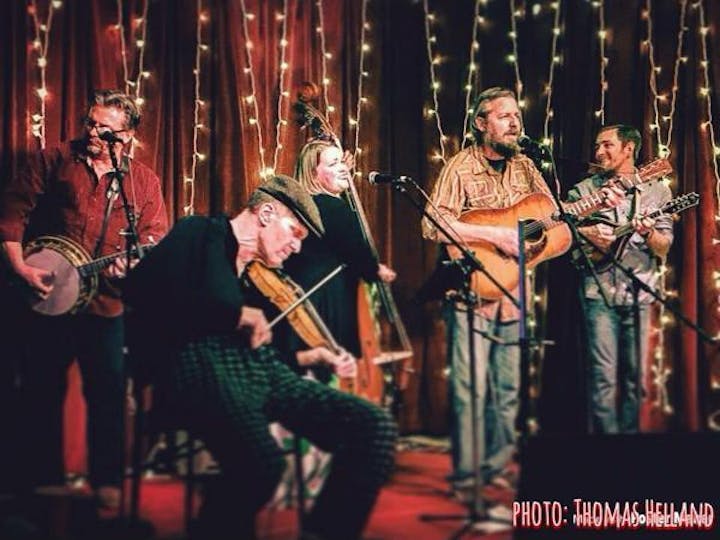 2:00 PM - PICKLED HOLLER on Patio Stage/Outdoor
The legacy of families making music together has a long and storied history. The Carter Family, The Allman Brothers, The Beach Boys all have left indelible notches on the familial music history timeline. Family musicians live, write, and practice together. There's an unexplainable kinetic energy of true "family "musicians (blood kin or not) to predict how the others may phrase a certain melody before it's even escaped their lips. It's musical mind reading. It's mystical, magical and rare.
Pickled Holler is undeniably a family band. Husband and wife duo Matthew and Jessica Williams (guitar and bass/flute) represent the foundation of the band and along with former in-law, now just plain old outlaw Trey Young (mandolin) they form the family circle of Pickled Holler. The band never dismisses an opportunity to bring other music friends into the family-fold.
The music (Matthew likes to call it Pickledgrass) is a hybrid of bluegrass and traditional tunes with nuances of jam, but never strays too far from a dedication to roots, dynamics and lush harmonies. Compositions are arranged by Matthew and Jessica (Jessica is a classically trained flutist), and then the band steps in to add dimension and expand the sound. The musicianship is undeniable. But Pickled Holler's true magic lies in the sheer joy of playing together. Chemistry is a real element of music and Pickled Holler has it in spades.
"Watching musicians perform who genuinely care and love one another can be inspiring and inspiration gives people hope!" says bassist and all around lovely chanteuse, Jessica. "Every single note you share with someone is a mutual language of emotion and understanding."
"Pickled Holler has a voice that anyone who listens won't be able to deny themselves a smile, a foot tap, or perhaps a full blown dance." laughs mandolin player Trey Young. "I suppose the hope that Pickled Holler may offer, is that there are still people who make music because they love it and who really want to make and perform music that makes people happy and feel better about life."