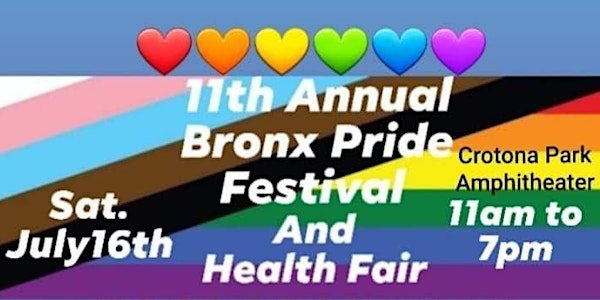 11th Annual Bronx Pride Festival And Health Fair Crotona Park SAT.JULY16th
Location
Crotona Park Amphitheatre
559 Claremont Parkway
Bronx, NY 10457
The 11th Annual Bronx Pride Festival And Health Fair Crotona Park Amphitheater On SAT.JULY16,2022 From 11am to 7pm
About this event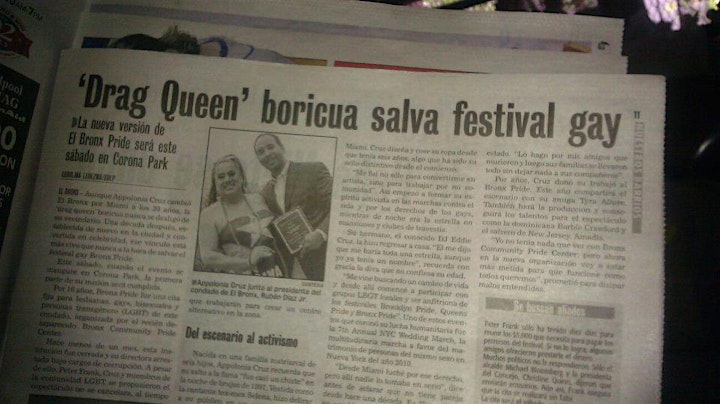 Above is a 2012 article on "El Diario La Prensa", our nations largest spanish circulating newspaper. An article on Bronx Pride Festival organizer / producer Appolonia Cruz titled: PuertoRican Drag Queen Saves Gay Festival!
WE'RE BACKKKKKKKK!!!
THE QUEEN OF THE BRONX APPOLONIA CRUZ PROUDLY PRESENTS THE LONGEST RUNNING BRONX PRIDE FESTIVAL IN NYC:
THE 11th ANNUAL BRONX PRIDE FESTIVAL & HEALTH FAIR CROTONA PARK AMPHITHEATER!.
ON SATURDAY.JULY.16,2022 From 11am to 7pm!.
LOCATION: 559 CLAREMONT PKWY BX 10457
Hosted By: Kelly Kaboom, Lady Clover Honey, Tym Moss & Lorena St. Cartier!.
Music By Dj.Yayo
2022 Headliner: To Be Announced!
KNOW OUR BRONX PRIDE FESTIVAL & HEALTH FAIR 2022 CROTONA PARK #JULY HISTORY!:
1) 2012 https://youtu.be/8PhKIAh10ew
2) 2012 https://www.youtube.com/watch?v=FauHYv1bCM8
3) 2021 Promo: https://youtu.be/3DXEHpnj2UM
Appolonia Cruz have been keeping "Bronx Pride Festival" Crotona Park Amphitheater in JULY alive after its previous organizers Bronx Community Pride Center (BCPC) closed It's Door Forever in 2012. Before "BCPC" closed, Appolonia Cruz served as their festival official co-host / mcee for many years when the festival was originally held at "Barretto Point Park". Then years later we moved to "Crotona Park" until "Bronx Community Pride Center" closed.
After BCPC sadly shut their doors forever, We gathered with a small group of community members who shared the same passion as Appolonia Cruz & that was to to keep Bronx Pride Festival alive and in #JULY. We planned Bronx Pride Festival 2012 within two weeks. Appolonia Cruz has continued to produce Bronx Pride Festival in #JULY at Crotona Park without financial support backing from any Bronx political leaders or any major #LGBTQIS+ organizations.
Bronx Pride Festival JULY is a family friendly #LGBTQIS+ event, for everyone, regardless your gender Identity etc.
We will have Drag entertainment plus live recording artists plus several guest speakers from across the country.
Our festival is made possible by our community donations. Any donation is grately appreciated:
https://gofund.me/19e76c97
Cash App: $AppoloniaCruz
================================
A Very Special Thank You To The Late "Jose Ramon Medina" Original Founder Of "The Bronx LGBT Expo" & "The White Shirt Project" For These Supportive Words From 2019. These Inspiring Words Is Used On All Of The Queen Of The Bronx Appolonia Cruz Upcoming & future LGBTQIS+ Community Events Around The Bronx & NYC:
There are so many reasons to support The Annual Bronx Pride Festival & Health Fair at Crotona Park in JULY + other events, which was given life by Appolonia Cruz with our Bronx community donations since 2012,
1- Full inclusion
2- Undeterred Support from Artists
3- Undeterred Support of Loyal Sponsors
4- Continuous Support from The Bronx Latino, LatinX, and other Communities that identify as Lesbian, Gay, Bisexuals, Trans and Queer/Questioning
5- Support from entities that donate their time, and staff to bring awareness of different sorts to local communities like the ones surrounding The Bronx Pride Festival & Health Fair in Crotona Park Amphitheater in July.
6- Appolonia's solo quest to deliver this yearly annual event with No Corporate, Local or State Funding is Admirable!. The Bronx - Lesbian, Gay, Bisexual, Trans and Queer/Questioning Community attend every year, and it has become a Tradition that we all enjoy and look forward to.
7- Everyone has been on Appolonia Cruz's stage as a Guest, Host or Advocate. Who's next???
8- You Support- You Get Mentioned. Note from a Bronxite: Attend all the events possible that our borough has to offer, but don't forget to attend This One!
Appolonia Cruz has led the crusade to keep This Bronx Pride Festival & Heath Fair alive for Years!!! Let's help her keep it going!!!
================================
On behalf of Appolonia Cruz & Bronx Pride Festival and Health Fair Crotona Park Amphitheater in JULY. We sincerely wish "Jose Ramon Medina" a continued Peaceful Rest & Thank you for your loyal support since 2012!. But most of all for bringing mental awareness into the spotlight!!.