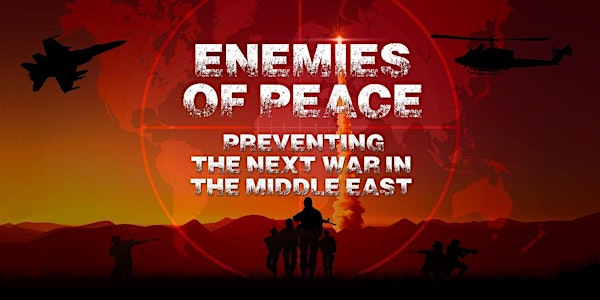 #11DaysOfGlobalUnity PEACE RALLY & FREE FILM SCREENING
When and where
Location
Martin Luther King Jr. Auditorium Santa Monica Public Library 601 Santa Monica Blvd. Santa Monica, CA 90401
Description
#11DAYSOFUNITY FREE FILM SCREENING EVENT
The #11DaysOfGlobalUnity is a global movement which commences on September 11th, and culminates on September 21st, the International Day of Peace. The 11 Day Themes are: UNITY, INTERDEPENDENCE, ENVIRONMENT, FREEDOM, ECONOMIC JUSTICE, CHILDREN & YOUTH, WOMEN, HUMAN & ANIMAL RIGHTS, HEALTH, PEACE AND DISARMAMENT. The following films have been selected to compliment each other in offering the audience MEDIA THAT MATTERS and FOOD FOR THOUGHT DISCUSSIONS around these themes.

DOORS OPEN AT 1:45PM
2:00 - 2:10PM- OPENING PRESENTATIONS
2:10 - 2:30PM - SHORT FILM - ADMISSIONS - FILMMAKER: JOHN VISCOUNT http://www.admissionsfilm.com
2:30 - 2:45PM- DISCUSSION on ADMISSIONS and its concept of FORGIVENESS with John Viscount
2:45 - 4:00PM - FEATURE FILM - ENEMIES OF PEACE - FILMMAKER: ROLAND MARCONI -http://enemiesofpeacefilm.com
4:00- 4:30 - DISCUSSION with JAMES GELVIN, Middle East Professor, UCLA
SPONSORED BY:
MEDIA DREAM PRODUCTIONS
WORLDPEACEPRODUCTIONS.ORG
PEACENOW.COM
WE THE WORLD, INC.
CODE PINK
FAMILY OF LIGHT WORLDPEACE MINISTRIES
IMPROVDINNERS.COM
WOMENFORPEACE.BLOG
WOMENINTERNATIONAL.NET
VEGANFILMFEST.COM
Parking
Subterranean Garage. An underground parking structure can be accessed from 7th Street between Santa Monica Blvd. and Arizona Ave. The structure has 525 parking spaces on three levels and is open from 8:00 am to 11:00 pm daily. Real-time parking space availability for the structure can be viewed on the City's Transportation Division website. Click on "Santa Monica Public Library."

New parking rates are in effect (as of July 1, 2018). Rates are as follows:

Weekends, the first 30 minutes are free. After that, rates are $1.00 per half hour, up to the daily maximum of $5.00.

Parking on level P1 is restricted to stays of three hours or less. Parking spaces for those displaying disabled placards or plates are on P1. Visitors parking for three hours or longer should park on levels P2 or P3. The Library does not currently provide validation for parking.

Street-level parking lot. A limited number of metered one-hour parking spaces are available. Entry to the lot is from 7th Street.

Bike Racks. Cyclists can secure their bikes at one of several bike racks installed along the north side of the building.