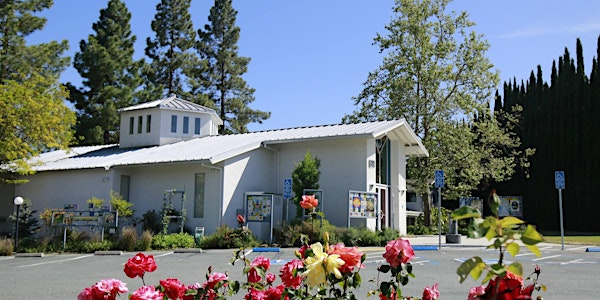 11:30 Service Inside the Sanctuary -- June 20, 2021
Please carefully read the registration information below.
Date and time
Sunday, June 20, 2021 · 11:30am - 12:30pm PDT
Location
Unity of Walnut Creek 1871 Geary Road Walnut Creek, CA 94597
About this event
Please follow these steps to register:
1) Read all the information on this page by scrolling down to the bottom.
2) Scroll back up to the top right and click "register."
3) Enter your contact information on the "check out page" that will automatically appear.
4) Click the "register" button to complete the process.
5) Check your email to see your confirmed reservation.
Unity of Walnut Creek is pleased to offer an in-person, indoor service in the Unity Sanctuary.
For the first few weeks, our Board of Trustees has approved a seating capacity of 50%. This will allow our Sunday Production Team and all of us to ease back into being with more people in the Sanctuary.
For the first two weeks, the 11:30 service will be a "hybrid service" where we will be producing a high-quality production for our online audience.
The camera will be in the aisle, so that the people viewing online still feel like the speakers are talking to them. For those sitting in Sanctuary, at times, it may feel like you are sitting "back-stage" at a TV production.
During these first few weeks as a "hybrid service", we will have videos of pre-recorded music. Starting in July, we will have live music and the focus will be on the live audience with the online audience viewing from a distance.
We are excited to reconnect with you in person!
In person service guidelines:
• Arrive early!
Please arrive at least 15 minutes early to check-in and be seated before the live streaming begins. Late arrivals are disruptive to the online streaming.
• Wear a Mask
Note that face coverings ARE REQUIRED regardless of vaccination status, to protect workers, unvaccinated children, and immunocompromised people.
• While hand sanitizer will be available, you may wish to bring your own.
To offer in-person services we require attendees to read, complete, and electronically sign the Informed Consent Form below.
The Informed Consent Form for In-Person Events at Unity of Walnut Creek
You are asked to read, complete, and electronically sign this form in acknowledgment of your understanding, participation, and acceptance.
A) These are the steps that Unity of Walnut Creek will take to ensure the health of our community:
-Facilities have been professionally cleaned.
-All areas of the grounds are being sanitized routinely, as the guidelines for sanitation provided for the CDC for religious centers are being observed. High-touch surfaces are being cleaned and disinfected regularly.
PLEASE BE ADVISED: Contra Costa Health Services has advised us that public gatherings may nevertheless present an increased possibility of contagion, even if safety precautions are taken, and therefore your participation may increase the risk for yourself and your family.
B) In order for Unity to remain open for in-person events, the following protocols will be put in place for in-person events and participants will be required to:
-Wear a mask at all times while indoors on our grounds and ensure that your mask fully covers your nose and mouth. We advise that you do not take it off until you reach your car or are away from the rest of the community after leaving. Masks will be available for your use.
-You will be asked to utilize hand sanitizer upon arrival on the campus. Hand sanitizer will be available, or you may bring your own with you.
-Observe all posted signs indicating directional pathways, where you may sit, stand or wait in line.
In the next section, you will be asked to check a box acknowledging that you have read and agree to follow these guidelines.