Please see below for the protocols that all parishioners must follow to attend Mass.
About this Event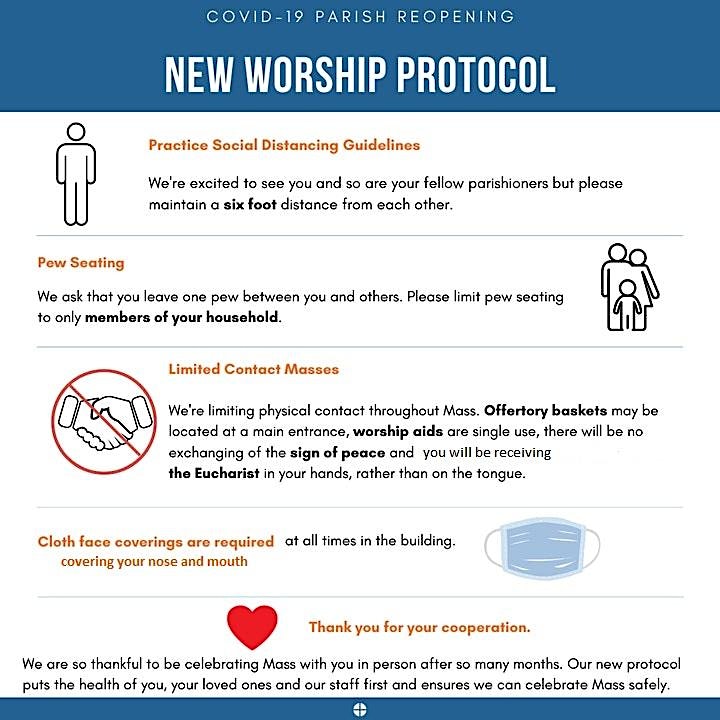 *REMEMBER your safety and health is the absolute TOP PRIORITY. There is an indefinite dispensation issued from Cardinal Sean so you have no obligation to come - but you are most welcome.
CAPACITY & SEAT RESERVATION
For now, seating will be limited to 80 for each Mass.
If you are unable to attend in person, you are encouraged to watch the Mass virtually as it will be live streamed at the 4PM, 10 AM and 5:30 if they are indoors.
Parishioners should reserve a spot by accessing our Eventbrite Registration link on our Facebook page or parish webpage.
BEFORE YOU ARRIVE
YOU MUST HAVE A RESERVATION (see above) by Friday at Noon to be guaranteed a seat.
Wash your hands.
For ages 5 and up, face coverings are required for the duration of Mass.
Bring your own MASK and hand sanitizer that can be used before and after receiving Holy Communion.
ARRIVAL PROCEDURES
Masks covering nose and mouth should be worn at all times for the duration of the Mass.
A volunteer will check for your reservation name on the registration list. If you have not registered, you will be invited to wait until everyone has been seated. If we can accommodate you, we will.
Every other pew will be blocked off. You may be sharing a pew with another person or household, but social distance is required between the households (6 feet).
The holy water fonts remain empty.
Please be aware that the church may reach capacity and we will not be able to seat everyone. We encourage you to arrive 15 min early to Mass to be checked in. At 5 min before we will be seating those on the wait list.
MASS PROCEDURES
Masses will be conducted as you have seen on the Live Stream with reduced volunteer lay ministers.
Baskets will not be passed during the offertory. So please place your weekly gift in a basket as you exit the church or contribute through online giving. We are so grateful and thankful for the effort you have made to share your offertory contribution.
RECEIVING COMMUNION
An usher will point to you letting you know that it is your turn to approach for Communion.
Walk to the front of the church and stop at the taped line, and "RECEIVE" in outstretched hand. Extend hands fully creating six feet between you and the priest. Parishioners are permitted to receive in the hands only. Communion is not permitted on the tongue at this time.
Immediately move to the next taped square on the floor and "CONSUME".
Pull your mask down (do not fully remove from ears) and consume the Blessed Sacrament. Immediately pull your mask up and proceed back to your pew until final dismissal.
At the completion of Mass, please proceed directly to your car immediately after exiting the church and do not gather to talk.
CHURCH CLEANING PROCEDURES
We will continue to implement cleanliness and sanitation practices, including disinfecting pews between every Mass using cleaning products approved by the EPA.
Disinfecting of bathrooms, door handles, and other frequently touched surfaces will occur throughout the day and prior to all masses.
**Anyone who attends public Mass will still be at risk. Even with the best health practices and strict social distancing, anyone who enters a public space should be aware of the risk.